specials 2017
Holiday Spectacular 2017
There's a whole world of holiday music out in the universe besides the tired recordings you hear endlessly year after year. Nobody knows that better than holiday music collector and expert Andy Cirzan. Each year, Andy joins Jim and Greg for our Holiday Spectacular, sharing an hour of incredible unknown Christmas records he's picked up over years of scouring bargain bins throughout the country. This year, Andy presents a multi-genre mix of obscure holiday tunes titled Snowbound Soliloquies.
As a special bonus, listeners are invited to download Andy Cirzan's accompanying holiday compilation for FREE at christmas.soundopinions.org. The mix will only be up until the end of 2017, so get it while the yule log is hot! And happy holidays from Sound Opinions!
Go to episode 629
Remembering Tom Petty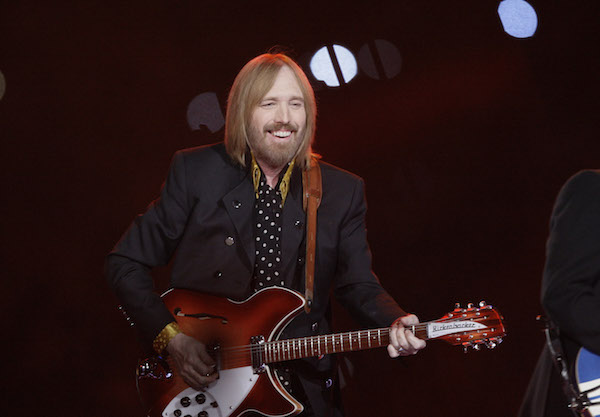 Through four decades of success, Tom Petty entertained audiences around the world. Jim and Greg now pay tribute to a man who defined classic rock. Petty died at age 66 after suffering cardiac arrest in his Malibu home. Throughout the show, Jim and Greg play excerpts from an exclusive Sound Opinions interview with Tom Petty from 2003.
In the interview, Tom Petty discusses meeting Elvis Presley as a child in Florida and falling in love with rock 'n' roll. He also reminisces about hanging out with Bob Dylan and George Harrison, his idols and future bandmates in Traveling Wilburys. Jim and Greg make a case for Petty's underrated songwriting abilities and share some of their favorite of his songs. Plus, we hear from recent Sound Opinions guest Benmont Tench, founding keyboardist for Tom Petty and the Heartbreakers, about hearing "American Girl" for the very first time.
Go to episode 619
1977–The Year Punk Broke Pt. 2
In the second and final installment of our series 1977: The Year Punk Broke, Jim and Greg explore the punk movement stateside with music writer Ira Robbins. Ira founded the music magazine Trouser Press in 1974 and was a fixture at the CBGBs scene. They discuss the U.S. punk scene in '77, and seeing bands like the Ramones, the Dictators, the Dead Boys, The Talking Heads and Television play divey clubs. They also talk about the differences between the groups' sounds and images, and what New York City was like in 1977.
Jim and Greg each choose a favorite track from the New York scene. Greg goes with the Talking Heads' "Don't Worry About the Government" from the band's self-titled debut. Jim goes with the ultimate American punk anthem, Richard Hell's "Blank Generation."
Go to episode 607
1977 - The Year Punk Broke
This week, Jim and Greg kick off a two-part series about one seminal year in rock history, 1977: The Year Punk Broke. In this episode, they tackle the punk explosion in the U.K. with help from music writer Jon Savage. (Many consider Savage's England's Dreaming to be the definitive book on this period.) So what made punk explode in 1977? Terrible pop songs, the entrance of The Ramones and the rise of groups like the Buzzcocks and Sex Pistols.
Jim and Greg close out 1977 Part One by playing two favorite songs from that year. Greg goes out with The Adverts' "One Chord Wonder." Jim goes with the Wire track "Ex-Lion Tamer" from one of his favorite records of all time, Pink Flag.
Go to episode 606
Remembering Chuck Berry
Born in St. Louis in 1926, Chuck Berry began his professional music career fairly late in life. In fact, his breakthrough hit, 1955's "Maybellene" was recorded when Berry was 28 years old.
Jim says that Berry helped craft the very identity of rock and roll, often name checking the burgeoning genre in his lyrics. Berry's songwriting on tracks like "School Day" and "Roll Over Beethoven" deftly expressed the angst and rebelliousness of youth culture; and his guitar-led sound influenced rock outfits for generations to come. According to Jim, the Berry attitude:"sly, sarcastic, risque… conspiratiorial"is an element of his persona that has served as a template for rockers, as well. Greg notes that in addition to teen anthems, Chuck Berry's catalogue also contains sophisticated lyrics, like those found in 1959's "Memphis, Tennessee", a song about a father estranged from his 6 year old daughter, Marie.
To learn more about Chuck Berry's life and legacy, Greg and Jim spoke with Ed Ward, a writer and author of The History of Rock & Roll Volume 1: 1920 - 1963. Ed also wrote the seminal rock criticism book "Rock of Ages: The Rolling Stone History of Rock & Roll." The hosts also sat down with drummer Steven Gillis. Steven played with Chuck Berry at a 2011 Chicago concert that made headlines when the then-84 year old rock legend had to be rushed to the hospital mid-show. Steven shares his memories of sharing the stage with Berry that night.
Go to episode 591