classic album dissections 2017
The Belle Album available on iTunes
Al Green The Belle Album
Al Green is known for archetypal soul hits like "Love & Happiness," "Let's Stay Together," and "I'm So Tired of Being Alone." But, while Al's songs are known around the world, the man himself is a bit of an enigma. To get a better sense of who Al Green is, Jim and Greg sat down with Jimmy McDonough, author of a new biography called Soul Survivor.
They also unpack a lesser known album from Al Green's catalogue: The Belle Album. The album, released in 1977, came out at a crucial period in Green's life. He had just left a lucrative career in soul music for the ministry. The album was his first gospel album, one that blended funk, disco, and according to Jim, even elements of punk. It was also Al's first dip into self-producing an album. His previous work had been produced by the legendary Willie Mitchell at Hi Records in Memphis. The album with its rough, almost garage-gospel sound is an outlier among Green's earlier works. The Belle Album means a lot to both Jim and Greg. Greg calls it "a transitional album that was also a masterpiece."
Go to episode 625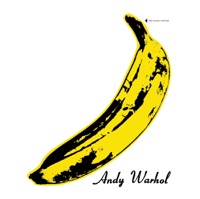 The Velvet Underground & Nico available on iTunes
The Velvet Underground The Velvet Underground & Nico
According to Jim and Greg, few albums are worthier of the Classic Album Dissection treatment than The Velvet Underground's 1967 debut, The Velvet Underground & Nico. Songwriter and guitarist Lou Reed teamed with avant-garde violist/bassist John Cale in the mid-'60s to form the core of the band, joined by guitarist Sterling Morrison and drummer Maureen Tucker. The sonic assault of their live performances caught the attention of Andy Warhol. Warhol provided the funding for their debut album in 1966 and created the iconic banana cover art. He also insisted on featuring German chanteuse Nico on several tracks.
The Velvet Underground & Nico was released in March 1967 against a backdrop of psychedelia, the Summer of Love, and Sgt. Pepper's Loney Hearts Club Band. Its noisy, stark depictions of junkies and sadomasochism in New York City didn't fit well with that San Francisco feeling, and the album didn't sell. But over the past half century, its reputation has grown to the point that, as Jim and Greg argue, it's become the most influential album in rock history. Each track has launched an entire genre, from the goth rock of "Venus in Furs" to the noise rock of "European Son" to the proto-shoegaze in "Heroin." It's hard to imagine bands like Sonic Youth, the Ramones, or Radiohead existing without The Velvet Underground & Nico. On the album's 50th anniversary, Jim and Greg tell the history of the band, give a detailed examination of each of the album's songs, and share their thoughts on its legacy.
Go to episode 597