classic album dissections 2010
Songs in the Key of Life available on iTunes
Stevie Wonder Songs in the Key of Life
Every so often Jim and Greg like to get all professorial on us and dissect a classic rock album. Stevie Wonder's 1976 album Songs in the Key of Life will be turning thirty-five next year, so it's a perfect opportunity to revisit their 2006 discussion about this album. Songs in the Key of Life was released as a two-LP set with a bonus EP for a total of twenty-one songs.
One of the reasons Songs in the Key of Life stands out so radically in Wonder's catalog is because it was such a massive undertaking. He had great success with the albums released prior, Talking Book, Innervisions and Fulfillingness First Finale, so Motown gave Wonder the freedom to stretch out-for two whole years. Jim and Greg talk to keyboardist Greg Phillinganes about the recording sessions. As many listeners know, Wonder himself is an amazing keyboardist, but Phillinganes explains that the songwriter liked the idea of having some fresh blood in the band. And you couldn't get much fresher than Phillinganes; he was only eighteen when he signed on, making this session his first job.
To cap off this album dissection, Jim and Greg each pick one signature track from Songs in the Key of Life. Jim's pick is "Pastime Paradise." Many listeners will recognize the instrumental as the basis for Coolio's 1995 hit "Gangsta's Paradise," but the original far surpasses that soundtrack song. Jim explains that this Stevie Wonder album can be a bit too sweet for his punk rock tastes, but"Pastime Paradise"is reminiscent of the funkier, more political songs Wonder previously released such as "Living For the City" and "Superstition." He says Wonder is calling out for the listener to take action against a list of woes –"dissipation, race relations, segregation…"Ultimately, the song is brought to an upbeat, optimistic point that matches the attitude of the rest of the record.
Greg's pick is the anthemic track "As." One of the important things to note about the recording of Songs in the Key of Life is the emphasis Wonder gave to having a band and a band-like atmosphere. Wonder could have played almost any instrument himself, but he wanted guests to join him and bring life to the music."As"was definitely recorded live, and the highlight of the song for Greg is Herbie Hancock's Rhodes piano part. According to Greg, Hancock"dirties"up his playing, making way for Stevie (and an overdub of multiple Stevies) to come in with huge gospel vocals. The result is an epic love song fitting an epic album.
Go to episode 265
The Wall available on iTunes
Pink Floyd The Wall
Pink Floyd's Roger Waters has been busy touring the country performing the band's epic double concept album The Wall, 30 years after the first tour. Jim and Greg both saw this show, and it got them thinking about The Wall's status as a definitive classic album. Listeners know what that means…time for a Classic Album Dissection. Jim and Greg compare this record to Pink Floyd's others and discuss the personal nature of Waters' lyrics. They also pick their favorite tracks. Greg goes with "Mother," while Jim chooses "Run Like Hell."
Go to episode 255
Electric Warrior available on iTunes
T. Rex Electric Warrior
David Bowie gets all the glam rock credit. But real fans know the look and the sound go back to T. Rex's 1971 release Electric Warrior. Singer Marc Bolan shook off some of his"pixie dust"and hippy-dippy Tyrannosaurus Rex sound to create a glossy, sexy record full of humor, sadness and lots of electric guitar fuzz, not to mention his signature vibrato. Jim and Greg talk to the album's producer Tony Visconti about Electric Warrior's recording. They also highlight their favorite tracks: Jim went with "Rip Off," a song that is as silly as it is indignant. Greg chose "Cosmic Dancer," which he says illustrates Bolan's growth as well as Visconti's. And anyone who has ever watched Billy Elliot would agree.
Listen to more of Jim and Greg's conversation with Tony Visconti, including the making of David Bowie's "Heroes".
Go to episode 247
Thriller available on iTunes
Michael Jackson Thriller
Last week marked the year anniversary of Michael Jackson's death, and there's been a lot of talk about some of the more controversial aspects of the artist's life and death. But, there hasn't been enough about the music. So, Jim and Greg turned to previous guest Nelson George, author of Thriller: The Musical Life of Michael Jackson. For George, Thriller was not only the high point of the King of Pop's career, but perhaps of pop music in general. Never again will a single album have as big a cultural or commercial impact. He even thinks Jackson's success paved the way for more African-American stars to emerge. Plus, there'd be no Thriller dance.
Go to episode 240
London Calling available on iTunes
The Clash London Calling
Next up is a patented Sound Opinions Classic Album Dissection-this time of one of the greatest double albums of rock history: London Calling by The Clash. London Calling recently celebrated its 30th anniversary, and it was a huge leap forward for the English band. All four members seemed to be at their peak during writing and recording: Joe Strummer on rhythm guitar and vocals, Mick Jones on lead guitar and vocals, Paul Simonon on bass and Nicky"Topper"Headon on drums. They were paired with the unconventional Guy Stevens and engineer Bill Price and were able to draw from a ton of new influences-reggae, ska, rockabilly, jazz and rock. Also, the songwriting team of Strummer and Jones was at a high point. Jim and Greg are both moved by Strummer's lyrics, which demonstrate a sophisticated worldview, and play two standout tracks: "Spanish Bombs" and "The Clampdown."
Go to episode 228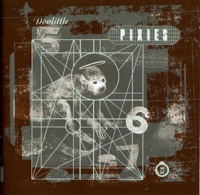 Doolittle available on iTunes
The Pixies Doolittle
This week Jim and Greg conduct one of their patented Classic Album Dissections. They decided to focus on a landmark album in indie rock: Doolittle by The Pixies. As an added bonus, they're joined by one of the creators of Doolittle, Pixies singer and songwriter Charles Thompson aka Black Francis aka Frank Black. Charles and bandmates Kim Deal, Joey Santiago and David Lovering recently marked the album's 20th anniversary with a tour dedicated to the record. While artists such as Kurt Cobain have cited it as a major influence, Doolittle was a slow burn record. After its 1989 release, it didn't achieve gold status until almost a decade later.
As Charles explains to Jim and Greg, his vocal style and lyrics were an amalgamation of his upbringing and the art and ideas floating around him at that time. It's a unique mix of preaching, surrealism and even sexual frustration. But, the songwriter warns against dissecting the lyrics too closely. He loves words for words' sake.
The lead singer also credits producer Gil Norton for the mix of"raw and fancy"that people associate with The Pixies. He polished up their sound, but knew well enough to leave a little roughness around the edges. Another component of the sweet but scary mix is Joey Santiago's guitar playing. Charles describes it as just like the guitarist's own personality-sweet and gentle like a little kid, but capable of smashing something to bits.
At the end of their discussion Jim and Greg ask Charles/Black/Frank to choose a favorite track from Doolittle. He goes with "Monkey Gone to Heaven," a song that encapsulates all of the album's elements-humor, darkness, violence, love, hope and references to the nautical and the mythological. Finally, Charles sees it as a great example of the yin and yang connection between him and singer Kim Deal.
Go to episode 217