classic album dissections 2006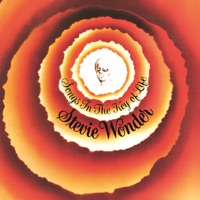 Songs in the Key of Life available on iTunes
Stevie Wonder Songs in the Key of Life
Every so often, Jim and Greg like to get all professorial on us and dissect a classic rock album. Stevie Wonder's 1976 album Songs in the Key of Life turns 30 this week, so what a perfect opportunity to delve into the making of the record and why it still means so much to so many people. The best way to kick off a dissection is with a sampling of Wonder's music. Of course, Songs in the Key of Life was released as a two-LP set with a bonus EP for a total of 21 songs. We couldn't squeeze 'em all into this two-minute montage, but here is what you do get to hear:
"Sir Duke"
"Knocks Me Off My Feet"
"Another Star"
"Summer Soft"
"Love's in Need of Love Today"
"I Wish"
One of the reasons Songs in the Key of Life stands out so radically in Wonder's catalog is that it was such a massive undertaking. Having had huge success with earlier albums, Talking Book, Innervisions and Fulfillingness First Finale, Motown gave Wonder the freedom to stretch out — for two years, in fact. Jim and Greg speak to two men involved with the recording. The first is keyboardist Greg Phillinganes. Wonder himself is an amazing keyboardist, but Phillinganes explains that the songwriter liked the idea of having some fresh blood in the band. And you couldn't get much fresher than Phillinganes; he was only 18 when he signed on, making this session his first job.
John Fischbach, the second voice we hear from, was one of two engineers recording the session. Fischbach explains that of the many artists he has worked with in the studio, no one compares to Stevie Wonder. He says Wonder was the consummate professional and highly prolific, but also had rather atypical work habits… like calling in his musicians in the middle of the night. One such late night session resulted in the classic "I Wish."
To cap off this album dissection, both Jim and Greg pick one signature track from Songs in the Key of Life. Jim's pick is "Pastime Paradise." Many listeners will recognize the instrumental as the basis for Coolio's 1995 hit "Gangsta's Paradise," but the original far surpasses that soundtrack song. Jim explains that this Stevie Wonder album can be a bit too sweet for his punk rock tastes, but "Pastime Paradise" is reminiscent of the funkier, more political songs Wonder previously released such as "Living For the City" and "Superstition." He says Wonder is calling out for the listener to take action against a list of woes —"Dissipation, race relations, segregation…"Ultimately, though, the song is brought to an upbeat, optimistic point that matches the attitude of the rest of the record.
Greg's pick is the anthemic track "As." One of the important things to note about the recording of Songs in the Key of Life is the emphasis Wonder put on having a band and a band-like atmosphere. Certainly, as we heard from Greg Phillinganes and John Fischbach, Wonder could play almost any instrument himself, but he wanted guests to join him and bring life to the music."As"was definitely recorded live, and the highlight of the song for Greg is Herbie Hancock's Rhodes piano part. According to Greg, Hancock"dirties"up his playing, making way for Stevie (and an overdub of multiple Stevies) to come in with huge gospel vocals. The result is an epic love song fitting an epic album.
Go to episode 45
Revolver available on iTunes
The Beatles Revolver
Later this summer Revolver will celebrate its 40th anniversary. To honor that occasion, our own rock scientists, Drs. DeRogatis and Kot, decided to dissect The Beatles' masterpiece. In their interview with Geoff Emerick, the man who engineered the album at Abbey Road, and wrote a memoir on his time with the band, they break down what made the music so revolutionary. A sampling of the fun facts and analysis:
Tomorrow Never Knows
The last song on Revolver was actually the first one written. In December 1965, after a mind-expanding acid trip, John Lennon wrote what would later become "Tomorrow Never Knows." The completely unique four-track song, with its organ drones, backward guitar, bird calls, and megaphone vocals, perfectly encapsulates what Revolver was about: revolution. Geoff Emerick shares two facts about Lennon's lack of technical prowess. First, not being able to communicate how he wanted his vocals to sound technically, Lennon simply asked Emerick to have his voice sound like monks singing on a mountaintop. Also, the backwards guitar part was a happy accident. Lennon, not knowing how to run a reel-to-reel machine, simply loaded the tape backwards and liked what he heard.
Rain
The interesting thing about this song is that it wasn't even released as part of the original Revolver album. It was the B-side of a single (paired with "Paperback Writer") that was recorded during the same session. EMI expected The Beatles to write and record not only an amazing album, but hit singles as well. Jim recommends fans burn their own complete Revolver with the addition of these singles.
Yellow Submarine
Geoff Emerick's description of recording "Yellow Submarine" is one of the most entertaining in his book. The session was attended by a raucous group of notable guests including Mick Jagger, Brian Jones, Marianne Faithfull and Patti Harrison. In the middle of recording, Lennon decided that he wanted to sound like he was singing underwater, and in fact, suggested that he do just that. Out of desperation, the engineer agreed to try it, and placed the microphone in a milk bottle filled with water. In order to protect the microphone he used a condom provided by longtime Beatles roadie Mal Evans.
Eleanor Rigby
Emerick was really innovative in how he recorded different instruments. This is particularly evident on this song, written by Paul McCartney, which incorporates an eight-piece string section. In fact, none of the Beatles actually played on "Eleanor Rigby." In order to get the best possible sound, Emerick placed the microphones just inches away from the two violas, two cellos and four violins. Beatles fans are so used to this song that it's hard to imagine what it would be like to experience it for the first time in 1966, let alone on the same record as traditional-sounding rock songs like "Good Day Sunshine" and "Got to Get You Into My Life".
Taxman
Revolver marks significant growth in the band's sound, as well as for the individual Beatles. George Harrison really matured as a songwriter on this album, which has an unprecedented three songs written by him, as opposed to chief songwriters Lennon and McCartney. While Harrison is often thought of as the more transcendental Beatle, Jim notes that "Taxman" expresses a very normal, earthly concern: paying taxes. While Harrison grew as a songwriter, Emerick admits that he still struggled with the guitar during some of the recording of this album. After wrestling for almost nine hours with the song's famous guitar solo, the part ended up being handed over to Paul McCartney, who hit it in on the first take.
Go to episode 25