classic album dissections 2012
#1 Record available on iTunes
Big Star #1 Record
Jim and Greg celebrate the 40th anniversary of Big Star's debut album by revisiting their Classic Album Dissection of the band's first two records, #1 Record and Radio City. #1 Record might be nearing middle age, but the pop sound Big Star pioneered in the seventies is as vibrant as ever. As Jim and Greg discuss, the band changed the history of American music, without selling very many records. With a sound that combined Memphis Soul with British Invasion rock, they laid the groundwork for American"Power Pop"and influenced bands including R.E.M., Wilco and The Replacements. The original Big Star lineup included former Box Tops singer Alex Chilton, Chris Bell, Andy Hummel and Jim and Greg's guest this week, drummer Jody Stephens.
Following their discussion with Jody Stephens, Jim and Greg each discuss and play a song. Greg chooses to highlight the opening track from #1 Record called "Feel." The song was written and performed by Chris Bell. While Alex Chilton is the name most people associate with Big Star, Bell really created it. Most of his incredible work didn't see the light of day until after his death at age 26, but Greg thinks songs like"Feel,"illustrate the power of his voice and lyrics-many of which convey the problems he faced in his short life.
Jim plays a song written and performed by Alex Chilton from the second album called "September Gurls." As he discussed with Jody earlier in the show, this was a breakout song for the band and one that was immediately adored by critics and fans including The Bangles, who later covered it. Jim's not sure what the song means, but for him it's more about the mood that Chilton created. With its sweeping melodies and"pan-sexuality"it's a power pop classic.
Go to episode 365
Live at the Apollo available on iTunes
James Brown Live at the Apollo
Before he was America's Godfather of Soul, James Brownwas the king of the South's segregated chitlin' circuit. It took Live at the Apollo - an album recorded fifty years ago last month on Brown's own dime- to catapult him onto the national stage. In honor of its fiftieth, Jim and Greg give Brown's Live at the Apollo a well-deserved Classic Album Dissection with help from music writer RJ Smith. RJ's biography of Brown, The One: The Life and Music of James Brown, came out earlier this year. As RJ explains, James Brown was all about the live experience. He knew if radio listeners could just hear his live show, he could be"Gary Cooper big."He was right. High-energy numbers like"Night Train"and"Think"propelled Brown onto the pop charts and super-charged his career. But as Greg notes, Live at the Apollo wasn't just a turning point for Brown personally, it was a turning point for music. Suddenly doo-wop and soul was starting to sound…funky.
Go to episode 362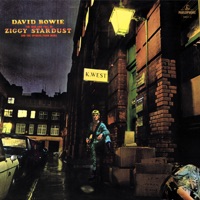 The Rise and Fall of Ziggy Stardust and the Spiders from Mars available on iTunes
David Bowie The Rise and Fall of Ziggy Stardust and the Spiders from Mars
It's been forty years since David Bowie released The Rise and Fall of Ziggy Stardust and the Spiders from Mars, making this a prime time for Jim and Greg to get out the scalpels for a Classic Album Dissection. Not that Jim and Greg need much prompting to reopen The Bowie Debate (right up there in Sound Opinions lore with The Springsteen Debate and the Tom Waits Debate). The major bone of contention: was Bowie simply an assimilator of others' musical styles or an innovator in his own right? While Greg touts Bowie as a rock legend, Jim stops short at"master assimilator."But even Jim has to admit Ziggy Stardust is among the best records in Bowie's career, if only because of all of his guises, it's the most unabashedly over-the-top.
Jim tackles side one of the album, which lays out the Ziggy Stardust story. Bowie's vague on the details, but it seems the alien Ziggy has come to earth to rock humanity in the last five years of its existence. It's a tough plot to follow, but Jim says the Spiders make it all worthwhile. Inventive instrumentation and Mick Ronson's stellar guitar work make songs like "Moonage Daydream" rock classics. Greg takes on side two - the harder rocking side of the album. Here you really hear those Ronson riffs that were so influential for punks like The Sex Pistols. Whereas Bowie's theatricality and tendency to take on personas can put Jim off, Greg thinks the value of Bowie's experimentation with glam fashion and especially gender roles can't be understated. At a time when it was dangerous to be anything other than straight, Ziggy welcomed in a new audience of outsiders singing "Gimme your hands cause you're wonderful."
Go to episode 347
Amazing Grace available on iTunes
Aretha Franklin Amazing Grace
It's a big year for Aretha Franklin. The"Queen of Soul"just turned 70, and her bestselling album, Amazing Grace, turns 40 this June. No, you won't find megahits like "Respect" or "Think " on Amazing Grace's track list, but this 1972 album of gospel covers influenced rock and rollers as diverse as the Rolling Stones and U2, and transformed gospel as we know it. In honor of the anniversary, Jim and Greg do a classic album dissection of Amazing Grace. They're joined by Aaron Cohen, Downbeat editor and author of a book on Amazing Grace for the 33 1/3 series. Everything Aretha did in this era, Aaron explains, she did in a big way. Her return to gospel music after over a decade in the pop wilderness was no exception. The record was recorded live at a Baptist church in Watts, Los Angeles over two days. Gospel luminaries including singer Clara Ward and Aretha's father, the Reverand CL Franklin, were in the audience (as were the Stones' Charlie Watts and Mick Jagger). Freed from the constraints of cutting a three-minute single, Franklin takes her time on Amazing Grace, stretching songs and combining them in surprising medleys. But the real magic of the album, Aaron contends, comes from the combination of Aretha's voice with that of Reverend James Cleveland's Southern California Community Choir. This combination of star soloist and choir became standard in gospel music from this point forward.
As always with classic album dissections, Jim and Greg choose their own tracks from Amazing Grace to highlight. Jim goes with "Precious Lord (Take My Hand)/You've Got a Friend," a medley that melds a classic gospel tune with Carole King's decidedly secular pop hit. Greg chooses "How I Got Over," a Clara Ward cover that, he explains, was closely associated with the ongoing civil rights movement.
Go to episode 332