features 2018
Disco
Boasting one-of-a-kind artists like the gender-bending Sylvester to the expansively creative Donna Summer, disco is sorely underrated. At least, that's what Jim and Greg argue in their retrospective of the genre. Disco did more than give us catchy, dance-ready tunes: it championed marginalized voices, especially those in the Black and LGBTQ communities. Jim and Greg outline major moments for the genre, from its R&B roots, to the infamous Disco Demolition night in Chicago, to its influence on genres to come.
Go to episode 668
Sound Opinions Live!
We frequently welcome musicians to our studios, but we can't always air every performance. This week, Jim and Greg play some of their favorite exclusive in-studio performances, like a memorable one from New Orleans R&B legend Allen Toussaint recorded back in 2014. They also share some never before heard performances from artists like afrobeat collective Antibalas, art rock/punk group Girlpool, gospel/hip hop artist Sir The Baptist and more.
Go to episode 658
Obit: Scott Hutchison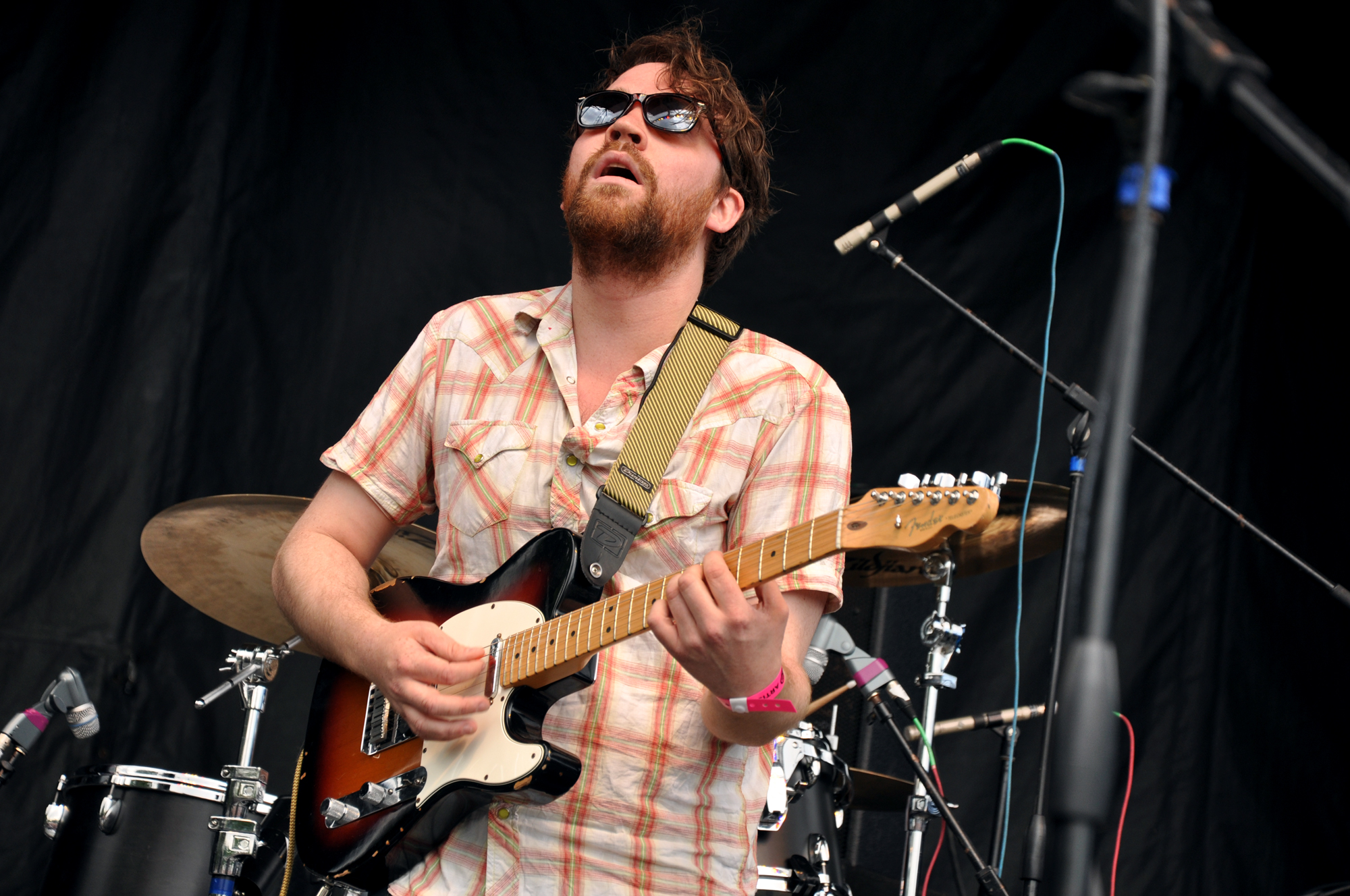 Scott Hutchison of Frightened Rabbit died recently at the age of 36 after suffering for years with bouts of depression. He and bandmate/brother Grant Hutchison visited Sound Opinions in 2009, after the release of their 2008 breakthrough album The Midnight Organ Fight. Greg gives his remembrance of the Scottish singer-songwriter who wrote cathartic music that Hutchison called "Anthemic Misery Indie."
Go to episode 651
Hooked On Sonics: Torres
"The first time I heard that song, it was one of those drop everything kind of moments" is how singer and songwriter Mackenzie Scott - AKA Torres - explains the moment she heard "The Phantom of the Opera." For our occasional series Hooked on Sonics, we talk with musicians about the song that inspired them to start singing, pick up an instrument, or write a song. When Torres first heard this work by Andrew Lloyd Weber around the age of 14,"something flipped"and she wanted to sing. She says the pairing of melody and harsh sounds in Phantom is something she tries to capture in her own music.
Go to episode 648
Captain Beefheart
This week, Jim and Greg take the plunge into the depths of an artist that is notoriously difficult for many music fans to enjoy - Captain Beefheart. This writer, singer, visual artist and musician had a larger-than-life personality and blurred the lines of genres like rock and roll, blues, free jazz and more. Beefheart influenced countless artists from John Cale to PJ Harvey to Jack White - who recently reissued Beefheart's most famous record Trout Mask Replica on his own label Third Man Records. Jim and Greg go through Beefheart's origin story, discography and importance. Plus they'll talk to long-time collaborator Gary Lucas.
Go to episode 646
Obit: Cecil Taylor
Greg doesn't use the term"genius"often, but he does think it applies to both Captain Beefheart and Cecil Taylor. Greg remembers the trailblazing free jazz pianist Cecil Taylor, who passed away April 5th at the age of 89.
Go to episode 646
Hooked On Sonics: Frank Turner
British singer-songwriter Frank Turner grew up wanting to play thrash metal, but it was a very different song that he first learned to play on the guiter. Hooked on Sonics is our feature where musicians tells us about the song that first got them into music. For Frank Turner, that song was Counting Crows' "Round Here." Turner's sister was playing the first Counting Crows record non-stop and while it wasn't his first choice in music, he ended up learning to play it."Thrash is quite hard to play…I ended up learning a bunch of Counting Crows songs partly because it meant I could play something coherent on the guitar, and partly becasuse it would please my sister."He says he also recognized himself in the lyrics about growing up in a small town,"being from a small town and osciallating between affection for it and feeling slightly trapped in it…really resonated with me."Turner has even played the song during his shows and one time his sister, who played that album non-stop, even joined him.
Go to episode 645
Hooked On Sonics: Helado Negro
Helado Negro's work (like his latest album, Island Universe Story Four) blends the tropical sounds of his South Florida upbringing with psychedelic and electronic explorations. In this installment of Hooked On Sonics, we hear about how his older cousin first opened his eyes to other worlds of music, from John Coltrane to Aphex Twin.
Go to episode 640
Obit: Mark E. Smith
Mark E. Smith, the lead singer of the post-punk band The Fall, died at the age of 60. The Fall emerged in 1976 and with 32 studio albums and some additional 30 live albums, one can see how the band is both impactful and daunting. Their sound was grinding and aggressive, often paired with Smith's caustic lyrics. Jim has mixed thoughts about The Fall and Smith's aggressive performances, but thinks that there are about a dozen or so great tracks worth your time. Greg thinks there are plenty of songs and albums to recommend to the uninitiated. Smith had some great tracks on early '90s albums like The Infotainment Scan, showing moments of entry points. However both hosts agree that Smith's contribution to music as a lyricist and performer was one-of-a-kind.
Go to episode 636
Obit: Hugh Masekela
South African jazz trumpeter Hugh Masekela died on January 23rd at the age of 78 after a long battle with cancer. A musician not afraid to express his political views, he spent many years in exile during the height of apartheid in his homeland. He is best known for his biggest hit, 1968's "Grazing in the Grass," as well as for a long list of protest songs. Greg thinks those protest songs, like "Bring Him Back Home (Nelson Mandela)" are Masekela's most poignant. He adds, "The fact that he was able to go back to South Africa, and live there… To see the revolution and the protest he advocated for in his songs, finally come to fruition in the end of apartheid… I think was a particularly powerful statement for his music."
Go to episode 635
Obit: Dolores O'Riordan
Jim pays tribute to the late Dolores O'Riordan of the '90s Irish rock band The Cranberries. Jim plays "Zombie," the Cranberries' impassioned political hit that embodies all the conviction and strength of the late lead singer. O'Riordan died in mid-January at the age of 46, the cause of death is still unknown.
Go to episode 635
New Wave
No one of a certain age can hear "Rio" without picturing Simon LeBon and the members of Duran Duran crooning off the side of a yacht. They were the "Rolling Stones of the New Wave era" according to writer Lori Majewski, and those videos represented everything you either love or hate about the 1980s—the excess, the sex, the fashion and the pure pop production. But, while this was a very visual era of music (with infamous clothes and even more infamous hair), there's a lot to be said for the sound, which was made possible by then-new technology like the digital synthesizer. Jim and Greg talk to Lori about her 2014 book Mad World: An Oral History of New Wave Artists and the Songs That Defined the 1980s, co-written with Jonathan Bernstein. In it, the authors reveal why New Wave caught on so strongly with pop fans and the media, especially post-punk in the U.K. (Certainly the NME would rather photograph Adam Ant than a spitting Johnny Rotten).
Go to episode 634
In Memoriam: Rick Hall
Greg pays tribute to the late Rick Hall, a producer and owner at FAME Studios in Muscle Shoals, Alabama. There, he worked with legendary artists like The Staple Singers, Aretha Franklin, Etta James and more. Hall died in early January at the age of 85. Greg chose to play Wilson Pickett's cover of The Beatles' "Hey Jude," which also featured a young Duane Allman on guitar. He thinks it's a great example of Hall's producing prowess and the kind of music he oversaw in Muscle Shoals.
Go to episode 633