Review Roundup & The Masked Marauders
Spring is here, and it's time to get caught up with some of the new releases of the season. From comeback kids to buzzworthy new artists, Jim and Greg have you covered. Plus, we revisit the"best"supergroup of all time 50 years later, The Masked Marauders.
Subscribe via iTunes
Download This Episode
review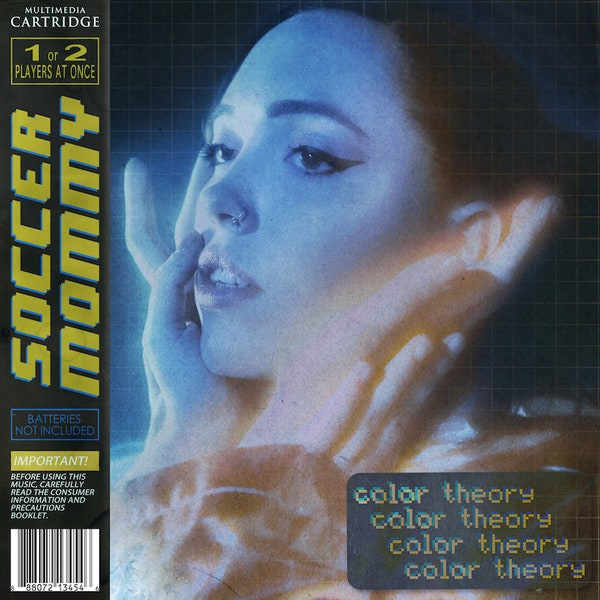 Soccer Mommy color theory
Soccer Mommy's second proper album, color theory, comes after her 2018 album, Clean, garnered widespread accolades and high-profile tour-mates like Kacey Musgraves, Mitski and Liz Phair. Jim is impressed how Sophie Allison, the mastermind of Soccer Mommy, used synethesia as an organizing principle for this album. He's a fan of her combination of dreamy pop with dark lyrics expressing her depression. Greg sees a lot to love as well: the directness of the writing and personal expression of songs like"yellow is the color of her eyes."However, the musical arrangements don't pack the same punch for him as the lyrics. Jim disagrees, citing the long legacy of dark words accompanying beautiful music from the blues to opera.
review
Cornershop England is a Garden
Jim and Greg are happy to announce that Cornershop is back, although they never really stopped recording after their massive Number One hit, 1997's "Brimful of Asha". The band was founded with Tjinder Singh and Ben Ayres (the two constant members), and Greg says that the band was part a fruitful 1990s movement of Indian music coming out of the UK that also included Asian Dub Foundation and Talvin Singh. England is a Garden, the group's 9th album, supplies more of the Indian-influenced Brit Pop that made"Brimful"so memorable in the first place. The resulting mix is "as much of an evocation of one vision of Jolly Old England as Pink Floyd was." Yet the vision also contains a dark undercurrent, as Singh (a man of Indian descent) talks about being the victim of slurs and harassment on the street. Greg gives the example of "St. Marie Under Canon" as a song with a "garage-y, Motown vibe" with "bouncy Hammond organ; and then, they're talking about colonialism and the march of black boots… There's these undercurrents of political commentary in these great tunes." Jim is quick to acknowledge that the group had long ago fallen off his radar, but this album "is a breath of fresh air that made [him] fall in love deeply with the band." Both Jim and Greg conclude that the album is brilliant.
review
U.S. Girls Heavy Light
U.S. Girls is a project by singer and songwriter Meghan Remy. The band has explored many different genres over the years, ranging from noise rock to glam to '60s girl group. Heavy Light is U.S. Girls' 7th studio album, and features the blending of elements like Hal Blaine's iconic drumbeat on the Ronettes' classic "Be My Baby" and almost musical theatre-like instrumentation and vocals throughout. While Greg acknowledges that he is a fan, he was not satisfied by this record and was expecting more. He thinks the first half of the record is pretty good, but finds it falls apart as it goes on, and the Broadway tone is not for him. Jim agrees that he doesn't care for the musical theatre tint Heavy Light has, and is not sure why she randomly references leaving a cake out in the rain, à la the Jimmy Webb-penned song "MacArthur Park" in the middle of her track "Woodstock '99."
review
Rookie Rookie
The guys in Rookie may have officially formed in 2018, but they've been mainstays in the Chicago scene for years now. Now their debut album, Rookie, is poised to cement their place in Chicago's classic rock influenced scene that includes Twin Peaks and Whitney. Both Jim and Greg are impressed by the energetic, good-times,"give me a beer, no make it a pitcher,"attitude. The combination of Cheap Trick, Big Star, Thin Lizzy and The Allman Brothers influences puts Jim in mind of early Replacements. He's looking forward to hearing their "Unsatisfied." Greg points out there is a lot of musical information packed into Rookie's songs like "Hold On Tight" and applauds their compositional savvy. Both Jim and Greg can't wait to see them live when clubs are reopened.
review
Angelica Garcia Cha Cha Palace
Angelica Garcia has made a big impression on Jim and Greg with her new album, Cha Cha Palace. Even though Jim previously named her as a buried treasure, this album blew him away. Greg calls the record great, and was impressed by how she mined her East Los Angeles Mexican and El Salvadoran upbringing into the mash-up that is her sound, "a collage of influences with a larger than life personality at the center of it". He is also impressed by the versatility of her voice: describing it as"blazing"on "It Don't Hinder Me," in contrast with the"beauty"that she brings to "The Big Machine." Jim notes that"Angelica Garcia is taking no guff from anybody, but she is doing it with joy. This is an album that as you rage, you want to dance."
feature
The Masked Marauders
In the late 1960s, supergroups like Crosby, Still and Nash and Blind Faith were dominating the album charts and achieving critical acclaim. So what happened when allegedly three of the Beatles, one Rolling Stone and an American folk hero got together and recorded a secret album? Sound Opinions producer Alex Claiborne tells the story of The Masked Marauders on their 50th anniversary.
Featured Songs
Soccer Mommy, bloodstream, color theory, Loma Vista, 2020
Soccer Mommy, crawling in my skin, color theory, Loma Vista, 2020
Soccer Mommy, yellow is the color of her eyes, color theory, Loma Vista, 2020
Cornershop, No Rock Save in Roll, England Is A Garden, Ample Play, 2020
Cornershop, Brimful of Asha, When I Was Born for the 7th Time, Wiiija, 1997
Cornershop, St. Marie Under Canon, England Is A Garden, Ample Play, 2020
Cornershop, England Is A Garden, England Is A Garden, Ample Play, 2020
The Kinks, The Village Green Preservation Society, The Kinks Are the Village Green Preservation Society, Pye, 1968
Cornershop, Slingshot, England Is A Garden, Ample Play, 2020
U.S. Girls, Born to Lose, Heavy Light, 4AD, 2020
U.S. Girls, State House (It's a Man's World), Heavy Light, 4AD, 2020
U.S. Girls, The Quiver to the Bomb, Heavy Light, 4AD, 2020
U.S. Girls, Woodstock '99, Heavy Light, 4AD, 2020
Rookie, Miss United States, Rookie, Bloodshot, 2020
Rookie, Hold On Tight, Rookie, Bloodshot, 2020
Rookie, Elementary Blues, Rookie, Bloodshot, 2020
Angelica Garcia, Jícama, Cha Cha Palace, Spacebomb, 2020
Angelica Garcia, Guadalupe, Cha Cha Palace, Spacebomb, 2020
Angelica Garcia, Agua De Rosa, Cha Cha Palace, Spacebomb, 2020
Angelica Garcia, It Don't Hinder Me, Cha Cha Palace, Spacebomb, 2020
Angelica Garcia, The Big Machine, Cha Cha Palace, Spacebomb, 2020
Blind Faith, Had to Cry Today, Blind Faith, Polydor, 1969
The Masked Marauders, I Can't Get No Nookie, The Masked Marauders, Deity, 1969
Creedence Clearwater Revival, Green River, Green River, Fantasy, 1969
Cleanliness and Godliness Skiffle Band, Tonight You Belong to Me, Greatest Hits, Vanguard, 1968
The Masked Marauders, Cow Pie, The Masked Marauders, Deity, 1969
The Masked Marauders, Duke of Earl, The Masked Marauders, Deity, 1969
The Masked Marauders, More or Less Hudson's Bay Again, The Masked Marauders, Deity, 1969
Klaatu, We're off You Know, Hope, Capitol, 1977
Bertholet & DJ Garlik, Favorite Sause, Favorite Sause (Single), Joeri Ritzen Records, 2020
Lupe Fiasco, Pick Up The Phone, DROGAS Light, 1st & 15, 2016
Shearwater, Backchannels, Jet Plane and Oxbow, Sub Pop, 2016
John Lennon, Isolation, John Lennon/Plastic Ono Band, Apple, 1970
The Gris Gris, Necessary Separation, The Gris Gris, Birdman, 2004
Joni Mitchell, California, Blue, Reprise, 1971
Joni Mitchell, Little Green, Blue, Reprise, 1971