Songs About Time, Ask the Critics Pt. 2
Let's "Rock Around the Clock" like Bill Haley told us to! 2020 is another leap year, Daylight Savings is around the corner and this week, Jim and Greg explore their favorite Songs About Time. They also answer more listener questions for another edition of Ask the Critics, ranging from their personal experiences making music to their biggest disagreements.
Subscribe via iTunes
Download This Episode
list
Songs About Time
Ready to rock around the clock? This week, Jim and Greg play their favorite Songs About Time.
feature
Ask the Critics Pt. 2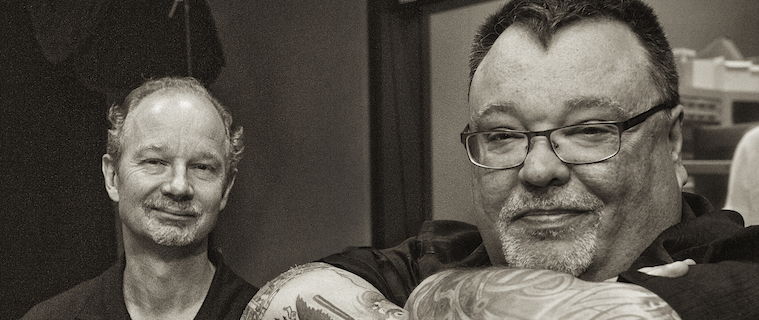 Jim and Greg continue answering listener questions this week! Listen to part one here.
Kim: "Have you ever been in a major fight over a musical disagreement? (If yes, DETAILS!)"
Daniel Bass: "How do you feel that being in Chicago, rather than music industry hubs like New York, LA or Nashville, affects the show."
Raquel: "Could you please talk about T.V. series and their soundtracks? Not the old ones, but what we're currently viewing. How does pop music contribute to the narrative, etc.?"
Dan LoPresti: "What are the origins of the Eno bell? Explain the Brian Eno ding. I know Eno at a general level. Is the ding a name-dropping thing?"
Ben Gart: "Have you ever talked about your own adventures in creating and performing music?"
Featured Songs
Fairport Convention, Who Knows Where The Time Goes?, Unhalfbricking, Island, 1969
Pink Floyd, Time, The Dark Side of the Moon, Harvest, 1973
Ice Cube, It Was a Good Day, The Predator, Priority, 1992
The Dukes of Stratosphear, 25 O'Clock, 25 O'Clock, Virgin, 1985
Bill Haley & His Comets, Rock Around the Clock, Rock Around the Clock, Decca, 1955
The Easybeats, Friday on My Mind, It's 2 Easy, Repertoire, 1966
The Chambers Brothers, Time Has Come Today, The Time Has Come, Columbia, 1967
The Roots, The OtherSide, Undun, Def Jam, 2011
Dr. John, Right Place, Wrong Time, Right Place, Wrong Time, Atco, 1973
The Rolling Stones, Time Is on My Side, 12 X 5, London, 1964
Sharon Van Etten, Every Time the Sun Comes Up, Are We There, Jagjaguwar, 2014
Richard Hell and the Voidoids, Time, Destiny Street, Red Star, 1982
Destiny's Child, Independent Women Pt. I, Charlie's Angels, Columbia, 2000
Bruce Springsteen, Born to Run, Born to Run, Columbia, 1975
The Fiery Furnaces, Even In the Rain, I'm Going Away, Thrill Jockey, 2009
Nick Cave and the Bad Seeds, Red Right Hand, Let Love In, Mute, 1994
Fontella Bass, This Would Make Me Happy, This Would Make Me Happy (Single), Sonja, 1964
Graham Coxon, Walking All Day, The End of the Fucking World, Graham Coxon, 2018
Brian Eno, Fickle Sun (III) I'm Set Free, The Ship, Opal, 2016
U2, With Or Without You, The Joshua Tree, Island, 1987
Vortis, Fire and Fury, This Machine Kills Facists, Vortis, 2019
The Beatles, Octopus's Garden, Abbey Road, Apple, 1969
David Bazan, Won't Let Go, Strange Negotiations, Barsuk, 2011
NRBQ, Ridin' In My Car, All Hopped Up, Outline, 1977
King Crimson, Epitaph, In the Court of the Crimson King, Island, 1969
Delay in Orbit, On Motion, Light, And Sound, On Motion, Light, And Sound, Western Pleasure, 2015
Mr. Husband, Dreamdriver, Silvertone, Yellow K, 2016