Results for Yvonne Staples
interviews
Mavis Staples
It's not often we get to share a room with a genuine national treasure. Jim and Greg were honored to speak with gospel and soul legend and Civil Rights icon Mavis Staples. (Greg is also the author of Mavis's 2014 biography I'll Take You There). Beginning her career at age eleven as the lead singer of her family band The Staple Singers, Mavis has inspired countless artists over the past half century.
Her father Pops Staples learned guitar at the feet of Charley Patton in Dockery Farms, Mississippi before moving to Chicago. There, he formed The Staple Singers, a gospel vocal group featuring his children – Pervis, Cleotha, Yvonne, and Mavis taking the lead. The combination of Pops's blues guitar, Cleotha's counterpoint, and Mavis's precociously powerful voice launched them into national attention with their 1956 hit "Uncloudy Day." Soon, the Staple Singers were at the forefront of the Civil Rights Movement, often serving as the opening act to Martin Luther King, Jr. (We'll cover that period in more detail in a second episode with Mavis).
The group had its greatest success once it signed to Stax Records and began recording with the famed session musicians in Muscle Shoals, Alabama on hits like "I'll Take You There." That's also when Mavis began her solo career – reluctantly at first, but still going as strong as ever today. Her latest album Livin' on a High Note found her working with songwriters like Nick Cave, tUnE-yArDs, and Neko Case. Mavis offers Jim and Greg an intimate look at growing up on Chicago's South Side, forming the Staple Singers' signature sound, meeting Mahalia Jackson, and collaborating with Curtis Mayfield and Prince.
Go to episode 593
Mavis Staples
Earlier this year, we aired part one of an interview that Jim and Greg did with gospel and soul legend Mavis Staples. Mavis was such a fantastic guest that we had plenty of extra tape that we haven't been able to broadcast until now. Greg literally wrote the book on Mavis Staples, titled I'll Take You There. As he details in the book, activism is nothing new to Mavis. The theme of social consciousness is something that started for Mavis as a part of The Staple Singers, and it continues to run through Mavis' solo career. It's a major theme of her upcoming record If All I Was Was Black. In the 1950s and 60s, the Chicago-based Staple Singers toured the Jim Crow South extensively. It was a learning curve in many ways for the young Mavis, along with her siblings Cleotha, Yvonne, and Pervis.
Go to episode 618
reviews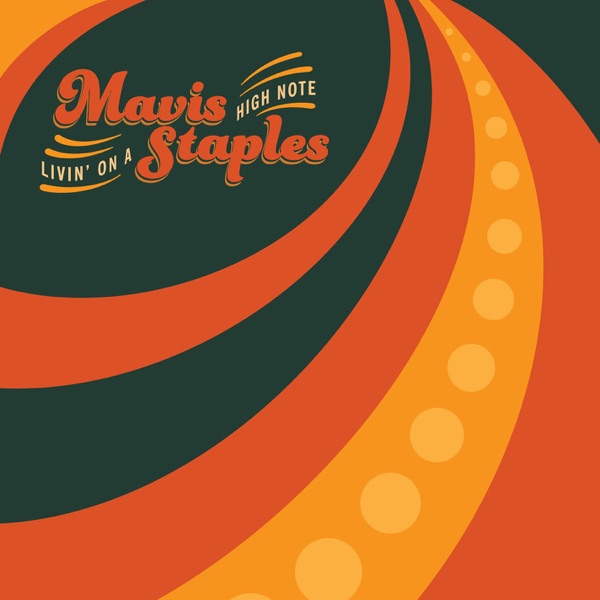 Livin' On a High Note available on iTunes
Mavis Staples Livin' On a High Note
Mavis Staples had a legendary career with her family's gospel and soul band The Staple Singers, which was a major part of the protest movement of the 1960s and scored huge hits for Stax in the 1970s. Mavis reinvented herself as solo artist in 2000s, collaborating on records with Ry Cooder and Jeff Tweedy. For Livin' On a High Note, she and producer M. Ward as a producer asked a variety of contemporary songwriters to write material for her to sing, including Neko Case, Nick Cave, Bon Iver's Justin Vernon, and Merrill Garbus of tUnE-yArDs. Jim loves how the best songs bring Mavis full circle by referencing on the Black Lives Matter movement. While the other songs are hit and miss, Mavis Staples is a"national treasure"and her voice is as powerful as ever. Jim is still waiting for her end career masterpiece, but this album is a definite Buy It. Greg – who literally wrote the book on Mavis Staples – points to We'll Never Turn Back as her masterpiece, but says this album is very good too. He loves what she does even with the lesser songs, like Vernon's generic love song, which she transforms into a moving address to her sister Yvonne Staples. In the middle of her 70s, Mavis Staples is doing some of the best work of her career.
Go to episode 536