Results for Washington
interviews
Melvins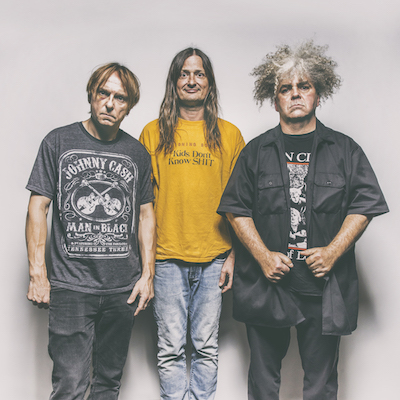 The Melvins are hailed as progenitors of sludge metal, key influences on the Seattle grunge scene, and avant-garde pranksters – but their music has always been virtually unclassifiable. That's certainly the case on their new double-album A Walk With Love & Death, which veers from heavy rockers to pop songs to ambient film scores. The Melvins join Jim and Greg in the studio to talk about the new record and their long career, dating back to their 1984 formation in Washington.
Guitarist/vocalist Buzz Osborne (aka King Buzzo) and drummer Dale Crover form the core of the Melvins, alongside a rotating bassist slot that's currently filled by Steve McDonald of Redd Kross and OFF!. They discuss their ill-fated major label stint in the 1990s, the importance of playing the music that you want to play, and how they manage to survive as a band for over thirty years. They also dispel myths about Nirvana (of which Crover was an early member) and the rest of the storied Seattle scene.
Go to episode 613
reviews
We Were Dead Before The Ship Even Sank available on iTunes
Modest Mouse We Were Dead Before The Ship Even Sank
This show is an all-reviews blowout starting with the new release from Washington state indie rockers Modest Mouse. We Were Dead Before The Ship Even Sank is one of the most highly anticipated records of the season. Modest Mouse's underground fan base has emerged into the mainstream in the past few years, despite lead singer and chief songwriter Isaac Brock's status as a rather polarizing figure. Jim recommends fans check out Alan Goldsher's profile of Brock, Modest Mouse: A Pretty Good Read. Now, the band is joined by former Smiths' guitarist Johnny Marr. James Mercer, lead singer of The Shins, also provides backing vocals on a number of tracks. Greg thinks that Isaac Brock is doing what he does best on this album: combining quirky vocals and rhythms with a traditional pop sensibility. He describes it as a very well-crafted record that isn't over-thought or overproduced and gives We Were Dead Before The Ship Even Sank a Buy It. Jim was also impressed, describing the album as"brilliant."He thinks Brock deals in gloom and doom better than his peers and urges everyone to Buy It.
Go to episode 68
Strangers to Ourselves available on iTunes
Modest Mouse Strangers to Ourselves
After making fans wait 8 years, Modest Mouse is back with Strangers to Ourselves. The Washington band graduated college rock and had a brief taste of big time success with "Float On." But, disappointingly for Greg, they haven't used this extended break to make any sonic shake-ups. It's more of the same - almost like lead singer Isaac Brock has been sleeping these past years and woke up just prior to recording. He says Trash It. Jim wonders why all the shade, Greg?! True, Modest Mouse does one thing, but they do it really well. The album is admittedly a few tracks too long (especially the track "Pistol"), but Jim thinks the band really succeeds at giving listeners a lilting, wistful, psychedelic sound that also delivers pop hooks. He says Buy It.
Go to episode 490
news
Music News
The news starts with Front Line Management's lawsuit against Axl Rose. Front Line's founder and chief executive is Irving Azoff, who is also executive chairman of Live Nation Entertainment, which merged with Ticketmaster last month. Jim and Greg discuss the impact of such a lawsuit on an artist. Considering the mega-corporation controls ticketing, venues and many other aspects of the industry, they may not be one to tangle with. Also, they note that the lawsuit is over a breach of "oral contract." Who agrees to an oral contract these days? Especially with Axl Rose!
Jim and Greg discuss the yet again delayed emergence of Spotify in the U.S. The Internet music service, introduced in 2008 by Daniel Ek, has become one of the most popular of its kind in Europe with 7 million users. But despite rumors that it would come to the States this summer, Ek is still having trouble navigating our thick legal system. He wants Spotify to be legitimate, and that means a lot of licensing fees. But once it does hit our soil, Greg predicts big success.
It hit about 80 degrees this week in Chicago, and while it may snow again next week, we've got our eye on the summer. Jim and Greg run down some of the biggest music festivals of the season. First up is Coachella this month, which will feature Jay-Z, LCD Soundsystem and Faith No More among others. The following month, music fans can travel to Washington for the Sasquatch Festival to see My Morning Jacket, Kid Cudi and Ween. In June Bonnaroo will host the Dave Matthews Band, Stevie Wonder and Weezer. Two of the biggest festivals are right here in our hometown: Pitchfork Music Festival, which will boast a Pavement reunion, and Lollapalooza, which Greg can nearly confirm will have headliners Lady Gaga, Green Day, and a reunited Soundgarden. But, Jim points out that not all of the best multi-act concerts are destination festivals. Lilith Fair is back this year as a traveling women-fueled act with Mary J. Blige, Cat Power and Kelly Clarkson.
Go to episode 227