Results for Thundercat
reviews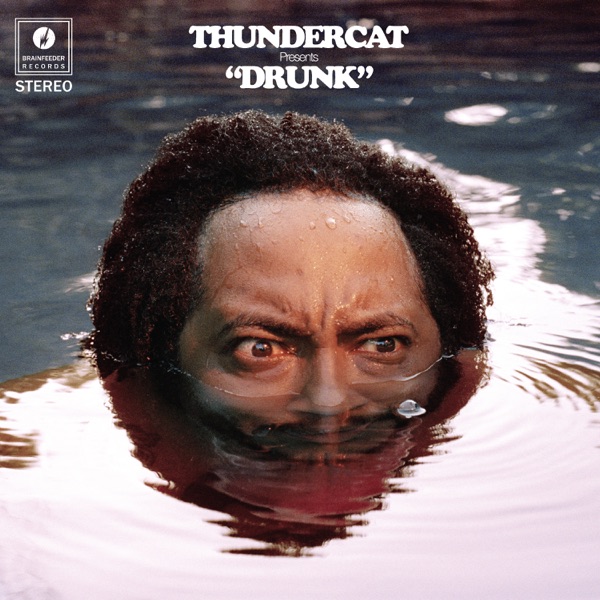 Drunk available on iTunes
Thundercat Drunk
Stephen Bruner, better know as Thundercat, is an in-demand session bassist. A resume containing artists from Kendrick Lamar to Suicidal Tendencies is testament to that. Thundercat is also a songwriter in his own right and has just released his third album, Drunk. Weighing in at 23 tracks, Greg says it is a challenging listen. With references to jazz fusion, Earth, Wind and Fire, and cameos from Kenny Loggins and Michael McDonald he admits the album is"bewildering,"especially as Thundercat vacillates from introspective songs about mortality and police brutality, to shopping for anime in Tokyo. But, Greg says it is an"audio-veritae"of Thundercat's life, that shows virtuosity and personality. That said, Greg stops short of saying Buy It and instead gives it a Try It and he eagerly awaits what is next from Thundercat.Jim, had a much more visceral reaction to this record saying he"despises it"and claiming it left him with a skin rash (Editor's Note: we didn't verify this). He says the album is full of"pointless busyness"as Thundercat tries to cram too many ideas into his music. It goes without saying, Jim gives it a Trash It.
Go to episode 589
Universal Beings available on iTunes
Makaya McCraven Universal Beings
Makaya McCraven is a young, Chicago-based jazz drummer who also deconstructs his own live improvisational recordings to make hip hop reworks. Makaya's latest album, titled Universal Beings, features young jazz luminaries like bassist Junius Paul, horn player Shabaka Hutchings, jazz harpist Brandee Younger, and cellist Tomeka Reid. Also featured on guitar is Jeff Parker, who is probably best known as a member of Chicago post-rock group Tortoise; but Parker is a staple on the jazz underground scene, as well. Makaya took the products of recording sessions in New York, Chicago, Los Angeles, and London and electronically condensed, looped, and reworked them for the tracks on the final album. Jim and Greg compare Makaya's process to Teo Macero's post-production edits of Miles Davis sessions during Miles' electric period on albums like On The Corner. Greg notes that the album has the crossover appeal of work by other young jazz artists like Thundercat, Robert Glasper, and Kamasi Washington. They both agree that Universal Beings is a great introduction to a new international underground jazz scene. Jim adds that Universal Beings "is a brilliant… and, yet easy to listen to… seductive album".
Go to episode 676
dijs
Jim
Thundercat left a bad taste in Jim's mouth but it did get him thinking about other artists that could be considered alternative hip hop. And the band that came to his mind was one that has never been discussed on Sound Opinions: Arrested Development. The socially conscious hip hop collective garnered huge critical and commercial success with its first album 3 Years, 5 Months And 2 Days In The Life Of… but never captured that same praise again despite a long recording career. Jim says the message and the melody of the 1992 track Tennessee secures its slot in the Desert Island Jukebox.
Go to episode 589
rock doctors
Kung-Fu
Yes it's time for a visit to the doctor. But don't fret, the Rock Doctors are way fun. During this episode Jim and Greg treat a Kung Fu master. "Sifu" Richard Baron runs Kung Fu Power in Highland Park, IL. While it isn't traditional for martial artists to train to music, he finds it helps to inspire his students. But, he admits the playlist is getting a bit stale. So he turns to Drs. Kot and DeRogatis for a prescription for new music.
Dr. DeRogatis recommends an album by Thundercat. It's the project of Bassist/songwriter/vocalist Stephen Bruner, and Jim hopes Sifu Richard will enjoy its grooves. But, after a week of using the 2013 album Apocalypse in his classes, the diagnosis is not good. This medicine did not go down well, according to our patient. It was too discordant and lacked soul, he says.
Dr. Kot prescribed some Thin Lizzy. He picked out the most"epic"and"awesome"songs from the band's 1975 and '76 albums Fighting and Jailbreak. Cheesy? Perhaps, but Greg vetted this with a friend of his who boxes. Sifu Richard says that some of the tracks will make it to his regular playlist, but he can't abide something like The Boys Are Back In Town.
So, the treatment had mixed results. But on the upside, Jim and Greg gained some epically awesome martial arts knowledge. Just check out their training session!
And if you want to make an appointment with the Rock Doctors for yourself or a friend in need, fill out our patient form.
Go to episode 406
featured songs
Featured Songs
The Sex Pistols, God Save the Queen, Never Mind the Bollocks, Here's the Sex Pistols, Virgin, 1977
Lauryn Hill, Everything is Everything, The Miseducation of Lauryn Hill, Ruffhouse, 1998
The Monks, Boys Are Boys and Girls Are Choice, Black Monk Time, Polydor, 1966
The La's, There She Goes, The La's, Polydor, 1990
The Millennium, To Claudia on Thursday, Begin, Columbia, 1968
The Pulsars, Silicon Teens, Pulsars, Almo Sounds, 1997
Madvillain, All Caps, Madvillainy, Stones Throw, 2004
Young Marble Giants, Eating Noddemix, Colossal Youth, Rough Trade, 1980
Jeff Buckley, Lilac Wine, Grace, Columbia, 1994
Wild Flag, Something Came Over Me, Wild Flag, Merge, 2011
Them Crooked Vultures, New Fang, Them Crooked Vultures, Interscope, 2009
Thundercat, Uh Uh, Drunk, Brainfeeder, 2017
Thundercat, Jameel's Space Ride, Drunk, Brainfeeder, 2017
Thundercat, Show You The Way, Drunk, Brainfeeder, 2017
Thundercat, Captain Stupido, Drunk, Brainfeeder, 2017
Thundercat, Bus In These Streets, Drunk, Brainfeeder, 2017
Arrested Development, Tennessee, 3 Years, 5 Months And 2 Days In The Life Of…, Chrysalis, 1992
Violent Femmes, Telephone Book, 3, Slash, 1988
Baby Huey, Hard Times, The Baby Huey Story - The Living Legend, Curtom, 1971
Blind Faith, Can't Find My Way Home, Blind Faith, Atco, 1969
Willis Alan Ramsey, Ballad Of Spider John, Willis Alan Ramsey, Shelter, 1972
Lone Justice, East Of Eden, Lone Justice, Geffen, 1985 soundopinions.org Sound Opinions is a website
Go to episode 589