Results for Things Fall Apart
reviews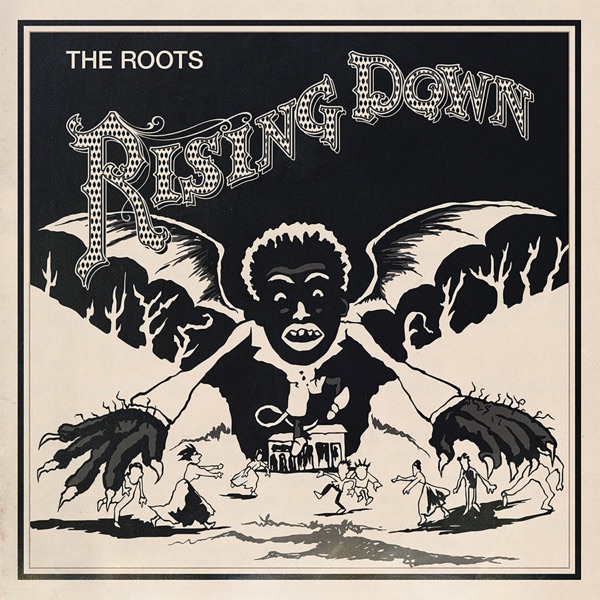 Rising Down available on iTunes
The Roots Rising Down
Hip hop group The Roots released its 10th album this week, Rising Down. The band started out with a more neo-soul vibe, but as Greg points out, over the years The Roots have gotten a lot harder and edgier. Some of the album's songs are downright creepy, and Greg loves ?uestlove's drumming. But he can't go so far as to give it a Buy It. Jim has loved a number of Roots' albums, especially 1999's Things Fall Apart, but he finds their efforts inconsistent. This time around The Roots called in a number of guest stars, but Jim wishes they had stuck to their own members. Rising Down has some good moments, but both critics can only give it a Try It.
Go to episode 127
Game Theory available on iTunes
The Roots Game Theory
Philadelphia hip-hop group The Roots have an album up for review entitled Game Theory. The rappers and musicians largely changed the way hip-hop was perceived by incorporating live instrumentation and rock-style jams into their recordings and performances. Greg has always been a fan, and loves songs like the dark track "In the Music," but doesn't think the record is consistent enough. There's an entire eight minutes of music dedicated to the recently departed producer J Dilla that he can't really excuse—so he gives it a Burn It. Jim believes Game Theory is the best record the group has done since 1999's Things Fall Apart. He loves the dark tone of the record and emotional content of the lyrics, and doles out a Buy It.
Go to episode 39
dijs
Greg
"The Next Movement"
The Roots
This week, it's Greg's turn to take a trip to the desert island jukebox and play a song he can't live without. He celebrates the 20th anniversary of The Roots' album Things Fall Apart by picking "The Next Movement." Greg notes that the late '90s/early 2000s were a golden era for hip hop, combining conscious rappers like Common and Black Thought with singers like Erykah Badu and D'Angelo. This blend is brilliantly on display throughout Things Fall Apart, and particularly on the track"The Next Movement."Greg highlights lyrics that recognize the significance and rising popularity of black culture, and notes that every track on this record is solid as ever today.
Go to episode 689
featured songs
Featured Songs
Run-DMC, Walk This Way (feat. Aerosmith), Raising Hell, Def Jam, 1986
Emily King, Blue Light, Scenery, ATO, 2019
Aerosmith, Let the Music Do the Talking, Done With Mirrors, Geffen, 1985
Billy Ocean, Caribbean Queen (No More Love On The Run), Suddenly, Jive, 1984
Run-DMC, Sucker M.C.'s (Krush Groove 1), Sucker M.C.'s (Krush Groove 1)(single), Profile, 1983
Liquid Liquid, Cavern, Optimo - EP, 99, 1983
Blondie, Rapture, AutoAmerican, Chrysallis, 1980
Funky 4 + 1, That's The Joint, That's The Joint (single), Sugar Hill, 1980
Aerosmith, Walk This Way, Toys In The Attic, Columbia, 1975
Run-DMC, My Adidas, Raising Hell, Def Jam, 1986
Beastie Boys, Rock Hard, Rock Hard (single), Def Jam, 1984
Aerosmith, Draw The Line, Draw The Line, Columbia, 1977
Kurtis Blow, Takin' Care of Business, Kurtis Blow, Mercury, 1980
Aerosmith, Rag Doll, Permanent Vacation, Geffen, 1987
Aerosmith, Heart's Done Time, Permanent Vacation, Geffen, 1987
Public Enemy, Can't Truss It (live on Saturday Night Live), Apocalypse 91… The Enemy Strikes Black, Def Jam, 1991
Rage Against the Machine, People of the Sun, Evil Empire, Epic, 1996
Whodini, Friends (instrumental), Friends (single), Jive, 1984
DJ Jazzy Jeff & The Fresh Prince, Summertime, Homebase, Jive, 1991
Emily King, Remind Me, Scenery, ATO, 2019
Emily King, Caliche, Scenery, ATO, 2019
Emily King, Can't Hold Me, Scenery, ATO, 2019
Emily King, Look At Me Now, Scenery, ATO, 2019
Emily King, 2nd Guess, Scenery, ATO, 2019
Emily King, Go Back, Scenery, ATO, 2019
The Roots, The Next Movement (feat. DJ Jazzy Jeff and Jazzyfatnastees), Things Fall Apart, MCA, 1999
Nothing, Zero Day, Dance On The Blacktop, Relapse, 2018
The Cure, Plainsong, Disintegration, Elektra, 1989
Jets To Brazil, I Typed For Miles, Orange Rhyming Dictionary, Jade Tree, 1998
Electric Light Orchestra, Telephone Line, A New World Record, United Artists, 1976
Funkadelic, Funk Gets Stronger, Part 1, The Electric Spanking of War Babies, Warner Bros., 1981
Peter Gabriel, Come Talk to Me, Us, Virgin, 1992
The Jimi Hendrix Experience, Crosstown Traffic, Electric Ladyland, Reprise, 1968
David Bowie, Moonage Daydream, The Rise and Fall of Ziggy Stardust and the Spiders from Mars, RCA, 1972
Go to episode 689