Results for The Neptunes
interviews
John Cale
When John Cale first visited Sound Opinions in 2005 as part of our debut on public radio, he shocked us all by name-dropping "Snoop Dogg," "The Neptunes" and the "MPC." These influences have come to fruition on the Welshman's latest recording Shifty Adventures in Nookie Wood. And Jim and Greg were excited to have him come by the studios to perform the new material. Plus, there's no lack of things to talk about with Cale, considering his decades-long career that includes founding The Velvet Underground and producing music by the likes of Patti Smith and The Stooges.
Go to episode 363
Kelis
R&B singer/songwriter Kelis has been making music since her debut release in 1999…longer if you count her time at the "Fame" school (New York's LaGuardia High School of Music, Art & Performing Arts). But it wasn't until 2003's breakout hit "Milkshake," that Kelis really brought all the fans to the yard. That song, produced by Chad Hugo and Pharrell Williams of The Neptunes, went gold. But, Kelis' next step was surprising. She released 2006's Kelis Was Here and then took a big break…to go to culinary school! By this time she had married rapper Nas, and in 2009 they publicly announced their split while Kelis was 7 months pregnant with her son. All of that—motherhood, family and food—has made its way on to the new record, aptly titled Food. It's a focused reinvention of sounds, produced by TV on the Radio's Dave Sitek. Kelis stopped by our studio to performed songs from Food and talk about the pitfalls of stardom, her breakup with Nas, and how Jerk Ribs found its way into a song title.
Go to episode 454
reviews
No_One Ever Really Dies available on iTunes
N.E.R.D. No_One Ever Really Dies
After a seven year hiatus, N.E.R.D. (the Pharrell Williams/Neptunes side project) has returned with their fourth album No_One Ever Really Dies. As The Neptunes, Chad Hugo & Pharrell crafted synthy, quirky, poppy hip hop and R&B for the likes of Jay-Z and Kelis in the 1990s and early '00s. Then in 1999, they formed N.E.R.D. with Shay Haley. In the time since N.E.R.D.'s last album, 2010's Nothing, Pharrell Williams has made a name for himself as a solo artist. Most notably, he achieved mainstream success with the smash hit "Happy," all while maintaining his signature sense of quirk. Greg says it's that quirkiness, along with a knack for hooks that attracted him to their sound in the first place. He likes this effort for its"weird, buzzy tone"and its psychedelic energy. Greg gives it a Buy It. Jim calls N.E.R.D. an"experimental garage band."He adds this project has an uneven success rate with its long list of collaborations, including tracks with Rihanna, Kendrick Lamar, and Ed Sheeran. Jim gives it a Try It.
Go to episode 632
The Sweet Escape available on iTunes
Gwen Stefani The Sweet Escape
Next up is a review of the second solo disc from Gwen Stefani. The No Doubt frontwoman's first attempt at solo success, Love.Angel.Music.Baby, sold over 3 million copies in 2004. Jim and Greg are certain that The Sweet Escape will also chart well, but they're not sure why. Jim describes this record as a"truly dreadful, dreadful, dreadful, despicable, abysmally bad album"that he "hates with the core of his being." His main complaint is that he wishes Gwen would act her age. Mrs. Gavin Rossdale is now a mother, and he's certain she should have something more interesting to sing about than boys and Orange County. Greg agrees that this album is a snooze, but even wishes Stefani played more of a Lolita role; at least that would be interesting. He expected another fun, frothy pop record, but instead he is completely bored by most of the beats on this record, many courtesy of big names like The Neptunes and Swizz Beatz. Despite its nod to The Sound of Music, The Sweet Escape gets two big Trash Its.
Go to episode 58
Man of the Woods available on iTunes
The Neptunes & Justin Timberlake Man of the Woods
After a five year recording hiatus, Justin Timberlake has returned with Man of the Woods. The album is a sonic departure from the soul-infused pop of his earlier releases such as Justified and FutureSex/LoveSounds. According to Jim, Justin's goal with Man of the Woods was to make an album that was "Americana with 808s… old country with drum machines." Jim loved that concept; but believes that despite production from The Neptunes and Timbaland, the resulting album fell flat. Greg finds the working man character on tracks like "Livin' Off the Land" hard to swallow, and calls "Her," a spoken word interlude featuring Justin's wife, Jessica Biel, to be"embarrassing"and a"Hallmark commercial."Ultimately, Jim questions whether the whole project is supposed to be taken seriously at all, or whether it's a "Portlandia-level joke." The hosts give Man of the Woods a double Trash It.
Go to episode 637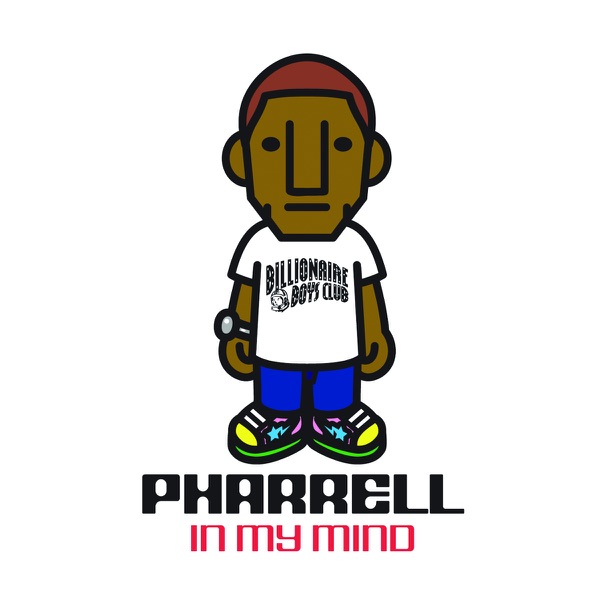 In My Mind available on iTunes
Pharrell In My Mind
The next album up for review is by superstar producer Pharrell. Pharrell Williams is best known as part of the production duo The Neptunes, who have crafted hits for everyone from Jay-Z to Justin Timberlake. He and partner Chad Hugo also recorded some of their own music as N.E.R.D. Now, Pharrell has branched out solo (or as solo as a hip-hop artist can be these days) with In My Mind. A quick glance at the number of hits credited to Pharrell might make this album seem like a no-brainer. But it festered without a release date for such a long time that it raised some eyebrows. And, after giving the record a listen, Jim and Greg can say that those suspicions were not unwarranted. Greg explains that for someone who makes his living creating innovative beats and catchy hooks, the lack of such a sound on this record was shocking. Jim agrees, and neither critic thinks that Williams has the chops or personality to be a solo star. Kanye West, a producer who actually managed this feat, collaborates with Pharrell on "Number One," but it's a dreadful showing from both artists. In My Mind gets a Trash It — and Sound Opinions wonders if Chad is the genius to look out for after all.
Go to episode 35
Kelis Was Here available on iTunes
Kelis Kelis Was Here
Kelis scored a big hit with her 2003 single "Milkshake," and this week she tries to do it again. Kelis Was Here is the R&B singer's first album since splitting from former collaborators The Neptunes and marrying rapper Nas. Our hosts are split on their opinions. Jim is happy to see Kelis working with a variety of producers, including Scott Storch and Will.I.Am, and is glad that her sexual self-empowerment remains intact. The album earns a Buy It from him. Greg finds this record to be pretty generic, though, contending that all of the producers have buffed her personality out. He describes Kelis Was Here as"milkshake leftovers,"and only gives it a Burn It.
Go to episode 39
Hell Hath No Fury available on iTunes
The Clipse Hell Hath No Fury
After a four-year drought stemming from a record label deal mishap, sibling rapper duo The Clipse have finally released their second album, Hell Hath No Fury. The Clipse come from Virginia Beach, the same town as Timbaland, Missy Elliot and The Neptunes. (In fact, super-producing pair The Neptunes are friends with rappers Malice and Pusha T and produced the Clipse album.) Both Jim and Greg feel the album covers much of the same old clichéd gangsta rap territory, but does so with a tremendous amount of artful, novelistic detail. Jim compares it to the literary precision of Ghostface Killah's Fishscale. The sound of the album is dark, brooding, futuristic and inventive. Both Jim and Greg feel the album's production redeems the Neptunes for previous lackluster efforts (namely Pharrell Williams' In My Mind, which made this year's Turkey Shoot). Greg boldly proclaims that Hell Hath No Fury is one of the best albums of the year. That's a double Buy It.
Go to episode 53