Results for The Life of Pablo
reviews
Kanye West The Life of Pablo
Recently, rapper Kanye West released his highly anticipated follow-up to 2013's Yeezus. It's called The Life of Pablo (well, sort of). After a large-scale fashion show and album presentation at Madison Square Garden, West decided that the record wasn't quite ready to be formally released yet. It's still not available to purchase, but can be streamed on TIDAL and has been illegally downloaded over 500,000 times. This controversial new record pairs perfectly with West's recent antics, Twitter tirades and confusing outbursts. Jim's biggest problem with T.L.O.P. is its misogynistic lyrics - nothing new in hip-hop, but a new low for West. Jim adds, it's a shame because the music is fantastic. He gives it a non-enthusiastic Try It. Greg largely agrees, finding Kanye's disdain towards past romantic and business relationships to be petty and old news. Music-wise, he thinks there are just too many tracks on The Life of Pablo and wishes he had edited more diligently. He gives it a "Trash It."
Go to episode 535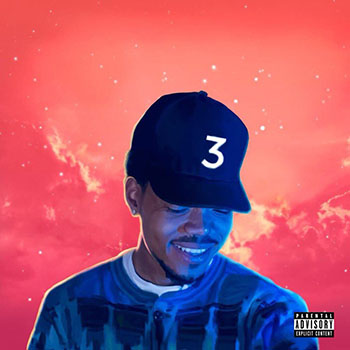 Chance the Rapper Coloring Book
Chicago artist Chance the Rapper recently released his third mixtape, Coloring Book. And while he's at the forefront of the rap genre, he's never actually sold a single album. That's because all three of his mixtape releases, as well as two collaborative albums, can be downloaded for free from the Internet. On Coloring Book, Chance enlists a slew of popular guest stars, from fellow Chicagoan Kanye West to the man of the moment, Justin Bieber. Jim really enjoyed this record, especially Chance's use of gospel music to empower individuals and generate a sense of community in order to combat violence. While he doesn't think it is quite as good as his last release, Acid Rap, Jim strongly believes the music and lyrical insight on this album is equal parts impressive and inspiring. He gives it a Buy It. Greg agrees, saying that Coloring Book is one of the most ambitious records in hip hop right now. He even points out that West's recent album, The Life of Pablo, wouldn't be what it is without Chance's gospel sound influence. Greg appreciates the larger themes of the album and how it connects so well to the music of the Civil Rights Movement. It's a Double Buy It for Coloring Book.
Go to episode 550
news
Music News
Five years ago LCD Soundsystem announced its retirement. Boy has time flown, because they are back. James Murphy and his bandmates will be reuniting this summer for a series of performances at festivals like Coachella, Bonnaroo and Lollapalooza. Jim and Greg lament that the schedules for the season's major festivals are virtually the same. Music critics from the New York Times agree and won't be covering any of the big three, instead focusing on boutique festivals and summer concerts. As they write, these destination festivals are more about fun in the sun than music.
After one year in business, Jay Z's streaming service TIDAL has numbers to report. According to the service, they have 3 million subscribers total and Kanye West's new album The Life of Pablo has been streamed roughly 250 million times. Jim, Greg and other industry-watchers are skeptical about this figure. But, however the accounting shakes out, TIDAL is small potatoes compared to the leader Spotify with 30 million subscribers and Apple Music with 11 million.
Go to episode 540
featured songs
Featured Songs
Kesha, TiK ToK, Animal, RCA, 2010
Gwen Stefani, Make Me Like You, Single, Interscope, 2016
Rush, YYZ, R40 Live, Anthem/Roadrunner, 2015
Rush, Finding My Way, Rush, Phonogram, 1974
Cream, Spoonful, Fresh Cream, Reaction, 1966
Rush, Digital Man, Signals, Mercury, 1982
Rush, 2112, 2112, Anthem, 1976
Rush, Fountain of Lamneth, Caress of Steel, Mercury, 1975
Rush, By-Tor and the Snow Dog, Fly by Night, Mercury, 1975
Rush, Xanadu, A Farewell to Kings, Mercury, 1977
Rush, The Trees, Hemispheres, Mercury, 1978
Rush, Cygnus X-1 Book II: Hemispheres, Hemispheres, Anthem, 1978
Rush, The Spirit of Radio, Permanent Waves, Anthem, 1980
Rush, Tom Sawyer, Moving Pictures, Mercury, 1981
Rush, Freewill, Permanent Waves, Anthem, 1980
Rush, Subdivisions, Signals, Mercury, 1982
Rush, Stick It Out, Counterparts, Atlantic, 1993
Rush, Roll the Bones, Roll the Bones, Atlantic, 1991
Rush, Closer to the Heart, R40 Live, Anthem/Roadrunner, 2015
Rush, One Little Victory, Vapor Trails, Anthem, 2002
Rush, Limelight, Moving Pictures, Mercury, 1981
Kanye West, I Love Kanye, The Life of Pablo, GOOD Music, 2016
Kanye West, Ultralight Beam, The Life of Pablo, GOOD Music, 2016
Kanye West feat. Kendrick Lamar, No More Parties in L.A., The Life of Pablo, GOOD Music, 2016
Aretha Franklin, Call Me, This Girl's In Love With You, Atlantic, 1970
Patti Smith, Kimberly, Horses, Arista, 1975
Sonny Rollins, The Freedom Suite, Freedom Suite, Concord, 1958
Kendrick Lamar, The Blacker the Berry (Live at the 58th Annual Grammy Awards), To Pimp a Butterfly, Top Dawg/Aftermath/Interscope, 2015
Kim Weston, Lift Every Voice and Sing, Wattstax: Music From The Wattstax Festival & Film, Stax, 1972
Go to episode 535
Featured Songs
LCD Soundsystem, "Losing My Edge, Losing My Edge, DFA, 2002
Kanye West, Ultralight Beam, The Life of Pablo, GOOD Music, 2016
Eleventh Dream Day, The People's History, Works for Tomorrow, Thrill Jockey, 2015
Eleventh Dream Day, Walking Through the Barrel of a Gun, Eleventh Dream Day, Amoeba, 1987
Eleventh Dream Day, Vanishing Point (Live on Sound Opinons), Works for Tomorrow, Thrill Jockey, 2015
Eleventh Dream Day, Through My Mouth, Prairie School Freakout, Amoeba, 1988
Eleventh Dream Day, Beach Miner, Prairie School Freakout, Amoeba, 1988
Eleventh Dream Day, The Unknowing, Works for Tomorrow, Thrill Jockey, 2015
Eleventh Dream Day, I Could Be Lost, Lived to Tell, Rhino, 1991
Eleventh Dream Day, Go Tell It (Live on Sound Opinons), Works for Tomorrow, Thrill Jockey, 2015
Woody Guthrie, Go Tell Aunt Rhody, Buffalo Skinners: The Asch Recordings, Vol. 4, Smithsonian Folkways, 1999
Eleventh Dream Day, Snowblind, Works for Tomorrow, Thrill Jockey, 2015
Eleventh Dream Day, Works for Tomorrow, Works for Tomorrow, Thrill Jockey, 2015
Eleventh Dream Day, Cheap Gasoline (Live on Sound Opinons), Works for Tomorrow, Thrill Jockey, 2015
Eleventh Dream Day, Life on a String, Prairie School Freakout, Amoeba, 1988
M83, Do It, Try It, Junk, Mute, 2016
M83, Solitude, Junk, Mute, 2016
Gary Portnoy, Punky Brewster Theme (Full Length Version), Punky Power, Argentum, 2007
Suzanne Fellini, Love on the Phone, Love on the Phone / Bad Boy, Casablanca, 1980
Yonatan Gat, North to South, Director, Joyful Noise, 2015
The Accidentals, Parking Lot, N/A, N/A, 2015
Red Hot Chili Peppers, Give It Away, Blood Sugar Sex Magik, Warner Bros., 1991
Tori Amos, Winter, Little Earthquakes, Warner Music Group, 1991
Talk Talk, After the Flood, Laughing Stock, Verve, 1991
Go to episode 540
Featured Songs
Led Zeppelin, Stairway to Heaven, Led Zeppelin IV, Atlantic, 1971
Spirit, Taurus, Spirit, Epic, 1968
Julie Andrews, Dick Van Dyke, Matthew Garber, Chim Chim Cher-ee, Mary Poppins, Buena Vista, 1964
The Style Council, You're the Best Thing, Cafe Bleu, Polydor, 1984
Beyonce, Freedom, Lemonade, Columbia, 2016
PJ Harvey, The Ministry of Defense, Hope Six Demolition Project, Vagrant, 2016
The Gotobeds, Cold Gold (LA's Alright), Blood // Sugar // Secs // Traffic, Sub Pop, 2016
Mavis Staples, If it's a Light, Livin' On A High Note, Anti-, 2016
Savages, Adore, Adore Life, Matador, 2016
Tacocat, Dana Katherine Scully, Lost Time, Hardly Art, 2016
David Bowie, 'Tis a Pity She Was a Whore, Blackstar, Columbia, 2016
Anderson .Paak, Put Me Thru, Malibu, Steel Wool, 2016
Lucinda Williams, Can't Close the Door on Love, The Ghost of Highway 20, Universal, 2016
Eleanor Friedberger, He Didn't Mention His Mother, New View, French Kiss, 2016
Tina Turner, The Best, Foreign Affair, Capitol, 1989
Weezer, L.A. Girlz, The White Album, Atlantic, 2016
The Coathangers, Make it Right, Nosebleed Weekend, Suicide Squeeze, 2016
Kendrick Lamar, untitled 06, Untitled Unmastered, Aftermath Entertainment, 2016
Elvis Presley, That's All Right, That's All Right / Blue Moon of Kentucky, Sun, 1951
The Stanley Brothers, Man of Constant Sorrow, The Lonesome River / I'm a Man of Constant Sorrow, Columbia, 1951
Wilson Pickett, Mustang Sally, The Wicked Pickett, Atlantic, 1967
Parliament, Flash Light, Funkentelechy Vs. the Placebo Syndrome, Casablanca, 1978
St. Paul and The Broken Bones, Call Me, Half the City, Single Lock, 2014
Kanye West, Ultralight Beam, The Life of Pablo, GOOD Music, 2016
Tom Petty and the Heartbreakers, Breakdown, Pack Up the Plantation, MCA, 1985
Pink Floyd, Hey You, The Wall, Columbia, 1979
Jay Reatard, Death is Forming, Blood Visions, In the Red, 2006
Go to episode 553