Results for The Knux
reviews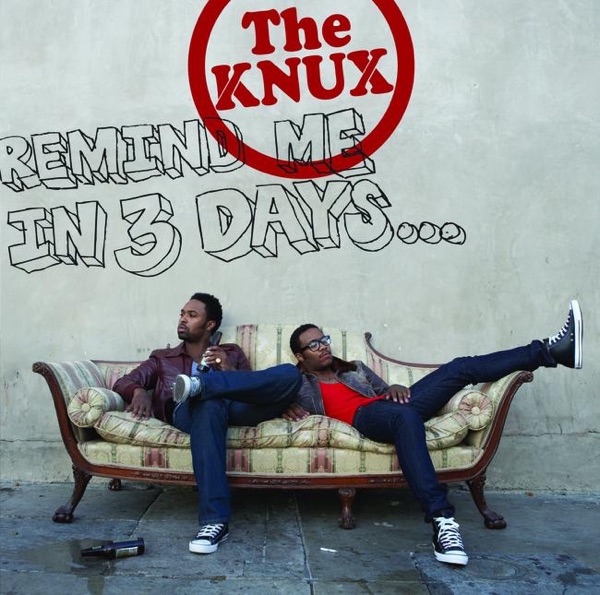 Remind Me in 3 Days available on iTunes
The Knux Remind Me in 3 Days
The Knux is a hip-hop brother act originally from New Orleans. Their new album Remind Me in 3 Days follows the release of a successful MySpace hit "Cappuccino." Jim admits that they aren't the greatest of rappers, but he was blown away by their enthusiasm. That enthusiasm extends to the inventive production as well. Greg agrees, calling the duo"audacious."But he notes that while they bring in lots of reference points, they are completely unpolished in a refreshing way. Both critics give The Knux debut a Buy It rating.
Go to episode 155
lists
Best Albums of 2008
Jim and Greg listened to hundreds of albums this year. Which ones soared to the top? Check out their lists for the Best Albums of 2008 below. You can also see what albums made the cut in years past in our Lists section.
Go to episode 159
The Best Songs of 2008 - Mixtapes
At the end of the year, many music fans take on the challenging task of making a mixtape. And, Jim and Greg are no exception. They've both made compilations of their favorite songs of 2008.
Go to episode 162
featured songs
Featured Songs
Kanye West, Heartless, 808's and Heartbreak, Roc-A-Fella, 2008
Journey, Don't Stop Believing, Escape, CBS International, 1981
Miriam Makeba, Homeland, Homeland, Putumayo Artists, 2000
Miriam Makeba, Pata Pata 2000, New World Party, Putumayo Artists, 1999
High School Musical 3, Now or Never, High School Musical 3: Senior Year, Walt Disney Records, 2008
The Dixie Cups, Iko Iko, Chapel of Love, Red Bird, 1964
Ricky Nelson, Believe What You Say, Ricky Sings Again, Imperial, 1959
The Ramones, Little Bit O' Soul, Subterranean Jungle, Sire, 1983
Ohio Express, Yummy, Yummy, Yummy, Ohio Express, Buddha, 1968
1910 Fruitgum Company, Simon Says, Simon Says, Buddha, 1968
The Archies, Sugar Sugar, Everything's Archie, Essential Media Group, 1969
The Banana Splits, The Tra La La Song, The Tra La La Song, Decca, 1968
Jackson 5, I Want You Back, Diana Ross Presents the Jackson 5, Motown, 1969
New Edition, Cool it Now, New Edition, MCA, 1984
Boyz II Men, Water Runs Dry, II, Motown, 1994
Backstreet Boys, I Want It That Way, Millenium, Jive, 1999
Justin Timberlake, Rock Your Body, Justified, Jive, 2003
Hillary Duff, So Yesterday, Metamorphosis, Buena Vista, 2003
Beyonce, If I Were A Boy, I Am…Sasha Fierce, Columbia, 2008
Beyonce, Diva, I Am…Sasha Fierce, Columbia, 2008
Beyonce, Irreplaceable, B'Day, Columbia/Music World/Sony Urban, 2006
The Knux, Cappuccino, Remind Me in 3 Days, Interscope, 2008
The Knux, The List, Remind Me in 3 Days, Interscope, 2008
Kanye West, Robocop, 808's and Heartbreak, Roc-A-Fella, 2008
Jodeci, My Phone, Forever My Lady, Uptown, 1991
The Eagles, Take It Easy, Eagles, Asylum, 1972
Cocteau Twins, Lorelei, Treasure, Rough Trade Germany, 1984
The Vivian Girls, Where Do You Run To, Vivian Girls, In the Red, 2008
Go to episode 155
Featured Songs
Parts and Labor, Nowheres Nigh, Receivers, Jagjaguwar, 2008
Local H, Hand to Mouth, 12 Angry Months, Shout! Factory, 2008
Q Tip, Life is Better, The Renaissance, Universal Motown Republic Group, 2008
Brazilian Girls, Losing Myself, New York City, Verve Forecast, 2008
Portishead, Silence, Third, Mercury, 2008
TV on the Radio, Crying, Dear Science, 4AD, 2008
Fleet Foxes, Ragged Wood, Fleet Foxes, Bella Union / Sub Pop, 2008
Mates of State, The Re-Arranger, Re-Arrange Us, Barsuk, 2008
The Knux, Cappuccino, Remind Me in 3 Days, Interscope, 2008
The Vivian Girls, Where Do You Run To, Vivian Girls, In the Red, 2008
Erykah Badu, The Healer, New Amerykah, Pt. 1: 4th World War, Motown, 2008
The Gutter Twins, God's Children, Saturnalia, Sub Pop, 2008
Byrne and Eno, Everything that Happens, Everything That Happens Will Happen Today, Todo Mundo, 2008
Torche, Across the Shields, Meanderthal, Hydra Head, 2008
Nick Cave and the Bad Seeds, We Call Upon the Author, Dig!!! Lazarus Dig!!!, Mute, 2008
Grateful Dead, Operator, American Beauty, Warner Bros., 1970
Amy Ray, SLC Radio, Didn't It Feel Kinder, Daemon, 2008
R.E.M., Bang and Blame, Monster, Warner Bros., 1994
Jane's Addiction, Jane Says, Jane's Addiction, Triple X, 1987
Go to episode 159