Results for The Foo Fighters
reviews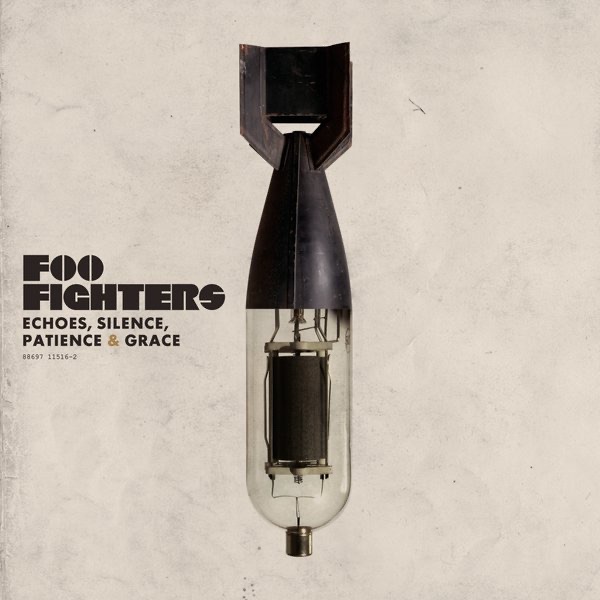 Echoes, Silence, Patience & Grace available on iTunes
The Foo Fighters Echoes, Silence, Patience & Grace
Another big album this fall is Echoes, Silence, Patience & Grace from The Foo Fighters. The group started off as a lark for former Nirvana drummer Dave Grohl, but now, six albums later, they are one of the most consistently successful commercial rock acts around. And Jim just can't understand why. Granted, the age-old formula of quiet verse, loud-chorus, repeat is a proven one, but he calls Grohl one of the worst lyricists in rock. Luckily he's also good at crafting hooks. Greg agrees that this is the only reason that the Foo Fighters have any appeal — they are catchy and not that complicated. He says there's no reason anyone needs to own more than one Foo Fighters record, and encourages the listener to completely ignore this release. Echoes, Silence, Patience & Grace gets two Trash Its.
Go to episode 96
news
Music News
Jim and Greg have resisted talking about American Idol for quite a while, but this week this pop culture phenomenon couldn't be ignored. While these critics still don't care about the musical impact of the show, they can't deny its significance in the industry. An average of 25 million people tuned in each week to see who would be declared the American Idol, commanding advertising rates that are only exceeded by the Super Bowl and the Academy Awards. For the music industry, this means major sales. Past contestants like Kelly Clarkson, Carrie Underwood and Clay Aiken have sold 33 million records, and songs that appear on the show in any form immediately take off on the charts. Labels have taken note, sending aging artists like Rod Stewart, Queen and Barry Manilow, as well as fresher faces like Shakira, Mary J. Blige and Prince, to appear on the show. As much as both our hosts hope that audiences will decide to turn the dial toward something of better musical quality, Greg predicts that hipper acts in need of promotion will soon be calling up Fox. And until then, fans can look forward to much of the same.
Fans who purchased Sony CDs by artists like The Foo Fighters, The Coral, Ray Charles and Frank Sinatra can rest easy. While those CDs may have infected your computer with a virus-like anti-piracy software called MediaMax, a judge has ordered Sony to make up for it. Every customer infected with the software will receive a cash payment of $7.50 and one free album download or three free song downloads. Whoever claims that the record industry doesn'y care about the consumer obviously missed this news.
Rumor has it that Sri Lanka-born, England-based rapper M.I.A. is being denied a visa to come to the United States. M.I.A., or Maya Arulpragasam, has plans to record with producer Timbaland, but may have to postpone them. Whether or not the denial is related to the fact that she is the daughter of a Sri Lankan Tamil Tiger rebel, or the fact that many of her song lyrics are overtly political, is not known. What is known, however, is what a raw deal this is. While M.I.A., who has received masses of critical acclaim and was up for the prestigious Mercury Prize in 2005, will not be gracing Americans with her presence, our own Snoop Dogg has recently been barred from the U.K. Sound Opinions is willing to enter into diplomatic negotiations to work this out.
Go to episode 26
Music News
Jim and Greg start off the show by updating a couple of news stories they've been talking about recently. The first is the sad state of album sales this season. When fall first kicked off, industry insiders had high hopes for big releases from people like Kanye West, 50 Cent, and The Foo Fighters. And now albums by Bruce Springsteen, the cast of High School Musical 2 and Rascal Flatts have been added to the mix. But, despite the big names, sales have not been soaring. In fact, in this week's chart, not even one album has approached six figures.
So what does the music industry do to appease its shrinking customer base? Answer: Sue them. Last week the RIAA sent its ninth wave of pre-litigation letters to administrators at 19 universities. A couple of weeks ago Jim and Greg discussed the trial of Jammie Thomas, a woman from Minnesota who was found guilty of copyright infringement to the tune of $220,000. It seems that trial left a taste of victory in the RIAA's mouth, because they are continuing their crackdown on music"theft"among college students. It seems these members of the industry missed the "Radiohead" memo.
Go to episode 100
Music News
Jim and Greg don't like to give too much airtime to the Grammy Awards, but there was one upset worth mentioning (other than Amy Winehouse not getting a visa). Beating out big names like Winehouse, Kanye West, The Foo Fighters and Vince Gill for Album of the Year was veteran jazz musician Herbie Hancock.
Go to episode 116
featured songs
Featured Songs
Herb Geller, Sleigh Ride, Herb Gellar Plays, Verve, 1955
Clarence Reid,"Winter Man"Alston
Albert King,"Santa Claus Wants Some Lovin,'"Stax, 2007
Harvey Averne Band"Let's Get it Together This Christmas,"Fania
Hot Rock Mays, Black Christmas, Merry Christmas Baby, Paula, 1991
Urbie Green & His All-Stars,"Jingle Bells,"Cool Yuletide EP, 1954
Chet Baker Quartet, Winter Wonderland, West Coast Live, Pacific Jazz, 1953
Paul Bley Trio (w/ Charles Mingus & Art Blakey)"Santa Claus Is Comin' To Town,"The Christmas Collection, Concord, 2008
"The Icicle Man"
Israfel's Son, 'Rudolph Pouts"
Found Free, "Christmas is Jesus"
"Winter in the West"
"Winter Blunderland"
US Navy Commercial
Super Furry Animals, Wherever I Lay My Phone (That's My Home), Guerilla, XL, 2005
The Foo Fighters, Dear Rosemary, Wasting Light, RCA, 2011
Rich Robinson, Lost and Found, Through a Crooked Sun, Circle Sound, 2011
AgesandAges, No Nostalgia, Alright You Restless, Knitting Factory, 2011
Florence and the Machine, Shake It Out, Ceremonials, Island, 2011
Go to episode 316
Featured Songs
Grateful Dead, Truckin', American Beauty, Warner Bros., 1970
Grateful Dead, Box of Rain (Live), Fare Thee Well Show (07/03/15), N/A, 2015
Grateful Dead, Mindbender (Confusion's Prince), Birth of the Dead, Rhino, 2003
Grateful Dead, Beat It On Down the Line, The Grateful Dead, Warner Bros., 1967
Grateful Dead, That's It for the Other One, Anthem of the Sun, Warner Bros., 1968
Grateful Dead, Dark Star, Live/Dead, Warner Bros., 1969
Grateful Dead, Dire Wolf, Workingman's Dead, Warner Bros., 1970
Grateful Dead, Uncle John's Bands, Workingman's Dead, Warner Bros., 1970
Grateful Dead, Box of Rain, American Beauty, Warner Bros., 1970
Grateful Dead, Cumberland Blues, Europe '72, Warner Bros., 1972
Grateful Dead, Turn On Your Lovelight, Dick's Picks Volume 4, Grateful Dead, 1996
Grateful Dead, Dark Star, Road Trips Volume 4 Number 3, Rhino, 2011
Grateful Dead, Terrapin Station, Terrapin Station, Arista, 1977
Grateful Dead, Terrapin Station (Live), To Terrapin: Hartford '77, Rhino, 2009
Grateful Dead, Feel Like a Stranger, Go to Heaven, Arista, 1980
Grateful Dead, Touch of Grey, In the Dark, Arista, 1987
Grateful Dead, Drums, Space (Live), Live at Soldier Field (07/09/95), N/A, 1995
Grateful Dead, Brokedown Palace, American Beauty, Warner Bros., 1970
Grateful Dead, Comes a Time, Live at War Memorial Auditorium (05/09/77), N/A, 1997
Grateful Dead, Morning Dew, 30 Trips Around the Sun, Rhino, 2015
Grateful Dead, Cold Rain and Snow, The Grateful Dead, Warner Bros., 1967
Grateful Dead, Can't Come Down, Birth of the Dead, Rhino, 2003
Grateful Dead, Casey Jones, Workingman's Dead, Warner Bros., 1970
Grateful Dead, Sugar Magnolia, American Beauty, Warner Bros., 1970
Grateful Dead, St. Stephen, Live/Dead, Warner Bros., 1969
Grateful Dead, Viola Lee Blues, Dick's Picks Volume 8, Grateful Dead, 1997
Vince Staples, Lift Me Up, Summertime '06, Def Jam Recordings, 2015
Vince Staples, Summertime, Summertime '06, Def Jam Recordings, 2015
The Weeknd, Can't Feel My Face, Can't Feel My Face (Single), Republic, 2015
Lady Gaga, Telephone (Featuring Beyoncé), The Fame Monster, Interscope, 2009
The Foo Fighters, Everlong (Acoustic), Greatest Hits, RCA, 2009
Wilco, EKG, Star Wars, dBpm, 2015
Wilco, Where Do I Begin, Star Wars, dBpm, 2015
Brian Eno, Dieter Moebius, Hans-Joachim Roedelius, Broken Head, After the Heat, Sky Records, 1978
Go to episode 505