Results for The Blueprint 3
reviews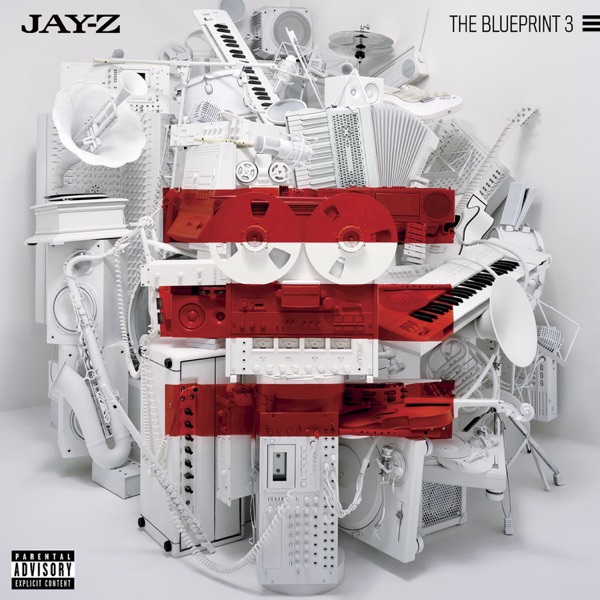 The Blueprint 3 available on iTunes
Jay-Z The Blueprint 3
Hip hop's top entrepreneur Jay-Z has a new album out called The Blueprint 3. It's the third in the rapper's Blueprint series. For the first he worked with then unknown producer Kanye West. Then for the second he invited a slew of big name guest stars. Now he splits the difference–West is back in the studio, as are guests like Timbaland. Greg finds the result split; half the tracks are good, half show the rapper on autopilot. Jim was also disappointed to hear that Jay-Z didn't really explore his life as a business man and celebrity husband in any unique way. But, the voice is still wonderful. It gets a double Burn It.
Go to episode 198
news
Music News
The list of possible inductees for next year's Rock and Roll Hall of Fame ceremony has been announced. Among the first-time nominees are Kiss, LL Cool J, The Red Hot Chili Peppers, and Genesis. But there are some old faces, too. ABBA, The Stooges, and Donna Summer have all been up for induction before. Jim and Greg think they deserve recognition, but also have a healthy dose of skepticism whenever they talk about the Hall of Fame. It's notoriously conservative and often overlooks more fringe genres. Plus, as Jim explains, winners always run the risk of being encased in glass and wax in Cleveland.
A heavy debate on piracy and the internet is brewing in Europe. First, the controversial"Three Strikes"law in France has passed in the French assembly. This means that if a French citizen is caught downloading illegally three times, he or she will lose internet access and be subject to fines up to $450,000. Their neighbors in the U.K. are also concerned about this issue. British pop stars like Radiohead, Annie Lennox, and Robbie Williams are members of the Featured Artists Coalition, which recently released a statement coming down firmly on the side of the consumer and defending internet file-sharing as a promotional tool for up-and-coming artists. But artists like Lily Allen and James Blunt have taken the other side. Jim and Greg find this to be a bit ironic considering Allen's use of MySpace early in her career.
Before they launch into reviews of new fall albums, Jim and Greg take a look at how things are going on the charts. The Beatles are still the big winners, selling more than 2 million albums worldwide in just five days. But, as Jim points out, this is a fraction of what they might have sold back in the CD heyday of 1992, and a fraction of what they might have sold digitally. Another big chart winner is Jay-Z, who sold almost 300,000 albums of The Blueprint 3. Hip hop still dominates the charts, with big-selling albums by Drake, Lil Boosie, and Kid Cudi, whom Jim and Greg discuss later in the show.
Go to episode 200
featured songs
Featured Songs
Speech Debelle, Spinnin', Speech Therapy, Big Dada, 2009
Speech Debelle, The Key, Speech Therapy, Big Dada, 2009
Big Star, In the Street, #1 Record, Ardent, 1972
Big Star, My Life Is Right, #1 Record, Ardent, 1972
Big Star, Watch the Sunrise, #1 Record, Ardent, 1972
Big Star, Ballad of El Goodo, #1 Record, Ardent, 1972
Big Star, The India Song, #1 Record, Ardent, 1972
Big Star, The India Song, (Alternate Version) #1 Record, Ardent, 1972
Big Star, When My Baby's Beside Me, #1 Record, Ardent, 1972
Big Star, Back of a Car, Radio City, Ardent, 1974
Big Star, O My Soul, Radio City, Ardent, 1974
Big Star, ST 100/6, #1 Record, Ardent, 1972
Big Star, Feel, #1 Record, Ardent, 1972
Big Star, September Gurls, Radio City, Ardent, 1974
The Replacements, Alex Chilton, Pleased to Meet Me, Sire, 1987
Jay Z, D.O.A, The Blueprint 3, Roc Nation, 2009
Jay Z, Empire State of Mind, The Blueprint 3, Roc Nation, 2009
Jay Z, So Ambitious, The Blueprint 3, Roc Nation, 2009
Green"She's Not A Little Girl Anymore,"Green, Ganggreen, 1986
Monster Magnet, I'm Calling You, 4-Way Diablo, Steamhammer, 2007
The Vivian Girls, I Have No Fun, Everything Goes Wrong, In the Red, 2009
Marnie Stern, Transformer, This Is It and I Am It and You Are It and So Is That and He Is It and She Is It and It Is It and That Is That, Kill Rock Stars, 2008
Merle Haggard, Working Man Blues, A Portrait of Merle Haggard, Capitol, 1969
Go to episode 198
Featured Songs
LL Cool J, I Can't Live Without My Radio, Radio, Def Jam Recordings, 1985
Lily Allen, Not Fair, It's Not Me, It's You, Wb / Parlophone, 2009
Jay-Z, Run this Town, The Blueprint 3, Roc Nation, 2009
Pearl Jam, The Fixer, Backspacer, Monkeywrench, 2009
Pearl Jam, Supersonic, Backspacer, Monkeywrench, 2009
Pearl Jam, Just Breathe, Backspacer, Monkeywrench, 2009
Bibio, Sugarette, Ambivalence Avenue, Warp Records, 2009
Basement Jaxx, Saga, Scars, XL, 2009
Basement Jaxx, Day of the Sunflowers, Scars, XL, 2009
Mariah Carey, Obsessed, Memoirs of an Imperfect Angel, Island, 2009
Mariah Carey, It's a Wrap, Memoirs of an Imperfect Angel, Island, 2009
Monsters of Folk, Man Named Truth, Monsters of Folk, Shangri-La, 2009
Monsters of Folk, Whole Lotta Losin', Monsters of Folk, Shangri-La, 2009
Kid Cudi, Day 'N' Nite (Crookers Remix), Man on the Moon, Dream On, 2009
Kid Cudi, Day 'N' Nite, Man on the Moon, Dream On, 2009
Kid Cudi, Solo Dolo, Man on the Moon, Dream On, 2009
The Lime Spiders, Out of Control, Nine Miles High, Raven Records, 2002
Polygon Window, Portreath Harbour, Surfing on Sine Waves, Warp Records, 1992
Chromeo, Call Me Up, Fancy Footwork, Turbo, 2007
Big Star, O, My Soul, Radio City, Ardent, 1974
Go to episode 200
Featured Songs
Chuck Berry, Jamaica Moon, Chuck, Dualtone, 2017
Jay-Z feat. Alicia Keys, Empire State of Mind, The Blueprint 3, Roc Nation/Atlantic, 2009
Warren Zevon, Desperados Under the Eaves, Warren Zevon, Asylum, 1976
Glen Campbell, Wichita Lineman, Wichita Lineman, Capitol, 1968
Hole, Malibu, Celebrity Skin, DGC, 1998
Gordon Lightfoot, The Wreck of the Edmund Fitzgerald, Summertime Dream, Reprise, 1976
Isaac Hayes, By the Time I Get to Phoenix, Hot Buttered Soul, Enterprise, 1969
Frank Zappa and The Mothers of Invention, Montana, Over-Nite Sensation, DiscReet, 1973
Ike & Tina Turner, Nutbush City Limits, Nutbush City Limits, United Artists, 1973
Avail, South Bound 95, Dixie, Lookout!, 1994
John Denver, Aspenglow, Rocky Mountain Christmas, RCA, 1975
Phantom Planet, California, The Guest, Epic, 2002
The Standells, Dirty Water, Dirty Water, Tower, 1966
The Jackson 5, Goin' Back to Indiana, Goin' Back to Indiana, Motown, 1971
Chuck Berry, Big Boys, Chuck, Dualtone, 2017
Chuck Berry, Wonderful Woman, Chuck, Dualtone, 2017
Chuck Berry, Eyes of Man, Chuck, Dualtone, 2017
Chuck Berry, Dutchman, Chuck, Dualtone, 2017
Teenage Jesus and The Jerks, Orphans, Teenage Jesus and The Jerks, Migraine, 1978
Neal Hefti, Batman Theme, Batman Theme and 11 Other Bat Songs, RCA Victor, 1966
The Beatles, You Know My Name (Look Up the Number), Let It Be (single), Apple, 1970
The Beatles, Fixing a Hole, Sgt. Pepper's Lonely Hearts Club Band, Parlophone, 1967
The Beatles, She's Leaving Home, Sgt. Pepper's Lonely Hearts Club Band, Parlophone, 1967
The Beatles, With a Little Help From My Friends, Sgt. Pepper's Lonely Hearts Club Band, Parlophone, 1967
The Beatles, A Day in the Life, Sgt. Pepper's Lonely Hearts Club Band, Parlophone, 1967
Go to episode 603