Results for Steven Drozd
specials
Desert Island Jukebox
Frequently at the end of Sound Opinions, Jim and Greg add songs to the Desert Island Jukebox. This jukebox is filled with tracks that Jim and Greg would take with them if stranded on a desert island. They've posed this same age-old rock question to many of their guests. In this episode you'll hear the music that these artists say they can't live without:
Saul Williams: James Brown, Live at the Olympia
Alex Kapranos of Franz Ferdinand: Leonard Cohen, The Songs of Leonard Cohen
Nick McCarthy of Franz Ferdinand: Neil Young, "Ohio"
Peaches: Prince, Purple Rain
Laurent Brancowitz of Phoenix: Serge Gainsbourg, Histoire de Melody Nelson
Thomas Mars of Phoenix: D'Angelo, Voodoo
Craig Finn of The Hold Steady: The Replacements, "I Will Dare"
Tad Kubler of The Hold Steady: Led Zeppelin, Physical Graffiti
Franz Nicolay of The Hold Steady: American Music Club, Mercury
Scott Hutchison of Frightened Rabbit: The Hold Steady, Stay Positive
Grant Hutchison of Frightened Rabbit: Bob Dylan, Planet Waves
Wayne Coyne and Steven Drozd of The Flaming Lips: John Lennon, "(Just Like) Starting Over"
Go to episode 213
reviews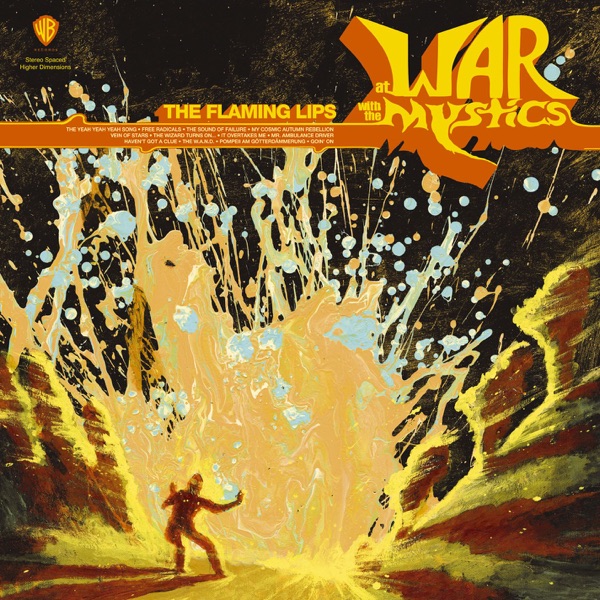 At War With the Mystics available on iTunes
Flaming Lips At War With the Mystics
Next up is a review of the new Flaming Lips album At War With the Mystics. The Oklahoma band has been around for almost 25 years, and this is their 12th album. The Lips' first big breakthrough came in 1993 with Transmissions from the Satellite Heart. That album was lauded by Jim and Greg at the time, and the single "She Don't Use Jelly" was one of the big alternative hits of the year. Then, in 1999, the band released The Soft Bulletin, which became a huge critical success, and in 2002, the band finally got some commercial recognition with their first Gold album Yoshimi Battles the Pink Robots. After listening to one of the new songs, "Pompeii am Gotterdammerung" (which gives multi-instrumentalist and musical wizard Steven Drozd his first stab at vocals), Greg gives his review of the album. Jim refrains from offering his review because he feels he is too close to the work. Mr. DeRogatis just released his 5th book, Staring at Sound: The True Story of Oklahoma's Fabulous Flaming Lips, and the journalist in him can't give a rating of the record. However, listeners can certainly surmise his opinions after listening to our hosts' discussion. Greg admits off the bat that he is not blown away. He feels like the band tried to out-gimmick itself, providing the song "Yeah Yeah Yeah" as an example. Greg admits that the songs translate better live, and Jim predicts that come this summer, when the Flaming Lips perform at Lollapalooza, Greg will have to eat his Burn It. We'll just have to wait and see.
Go to episode 19
rock doctors
Joel
At this point in the show Jim and Greg put on their lab coats and welcome another patient for an appointment with the Rock Doctors. This week's patient is listener Joel from Chicago. Joel describes his symptoms for Drs. DeRogatis and Kot: he's a big music fan, particularly roots rock, but hasn't been inspired in recent years. He's hoping the doctors can prescribe some new music that has a definite sense of blues, bluegrass and roots music, but also has some rocking edge.
Dr. DeRogatis goes first and prescribes Sparklehorse's 2006 album Dreamt For Light Years In The Belly Of A Mountain. The group is led by multi-instrumentalist Mark Linkous who has been paralyzed since 1996. Jim explains that Linkous' sound changed dramatically after being confined to a wheelchair. There's a definite influence of alt-country and Southern gothic that Jim thinks Joel will appreciate. Plus, this album features some impressive guests like Steven Drozd of The Flaming Lips and Tom Waits.
Dr. Kot recommends the new album from The Kills. The transcontinental duo met via the mail and have made three albums. Greg thinks the latest, Midnight Boom, is the best. He describes the band's sexy, in-your-face attitude and deep appreciation for the blues. Greg just hopes that Joel doesn't have an allergic reaction to their drum machine.
After a week taking his medicine, Joel returns for a follow-up appointment. He explains that the heavy production in the Sparklehorse initially put him off. But despite the fact that the music was a little slow at times, he can see himself returning to it. Joel describes Dr. Kot's pick as some strong medicine, but he really enjoyed The Kills' melodies and guitars. He thinks the album is at its best when the two singers are featured together, and was able to forget about the drum machine for the most part.
Go to episode 128