Results for Steve McDonald
interviews
Melvins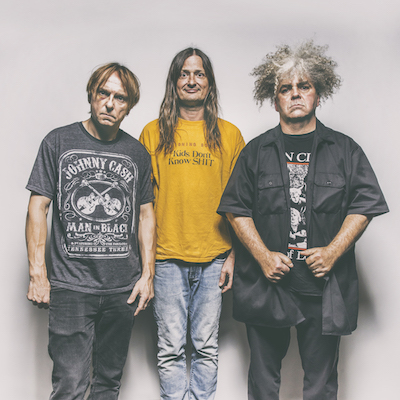 The Melvins are hailed as progenitors of sludge metal, key influences on the Seattle grunge scene, and avant-garde pranksters – but their music has always been virtually unclassifiable. That's certainly the case on their new double-album A Walk With Love & Death, which veers from heavy rockers to pop songs to ambient film scores. The Melvins join Jim and Greg in the studio to talk about the new record and their long career, dating back to their 1984 formation in Washington.
Guitarist/vocalist Buzz Osborne (aka King Buzzo) and drummer Dale Crover form the core of the Melvins, alongside a rotating bassist slot that's currently filled by Steve McDonald of Redd Kross and OFF!. They discuss their ill-fated major label stint in the 1990s, the importance of playing the music that you want to play, and how they manage to survive as a band for over thirty years. They also dispel myths about Nirvana (of which Crover was an early member) and the rest of the storied Seattle scene.
Go to episode 613
OFF!
We at Sound Opinions thought it wise to send a noise alert to our colleagues the day OFF! visited the studio. This punk supergroup doesn't hold back, delivering minute long bursts of tightly structured punk anger. OFF! is the project of four veterans of the LA punk and hard rock scenes. They are Keith Morris of Black Flag and Circle Jerks fame, Dimitri Coats of Burning Brides, Steve McDonald, and Mario Rubalcaba of Rocket From the Crypt. Since getting together in 2009, the foursome has released two full-lengths: First Four EPs and this year's official debut, OFF! Their sound harkens back to the heyday of LA hardcore, the genre Morris helped develop in the late seventies with Black Flag. But the band firmly rejects the hardcore label. Steve explains how the term came to be associated with violence and the boneheaded, testosterone-addled teens"who were the reason I got into punk in the first place."So what does the band prefer to be called?"We're a rock n' roll band"says Morris. "Just crank it up."
Go to episode 354
reviews
Researching the Blues available on iTunes
Redd Kross Researching the Blues
Jim and Greg review Researching the Blues, the new record from California rock veterans Redd Kross. Adopted as the"little brothers"of L.A.'s hardcore punk scene when they first formed in 1980, Redd Kross always tended more Beach Boys than Black Flag in sound. Their 1990 record Third Eye was a harbinger of later alt-era successes (Nevermind for one), but the band itself never achieved Nirvana-level success and went on hiatus in 1997. Researching the Blues, the band's first new record in 15 years, reunites the"classic lineup"of Jeff McDonald, Steve McDonald, Robert Hecker, and Roy McDonald. Both Jim and Greg agree they're glad to have these boys back. Redd Kross have cut all the fat, Greg says. They get in, give you a great guitar solo and some killer harmonies, and then get out. Past records have been rife with seventies pop-culture references. Greg thinks Redd Kross are taking themselves a bit more seriously this time around, though Jim points out there are still enough kitschy references to Dracula and Frankenstein to keep things light. Researching the Blues gets a double Buy It.
Go to episode 350
lists
Desert Island Jukebox
Often at the end of Sound Opinions, Jim and Greg add songs to the Desert Island Jukebox. This jukebox is filled with tracks that Jim and Greg would take with them if stranded on a desert island. They've posed this same age-old rock question to many of their guests. Here's the music that these artists say they can't live without:
Buzz Osborne of The Melvins: Judy Garland, Judy at Carnegie Hall
Dale Crover of The Melvins: The Rolling Stones, Through the Past, Darkly
Steve McDonald of The Melvins: The Jimi Hendrix Experience "If 6 Was Nine"
Penelope Spheeris: Japanese Zen Music and Norman Greenbaum "Spirit in the Sky"
Iron & Wine: Van Morrison Veedon Fleece
Vic Mensa: Stevie Wonder "For Once in My Life"
Go to episode 650