Results for Stephen Bruner
reviews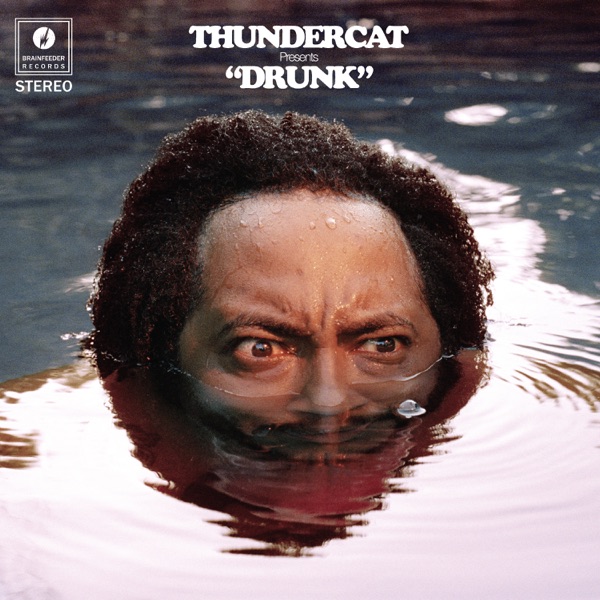 Drunk available on iTunes
Thundercat Drunk
Stephen Bruner, better know as Thundercat, is an in-demand session bassist. A resume containing artists from Kendrick Lamar to Suicidal Tendencies is testament to that. Thundercat is also a songwriter in his own right and has just released his third album, Drunk. Weighing in at 23 tracks, Greg says it is a challenging listen. With references to jazz fusion, Earth, Wind and Fire, and cameos from Kenny Loggins and Michael McDonald he admits the album is"bewildering,"especially as Thundercat vacillates from introspective songs about mortality and police brutality, to shopping for anime in Tokyo. But, Greg says it is an"audio-veritae"of Thundercat's life, that shows virtuosity and personality. That said, Greg stops short of saying Buy It and instead gives it a Try It and he eagerly awaits what is next from Thundercat.Jim, had a much more visceral reaction to this record saying he"despises it"and claiming it left him with a skin rash (Editor's Note: we didn't verify this). He says the album is full of"pointless busyness"as Thundercat tries to cram too many ideas into his music. It goes without saying, Jim gives it a Trash It.
Go to episode 589
rock doctors
Kung-Fu
Yes it's time for a visit to the doctor. But don't fret, the Rock Doctors are way fun. During this episode Jim and Greg treat a Kung Fu master. "Sifu" Richard Baron runs Kung Fu Power in Highland Park, IL. While it isn't traditional for martial artists to train to music, he finds it helps to inspire his students. But, he admits the playlist is getting a bit stale. So he turns to Drs. Kot and DeRogatis for a prescription for new music.
Dr. DeRogatis recommends an album by Thundercat. It's the project of Bassist/songwriter/vocalist Stephen Bruner, and Jim hopes Sifu Richard will enjoy its grooves. But, after a week of using the 2013 album Apocalypse in his classes, the diagnosis is not good. This medicine did not go down well, according to our patient. It was too discordant and lacked soul, he says.
Dr. Kot prescribed some Thin Lizzy. He picked out the most"epic"and"awesome"songs from the band's 1975 and '76 albums Fighting and Jailbreak. Cheesy? Perhaps, but Greg vetted this with a friend of his who boxes. Sifu Richard says that some of the tracks will make it to his regular playlist, but he can't abide something like The Boys Are Back In Town.
So, the treatment had mixed results. But on the upside, Jim and Greg gained some epically awesome martial arts knowledge. Just check out their training session!
And if you want to make an appointment with the Rock Doctors for yourself or a friend in need, fill out our patient form.
Go to episode 406