Results for Sinéad O'Connor
reviews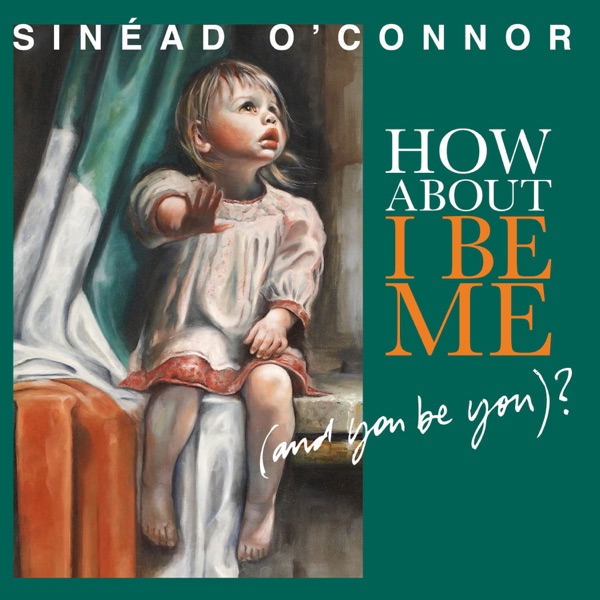 How About I Be Me (And You Be You)? available on iTunes
Sinead O'Connor How About I Be Me (And You Be You)?
Sinead O'Connor debuted in the late '80s with two commercial and critical hits: The Lion and the Cobra and I Do Not Want What I Haven't Got. But since she infamously burned a picture of the Pope on SNL, the Irish singer-songwriter's career has been as much about her personal troubles as her music. Through four marriages, drug addiction, and mental illness, she's remained prolific, releasing albums as diverse as 2002's Sean-Nos Nua (a tribute to Irish folk music) and 2005's Throw Down Your Arms (drawing on Rastafari traditions). Her latest, How About I Be Me (And You Be You)? is a characteristically personal album, Greg says, but with a pop spin. She's poking fun at herself, and most importantly, doing it within the context of some surprisingly melodic songs. But Greg still can't buy into the more political tracks. She's confusing rants for songs, so he has to give How About I Be Me (And You Be You)? a Burn it rating. Jim thinks that's a bit harsh. The new record is brilliant, he says…Sinead's best since 1994's Universal Mother. The political material doesn't overshadow the record, which is first and foremost about love and the meaning of commitment. Sinead's voice stands undiminished, and her witty, lighthearted lyrics don't hurt either. Jim says Buy it.
Go to episode 329
I'm Not Bossy, I'm The Boss available on iTunes
Sinead O'Connor I'm Not Bossy, I'm The Boss
Despite assertions that she wouldn't be making more music, Irish iconoclast Sinead O'Connor up and did it anyway. Her 10th studio album I'm Not Bossy, I'm The Boss is out this month, and Jim and Greg aren't terribly surprised by the move as the singer-songwriter has a history of marching to the beat of her own drum. She's ventured unexpected territory before with her reggae album and a release of"sexed up"Irish folksongs. And Jim is enthusiastic about this latest pop experiment because underneath the fun rhythms and catchy hooks is the same old Sinead—unapologetically opinionated. I'm Not Bossy, I'm The Boss is a Buy It for Jim. Greg finds less to love about this latest laissez-faire output from O'Connor. The first half of the album puzzled him as it lacks her usual feistiness. The second half picks up steam with songs like "Harbour" and "The Voice of My Doctor," which put O'Connor's attitude ahead of the "adult pop" production, so Greg can say Try It.
Go to episode 456
lists
The Best Songs of 2014 - Mixtapes
Before 2014 gets too far back in our rearview mirror, Jim and Greg tackle the timeless art of making a mixtape featuring their favorite songs from 2014. Each host plays a selection of tracks off their mix, but you can stream both in their entirety below.
Go to episode 475
Songs of Thanks
'Tis the season to hold family and friends close and be thankful for what we have. Jim and Greg share some of their favorite "song of thanks," tracks that highlight gratefulness and appreciation.
Go to episode 626
Sophomore Success
They say that it takes a lifetime to make your first record and only a few months to make your second. If that's true, then it's no surprise that most artists face the dreaded"sophomore slump."But, a rare few second albums meet or even exceed the first effort. Here are Jim & Greg's picks for Sophomore Success Stories:
Go to episode 252
Pop Stars vs. God
A big news story this week involves the ever-controversial Kanye West. The February issue of Rolling Stone features West on the cover posing as Jesus Christ wearing a crown of thorns. This is not the first time the rapper has been public about his conflicted relationship with Jesus, nor is it the first time a musician has pushed hot buttons with religion. Jim and Greg explore this issue and pick the top five instances when a rock star made religious waves.
John Lennon makes the statement: "The Beatles are more popular than Jesus." While this was more a statement about the absurd level of fame the Beatles had attained, feathers were ruffled nonetheless.
Madonna kisses an African-American Jesus figure and includes images of cross burning and the stigmata in her video for "Like a Prayer." As a result, Pepsi dropped Madonna as a spokesperson.
In a misinterpreted move, Sinéad O'Connor rips up a picture of the Pope on Saturday Night Live.
XTC releases "Dear God," causing a controversy by aggressively questioning the existence of God.
Marilyn Manson tells a Spin reporter, "Hopefully I'll be the person who puts an end to Christianity." This comment propelled Tipper Gore's organization, the Parents Music Resource Center, to start a campaign against the self-proclaimed Anti-Christ.
Go to episode 9
featured songs