Results for Sgt. Pepper's Lonely Hearts Club Band
reviews
Sgt Pepper's Lonely Hearts Club Band available on iTunes
The Beatles Sgt Pepper's Lonely Hearts Club Band
A half-century has passed since America first heard The Beatles' eighth album, Sgt Pepper's Lonely Hearts Club Band. The anniversary, along with a new remix of the album, has meant a deluge of nostalgia and media coverage. No doubt the album is important for its advancement of concept albums and studio production, but removed from the hype does the album hold up? Jim and Greg gave the album a fresh listen. For Greg, the album is about"sound over songs."While innovative, this is not The Beatles at their songwriting best. He says it is"whimsical"and"charming"and if a new band put Sgt. Pepper's out today, he'd say Try It. Jim, thinks the album's praise is based too much on the context of the political and social atmosphere of 1967 and when removed from that context, the album doesn't hold up. Jim says the song writing is very conservative and the album is largely a"mess."That said, Jim says Being For The Benefit Of Mr. Kite! and A Day In The Life makes the album a Try It.
Go to episode 602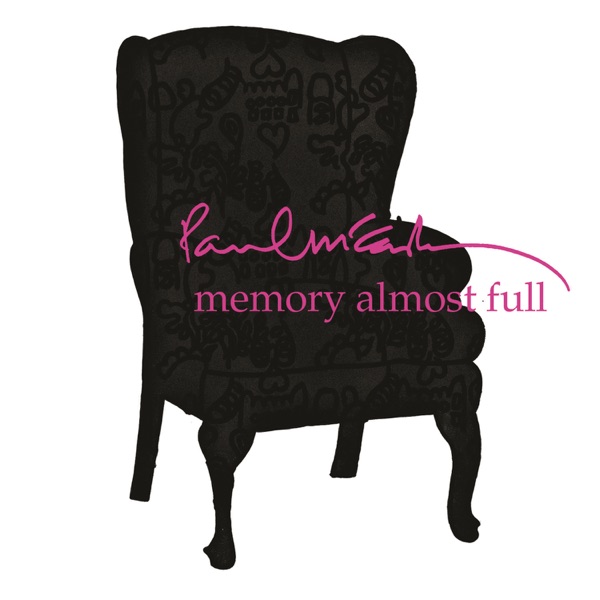 Memory Almost Full available on iTunes
Paul McCartney Memory Almost Full
Sir Paul McCartney released a new album this week called Memory Almost Full. This is the former Beatle's 21st solo album, but only his first for the new Starbucks' Hear Music record label. Jim explains that McCartney perfectly timed this release with the 40th anniversary of Sgt. Pepper's Lonely Hearts Club Band and the 65th birthday of the man who wrote "When I'm Sixty-Four." Jim explains that there are such extremes in McCartney's work, but one strain that has been in his songs since he was 18 is his nostalgia for lost youth. Almost every song on Memory Almost Full is about yearning for a simpler time, or reminiscing about his own legacy. Jim thinks there are a few lousy songs on the album, but for the most part it's an inspiring late-career turn. Greg agrees. He explains that McCartney could fall out of bed and write a good song, but for the first time in years, he is emotionally invested in the material. He even responds to his recent divorce from Heather Mills in a really generous and poignant way. Greg doesn't think the album is a masterpiece, and calls "See Your Sunshine," a"maudlin piece of tripe."But, he thinks Memory Almost Full is one of McCartney's best albums in two decades. Both Jim and Greg give this coffee house fare two Buy Its.
Go to episode 80
news
Music News
The 2006 Nielsen Soundscan midyear report came out this week, and some of its findings are surprising. While the buzz seems to be that the music industry is being killed by digital music sales, which increased by 77% from 2005, albums are only down by 4.2%. So Jim and Greg aren't consoling record executives just yet. The more significant revelation? The disconnect between what critics enjoy and what people buy may be even greater than previously thought. The number-one selling album of the year so far is not by a venerated rock artist or a hip-hop star — rather, it's the soundtrack to High School Musical, a Disney made-for-TV movie. The tween phenomenon shows how young girls still have much of the buying power in the industry. Coming in second is country/pop act Rascal Flatts. And a further scan of the list reveals that Jim and Greg were only compelled to review two of the records on it: Mary J. Blige's The Breakthrough and Taking the Long Way by the Dixie Chicks. Hopefully that trends turn around in the months to come. Otherwise Jim and Greg will have to score that interview with Zac after all…
Pink Floyd founder Syd Barrett died this week at his home in Cambridge, England. Barrett started the band, which he named after two American bluesmen, Pink Anderson and Floyd Council, in 1965. After releasing The Piper at the Gates of Dawn (which was recorded at Abbey Road the same year as the other British psychedelic hallmark, Sgt. Pepper's Lonely Heart's Club Band), Barrett became a superstar. However, as Jim and Greg explain, this natural frontman shunned the spotlight. Barrett became a heavy LSD user and was likely suffering from schizophrenia. By 1968 he was forced to leave the band. He subsequently made two solo albums, but eventually went into virtual exile. Yet his influence on the band, and on future musicians, remained strong, as bandmate Nick Mason tells Jim. Mason, like all Pink Floyd fans, understood what a talent Barrett was and wished he had intervened to prevent such a tragic end. Still, Barrett's legacy lives on through his music. Listen to "Baby Lemonade," one of Barrett's last performances with members of Pink Floyd, as well as David Bowie's cover of "See Emily Play."
Go to episode 33
featured songs