Results for Robin Thicke
reviews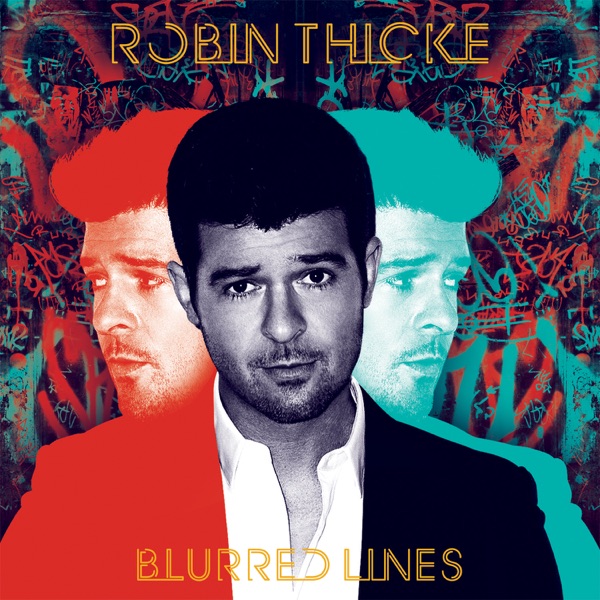 Blurred Lines available on iTunes
Robin Thicke Blurred Lines
Now it's back to the charts, where Robin Thicke's catchy single "Blurred Lines" has dominated for weeks (proving once and for all that music fans want more cowbell). Before he achieved YouTube ubiquity, Jim reminds us that Thicke was just another journeyman blue-eyed soul singer. He'd written hits for artists like Brandy and Christina Aguilera, but failed to gain much recognition for his solo work. He's changed that with Blurred Lines, his sixth studio album. Does the record measure up to its single? Greg says no. He loves the"Blurred Lines"groove, but relents that the album's lyrics are full of"single entendre"idiocy."This is a dumb R&B record,"he says, "Trash It." Jim agrees that Thicke's lyrics leave a lot to be desired, but gives him credit for crafting the kind of fun danceable tracks we'd hoped to get from Justin Timberlake's 20/20 Experience. On the strength of"Blurred Lines"alone, Jim says Burn It.
Go to episode 400
G I R L available on iTunes
Pharrell G I R L
For a long time, baby-faced Pharrell Williams was better known as a producer for artists like Jay-Z and his own N.E.R.D. But in 2006 Pharrell stepped out more as a vocalist, releasing a lukewarm solo album and increasing his guest appereances on other artist's tracks. In 2012, two of those tracks, one with Robin Thicke and the other with Daft Punk, launched him to new heights of stardom. And with that momentum, Williams is back with a second solo album. G I R L's slick combination of disco and R&B sounds make the record an instant Try It for Jim. He would've gone Buy It if it weren't for Pharrell's tired lyrics about women. Greg also sighs at the empty lyrics, adding that Williams should stick with what he does best: producing. His ability to channel dancable rhythms from the likes of Prince and Stevie Wonder is his greatest asset and ultimately the only thing earning G I R L a Try It.
Go to episode 433
news
featured songs
Featured Songs
Goose Island Credit Music: Pure Sunray,"Caramel,"Pure Sunray, 2013
Robin Thicke, Blurred Lines, Blurred Lines, Star Trak/Interscope, 2013
Chance the Rapper, Acid Rain, Acid Rap, Freely Available Mixtape, 2013
Martin Luther King Jr., I Have a Dream – March for Jobs – Washington, August 28, 1963, Speeches by Martin Luther King: The Ultimate Collection, BN Publishing, 2010
Joan Baez and Bob Dylan,"When the Ship Comes In,"Live performance at the March on Washington, 1963
Mahalia Jackson,"How I Got Over,"Live performance at the March on Washington, 1963
Charles Mingus, Fables of Faubus, Mingus Ah Um, Columbia, 1959
Max Roach ft. Abbey Lincoln, Driva Man, We Insist!, Candid, 1960
Mahalia Jackson, We Shall Overcome, Let Freedom Sing! Music of the Civil Rights Movement, Time Life Entertainment, 2009
Odetta, Spiritual Triology, Odetta Sings Ballads and Blue, Tradition, 1965
The Freedom Singers, In the Mississippi River, Voices of the Civil Rights Movement: Black American Freedom Songs 1960-1966, Smithsonian Folkways Recordings, 1997
Nina Simone, Mississippi Goddamn, Let Freedom Sing! Music of the Civil Rights Movement, Time Life Entertainment, 2009
Herb Kent, Aircheck on WVON
Grant Green, The Selma March, His Majesty King Funk, Verve, 1965
Sam Cooke, A Change Is Gonna Come, Ain't That Good News, RCA Victor, 1964
Sam Cooke, This Little Light of Mine, Sam Cooke At the Copa (Live), ABKCO Music & Records, Inc., 2003
The Impressions, Keep On Pushing, Keep On Pushing, ABC-Paramount, 1964
Martin Luther King Jr., Address Concluding the Selma to Montgomery - March 25, 1965, Speeches by Martin Luther King: The Ultimate Collection, BN Publishing, 2010
The Staple Singers, Freedom Highway, Freedom Highway, Legacy/Columbia, 2004
Kim Weston,"Lift Every Voice and Sing,"Live Performance at Wattstax, 1972
The Beatles, Any Time at All, A Hard Day's Night, Parlophone, 1964
Stevie Ray Vaughan and Dick Dale, Pipeline, Back to the Beach Soundtrack, CBS Records, 1987
Link Wray & His Ray Men, Rumble, Rumble (Single), Cadence, 1958
Jimi Hendrix,"The Star-Spangled Banner,"Live at Woodstock Festival, 1969
Queens of the Stone Age, Mosquito Song, Songs for the Deaf, Interscope, 2002
Go to episode 404
Featured Songs
Robin Thicke, Blurred Lines, Blurred Lines, Star Trak/Interscope, 2013
Florida Georgia Line, Cruise, Here's to the Good Times, Republic Nashville, 2012
The Everly Brothers, All I Have to Do Is Dream, All I Have to Do Is Dream (Single), Cadence, 1958
Bruno Mars, Gorilla, Unorthodox Jukebox, Atlantic, 2012
The Beatles, I Saw Her Standing There, Introducing… The Beatles, Vee-Jay, 1964
The Beatles, I'm In Love, The Beatles Bootleg Recordings 1963, Apple/Universal, 2013
John Lennon, Mother, John Lennon/Plastic Ono Band, Apple, 1970
The Beatles, Please Please Me, Please Please Me, Parlophone, 1963
The Beatles, Everybody's Trying to Be My Baby, Live! at the Star-Club in Hamburg, Germany; 1962, Lingasong/Bellaphone, 1977
The Quarrymen, In Spite of All the Danger, Anthology 1, Apple, 1995
The Beatles, One After 909, Anthology 1, Apple, 1995
The Beatles, We were four guys… that's all, Anthology 1, Apple, 1995
The Beatles, Long Tall Sally, Live at the BBC, Apple, 1994
The Silver Beatles, Three Cool Cats, Anthology 1, Apple, 1995
The Beatles, Getting Better, Sgt. Pepper's Lonely Hearts Club Band, Parlophone/Capitol, 1967
The Beatles, Money (That's What I Want), The Beatles Bootleg Recordings 1963, Apple/Universal, 2013
The Beatles, All You Need Is Love, Magical Mystery Tour, Parlophone, 1967
The Beatles, Boys, Anthology 1, Apple, 1995
The Beatles, We were performers … in Britain, Anthology 1, Apple, 1995
The Beatles, This Boy, Mono Masters, Parlophone/Capitol/Apple, 2009
Paul McCartney, Early Days, New, Virgin EMI/Hear Music, 2013
Paul McCartney, Being for the Benefit of Mr Kite! (Live at Barclays Center), unreleased, N/A, 2013
The Beatles, You Really Got a Hold on Me, With the Beatles, Parlophone, 1963
Bruce Springsteen, American Skin (41 Shots), High Hopes, Columbia, 2013
Bruce Springsteen, Harry's Place, High Hopes, Columbia, 2013
Clams Casino, Wizard (Remix), Instrumental Tape 3, self-released, 2013
The Drifters, Answer the Phone, I'll Take You Where The Music's Playing, Atlantic, 1965
Martin Hayes and Dennis Cahill, The New Custom House (Live on Soundcheck), Welcome Here Again, Compass Records, 2008 (0:29)
Secret Machines, Sad and Lonely, Now Here Is Nowhere, Reprise, 2004
School of Seven Bells, Lafaye, Ghostory, Vagrant/Ghostly International, 2012
The Chi-Lites, Give It Away, Give It Away, Brunswick, 1969
Go to episode 425
Featured Songs
Goose Island Credit Music: Pure Sunray,"Caramel,"Pure Sunray, 2013
Kings of Leon, Supersoaker, Supersoaker (Single), RCA Records, 2013
Nas, This World Is Yours, Illmatic, Columbia, 1994
Bow Wow Wow, C30, C60, C90, Go, Girl Bites Dog, Capitol, 1993
Bombino, Amidinine, Nomad, Nonesuch, 2012
White Lung, St. Dad, Sorry, Deranged, 2012
Moderat, Bad Kingdom, II, Monkeytown, 2013
Purling Hiss, Lolita, Water on Mars, Drag City, 2013
Purling Hiss, Rat Race, Water on Mars, Drag City, 2013
ProbCause, LSD, The Recipe Vol. 2, N/A, 2013
Autre Ne Veut, Counting, Anxiety, Software, 2013
Trixie Whitley, Irene, Fourth Corner, Strong Blood Records, 2013
Zomby, Overdose, With Love, 4AD, 2013
Palma Violets, Johnny Bagga' Donuts, 180, Rough Trade US, 2013
Palma Violets, Best of Friends, 180, Rough Trade US, 2013
Waxahatchee, Peace and Quiet, Cerulean Salt, Don Giovanni Records, 2013
Robin Thicke, Blurred Lines, Blurred Lines, Star Trak/Interscope, 2013
Robin Thicke, Get In My Way, Blurred Lines, Star Trak/Interscope, 2013
The Andrews Sisters, The Telephone Song, The Andrews Sisters, Wnts, 2010
Pavement, Here, Slanted and Enchanted, Matador, 1992
The Smiths, How Soon Is Now?, How Soon Is Now? (Single), Rough Trade, 1985
Run the Jewels, Banana Clipper, Run the Jewels, Fool's Gold, 2013
Go to episode 400