Results for Ringleader of the Tormentors
reviews
Morrissey Ringleader of the Tormentors
Mythical. Mopey. Maudlin. Just some of the words used to describe that other Irish pop God — Morrissey. But after listening to his new album Ringleader of the Tormentors, you might have to add lustful to the mix. Morrissey has been famously celibate for a number of years, and that torment served him well. But now he not only admits to sexual trysts in Rome, but makes his own proclivities less ambiguous than in the past. The result gets a Burn It rating from both hosts, but for very different reasons. Jim finds Morrissey's lyrics as biting as ever, but is not impressed with his sonic decisions. Greg, on the other hand, believes a miserable Morrissey is a better Morrissey, but really appreciates the music, which was produced by former Bowie and T. Rex collaborator Tony Visconti.
Go to episode 20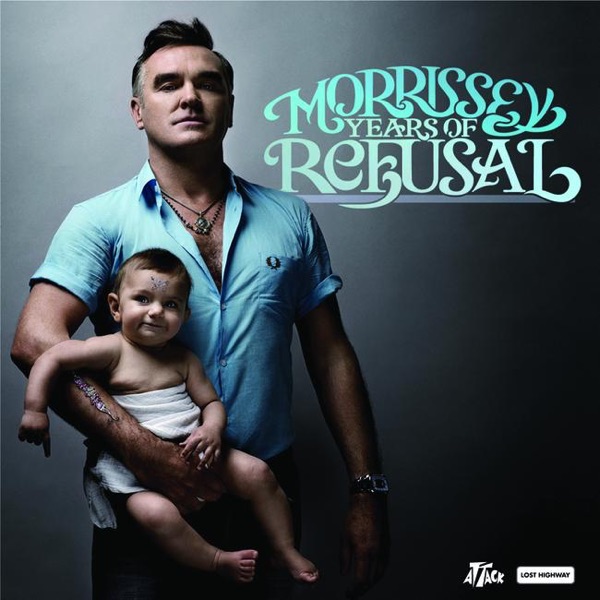 Years of Refusal available on iTunes
Morrissey Years of Refusal
Morrissey is back with a new album, Years of Refusal, and an old attitude. The songs on his last release Ringleader of the Tormentors showed a softer, happier side of the Irish rocker. But, as his fans know, Moz is best when he is miserable. Greg compares his newfound mid-life aggression to that of Nick Cave. The quips aren't as witty as some of Morrissey's best, but the music is as good as ever. Greg gives it a Buy It. Jim agrees. This is some of the best work Morrissey has ever done. He also gives a Buy It rating.
Go to episode 169
featured songs
Featured Songs
Chesterfield Kings, She Told Me Lies, Children of Nuggets: Original Artyfacts from the Second Psychedelic Era - 1976-1995, Rhino, 2005
Prince, My Name is Prince, The Love Symbol Album, Paisley Park, 1992
Van Morrison, The Way Young Lovers Do, Astral Weeks, Warner Bros., 1968
The Shadows of Knight, Gloria, Gloria, Dunwich, 1966
Van Morrison, Brown Eyed Girl, Blowin' Your Mind!, Bang, 1967
The Modern Jazz Quartet, Willow Weep for Me, Fontessa, Atlantic, 1956
Charles Mingus, Track C - Group Dancers, The Black Saint and the Sinner Lady, Impulse!, 1963
Van Morrison, Astral Weeks, Astral Weeks, Warner Bros., 1968
Van Morrison, Ballerina, Astral Weeks, Warner Bros., 1968
Van Morrison, Beside You, Astral Weeks, Warner Bros., 1968
Van Morrison, Sweet Thing, Astral Weeks, Warner Bros., 1968
Van Morrison, Cyprus Avenue, Astral Weeks, Warner Bros., 1968
Van Morrison, Madame George, Astral Weeks, Warner Bros., 1968
Van Morrison, Slim Slider, Astral Weeks, Warner Bros., 1968
The Secret Machines, Astral Weeks, The Road Leads Where Its Led, Reprise, 2005
Kelly Clarkson, My Life Would Suck Without You, All I Ever Wanted, RCA, 2009
Kelly Clarkson, Whyyouwannabringmedown, All I Ever Wanted, RCA, 2009
K'Naan, T.I.A., Troubadour, A&M Octone, 2009
K'Naan, ABCs, Troubadour, A&M Octone, 2009
D'Angelo, Devil's Pie, Voodoo, Virgin, 2000
Blondie, Call Me, American Gigolo, Polydor, 1980
Morrissey, Life is a Pigsty, Ringleader of the Tormentors, Attack, 2006
Go to episode 171