Results for renaissance
interviews
Shirley Collins
Of all the English folk revival artists, Shirley Collins was perhaps the most devoted to rural folk traditions. But at the same time, her records were incredibly innovative in their approach. Her 1964 album Folk Roots, New Routes with guitarist Davey Graham fused ancient songs with jazz arrangements, paving the way for bands like Fairport Convention. In collaboration with her sister Dolly, Shirley Collins also recorded with early music instruments and Renaissance ensembles. She even went electric with her acclaimed 1971 album No Roses. After developing a vocal condition known as dysphonia, Shirley gave up recording in 1978. Since then, she's become an inspiration to a new generation of artists, including The Decemberists' Colin Meloy, who covered one of her songs live on Sound Opinions. Now, after a nearly 40 year hiatus, she's returned with a new album, Lodestar. She joins Jim and Greg to explain why she returned to singing and how she chose her rather bloodsoaked repertoire.
In addition to her own recording career, Shirley Collins played an important role in music history when she accompanied legendary musicologist Alan Lomax as he traveled through the American south in 1959. Together, they collected field recordings of traditional working-class artists on farms, prisons, and churches. Their tapes of musicians like Mississippi Fred McDowell, Almeda Riddle, and Hobart Smith were huge influences on generations of artists, including Bob Dylan.
Go to episode 584
reviews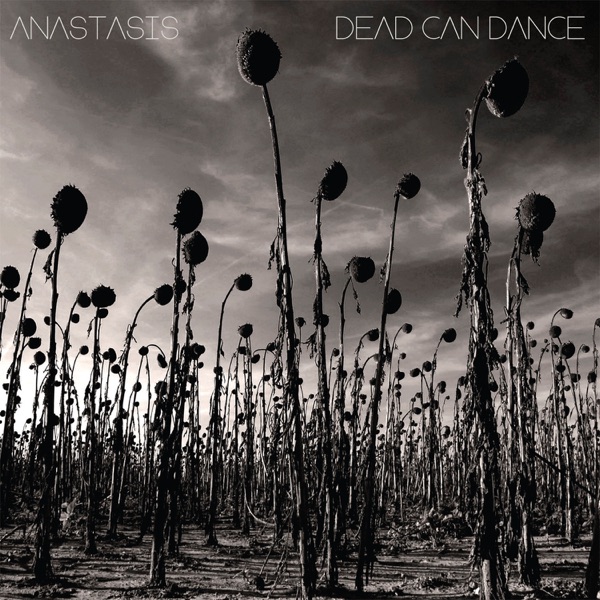 Anastasis available on iTunes
Dead Can Dance Anastasis
Next Jim and Greg review Anastasis, the first new record in sixteen years from longtime 4AD band Dead Can Dance. This duo began thirty years ago in Australia. Guitarist Brendan Perry got his start in punk circles, but turned in a more experimental direction after meeting vocalist Lisa Gerrard. Greg says in the eighties, no one sounded quite like Dead Can Dance. The band melded the ancient sounds of Gregorian chant and renaissance music with au courant ambient pop. Since splitting up in 1997, Gerard and Perry have pursued solo careers (Gerard composed the music for Gladiator), but recent brushfires in Australia brought the two together long enough to produce a new album, Anastasis. Are the dead still dancing in 2012? Jim says not nearly enough. He finds Perry's serious, intoned lyrics laughable and Gerrard's compositions plodding and overdramatic. He says Trash It. Greg admits to being a Dead Can Dance diehard back in the day, but even he admits the band's slow tempos on this album aren't doing them any favors. Not only are Perry's lyrics annoying, he says, but they don't seem to have anything to do with Gerrard's beautiful, atmospheric vocals. He gives Anastasis a Burn It on the strength of Gerrard's voice, but calls Anastasis second-rate work.
Go to episode 353
featured songs
Featured Songs
Terry Callier, 900 Miles, The New Folk Sound of Terry Callier, Prestige, 1968
Terry Callier, You Goin' Miss Your Candyman, What Color is Love, Cadet, 1972
James Brown & The Famous Flames, I'll Go Crazy, Live at the Apollo, Polydor, 1963
The Swanee Quintet, Take the Lord with You, Take the Lord with You, MCA, 1998
Little Richard, Tutti Frutti, Here's Little Richard, Specialty Records, 1957
James Brown & The Famous Flames, I Don't Mind, Live at the Apollo, Polydor, 1963
James Brown & The Famous Flames, Try Me, Live at the Apollo, Polydor, 1963
James Brown & The Famous Flames, Medley: Please, Please, Please/You've Got The Power/I Found Someone/Why Do You Do Me/I Want You So Bad/I Love You, Yes I Do/Strange Things Happen/Bewildered/Please, Please, Please, Live at the Apollo, Polydor, 1963
James Brown & The Famous Flames, I Don't Mind, Live at the Apollo, Polydor, 1963
James Brown & The Famous Flames, Lost Someone, Live at the Apollo, Polydor, 1963
James Brown & The Famous Flames, Night Train, Live at the Apollo, Polydor, 1963
James Brown & The Famous Flames, Introduction to James Brown and The Famous Flames, Live at the Apollo, Polydor, 1963
James Brown & The Famous Flames, Night Train, Live at the Apollo, Polydor, 1963
James Brown & The Famous Flames, Think, Live at the Apollo, Polydor, 1963
James Brown & The Famous Flames, Night Train, Live at the Apollo, Polydor, 1963
Neil Young & Crazy Horse, Driftin' Back, Psychedelic Pill, Reprise, 2012
Neil Young & Crazy Horse, Walk Like a Giant, Psychedelic Pill, Reprise, 2012
Kendrick Lamar, Swimming Pools (Drank), good kid, m.A.A.d. city, Aftermath, 2012
Kendrick Lamar, good kid, good kid, m.A.A.d. city, Aftermath, 2012
Tonikom, Hope, Found and Lost, Hymen Records, 2012
De La Soul, Ring Ring Ring (Ha Ha Hey), De La Soul is Dead, Tommy Boy, 1991
Vanilla Fudge, Season of the Witch, Renaissance, Atco Records, 1968
Frank Zappa, Zomby Woof, Over-Nite Sensation, Disc-Reet, 1973
Helium, Wanna Be a Vampire Too, Baby, Pirate Prude EP, Matador, 1994
Go to episode 362
Featured Songs
Lily Allen, Not Fair, It's Not Me, It's You, Regal, 2009
The Rolling Stones, (I Can't Get No) Satisfaction, Out of Our Heads, Decca, 1965
Divine Fits, Flaggin' a Ride, A Thing Called Divine Fits, Merge, 2012
Divine Fits, What Gets You Alone, A Thing Called Divine Fits, Merge, 2012
Sister Nancy, Bam Bam, One, Two, Techniques Records, 1982
Divine Fits, Would That Not Be Nice, (Live on Sound Opinions), A Thing Called Divine Fits, Merge, 2012
Divine Fits, The Salton Sea, A Thing Called Divine Fits, Merge, 2012
Divine Fits, For Your Heart, A Thing Called Divine Fits, Merge, 2012
Divine Fits, My Love is Real, (Live on Sound Opinions), A Thing Called Divine Fits, Merge, 2012
Divine Fits, Civilian Stripes, (Live on Sound Opinions), A Thing Called Divine Fits, Merge, 2012
Divine Fits, Shivers, (Live on Sound Opinions), A Thing Called Divine Fits, Merge, 2012
Divine Fits, Baby Get Worse, A Thing Called Divine Fits, Merge, 2012
Rihanna, Diamonds, Unapologetic, Def Jam, 2012
Rihanna, Nobody's Business (feat. Chris Brown), Unapologetic, Def Jam, 2012
Suicidal Tendencies, Pop Songs, Free Your Soul and Save My Mind, Suicidal Records, 2000
Handsome Furs, No Feelings, Sound Kapital, Sub Pop, 2011
The Pretenders, Phone Call, Pretenders, Sire, 1979
10,000 Maniacs, Candy Everybody Wants, Our Time in Eden, Elektra, 1992
The Melvins, Boris, Bullhead, Boner Records, 1991
Renaissance, Northern Lights, A Song for All Seasons, Sire, 1978
Dead Can Dance, Children of the Sun, Anastasis, PIAS Recordings, 2012
Go to episode 366