Results for Rebirth
interviews
Jimmy Cliff
Singer-songwriter Jimmy Cliff walked away with his second "Best Reggae Album" Grammy last week. Rebirth is Cliff's 30th reggae record in a career that spans the history of the genre. Talking to Jim and Greg, he traces the evolution of reggae from party music celebrating Jamaican independence, to a more introspective music about roots, spirituality, and identity. While he may not be as famous as countryman Bob Marley, Cliff was instrumental in breaking reggae in the U.S. As the starring actor and songwriter for the cult film The Harder They Come, he introduced Americans to Rastafarian culture, dancehall music, and his own hits "You Can Get It If You Really Want" and "The Harder They Come." Cliff might be a reggae founding father, but he's no purist. He talks approvingly of punk's adoption of reggae sounds and even returns the compliment: Rebirth features a cover of The Clash's "Guns of Brixton," a song originally inspired by The Harder They Come.
Go to episode 377
reviews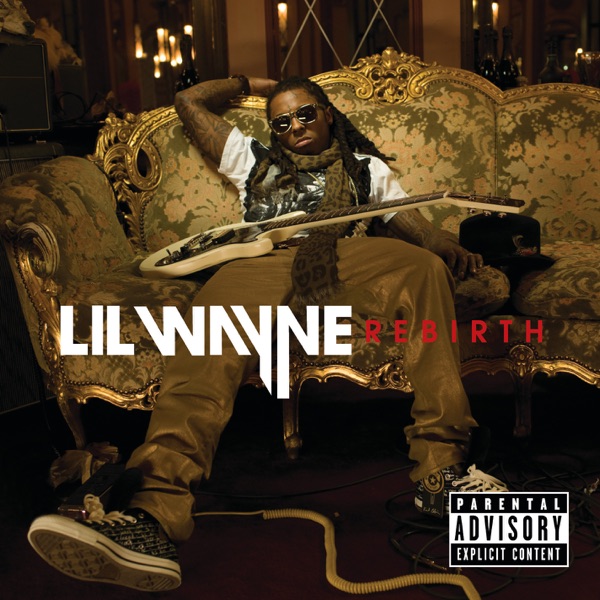 Rebirth available on iTunes
Lil Wayne Rebirth
The final album this week is Rebirth, the highly anticipated rock record from Lil Wayne. The rapper has become one of the most important figures in hip hop, so people are anxious to hear how he sounds with a guitar. In fact, anxiety abounds with this release-even over the release date. To say that Jim and Greg were disappointed would be putting it mildly. Neither critic hears anything original on Rebirth and wonders why Lil Wayne would pick the worst elements of rock to use. It's a substandard, Neanderthal Linkin Park rip-off. In other words, it's a double Trash It.
Go to episode 216
WZRD available on iTunes
WZRD WZRD
Kid Cudi made a name for himself first as a protégé of Kanye West, then as an innovator of a unique emo-rap sound with Man on the Moon Parts One and Two. And now he's picked up a guitar. With WZRD, his project with Dot da Genius, he is fusing elements of hip-hop and rock, and to great effect according to Jim. He admires his cockiness (covering Where Did You Sleep Last Night?) and his sense of experimentation, especially when compared to unsuccessful fusion efforts like Lil Wayne's Rebirth. Jim tells you to Buy It. Greg only needs to describe WZRD in two words: Amateur Hour. If he didn't know Cudi was behind this album, he'd instruct these kids to go back to the drawing board, learn to play guitar and learn to sing. Sorry folks, this one's a Trash It.
Go to episode 328
featured songs
Featured Songs
Justin Timberlake,"Suit & Tie,"2013 Grammys Telecast Performance, 2013
Frank Ocean,"Forrest Gump,"2013 Grammys Telecast Performance, 2013
Jimmy Cliff, You Can Get It If You Really Want, The Harder They Come, Island, 1972
Lord Flea and His Calypsonians, Donkey Bray, single, Capitol, 1957
Jimmy Cliff, Fundamental Reggay, single, EMI, 1973
Derrick Morgan, Shake a Leg, single, Blue Beat, 1961
Jimmy Cliff, Reggae Music, Rebirth, Universal/Sunpower/Hip-O, 2012
Jimmy Cliff, The Harder They Come, The Harder They Come, Island, 1972
Lord Creator, Independent Jamaica, single, Island, 1962
Hopeton Lewis, Take It Easy, single, Merritone, 1966
Burning Spear, Marcus Garvey, Marcus Garvey, Island, 1975
Jimmy Cliff, Vietnam, Jimmy Cliff, Trojan, 1969
Jimmy Cliff, Many Rivers to Cross, The Harder They Come, Island, 1972
Jimmy Cliff, Sitting in Limbo, The Harder They Come, Island, 1972
Jimmy Cliff, World Upside Down, Rebirth, Universal/Sunpower/Hip-O, 2012
The Clash, Guns of Brixton, London Calling, CBS, 1979
Jimmy Cliff, Guns of Brixton, Rebirth, Universal/Sunpower/Hip-O, 2012
Jimmy Cliff, Trapped, single, Island, 1972
Richard Thompson, Stuck on the Treadmill, Electric, New West Records, 2013
Richard Thompson, Stony Ground, Electric, New West Records, 2013
Richard Thompson, Good Things Happen to Bad People, Electric, New West Records, 2013
Richard Thompson, Saving the Good Stuff for You, Electric, New West Records, 2013
The Troggs, I Can't Control Myself, single, Fontana, 1966
Kurt Vile, Wakin' on a Pretty Day, Wakin' on a Pretty Daze, Matador, 2013
The Replacements, Answering Machine, Let It Be, Twin/Tone Records, 1984
The Jackson 5, I Want You Back, Diana Ross Presents the Jackson 5, Motown, 1969
Jefferson Airplane, Comin' Back to Me, Surrealistic Pillow, RCA Victor, 1967
Go to episode 377
Featured Songs
Kelly Clarkson, A Moment Like This, Thankful, RCA, 2003
Scars on 45, Heart on Fire, Heart on Fire, Atlantic, 2010
Taylor Swift, Fearless, Fearless, Big Machine, 2008
Lady Gaga, Bad Romance, The Fame Monster, Interscope, 2009
Lady Gaga, Teeth, The Fame Monster, Interscope, 2009
Lady Gaga, Alejandro, The Fame Monster, Interscope, 2009
Mary J. Blige, I Am, Stronger with Each Tear, Matriach, 2009
Mary J. Blige, Color, Stronger with Each Tear, Matriarch, 2009
Spoon, Written in Reverse, Transference, Merge, 2010
Spoon, Got Nuffin, Transference, Merge, 2010
Jay Farrar and Ben Gibbard, Big Sur, One Fast Move or I'm Gone: Music from Kerouac's Big Sur, Atlantic, 2009
Jay Farrar and Ben Gibbard, California Zephyr, One Fast Move or I'm Gone: Music from Kerouac's Big Sur, Atlantic, 2009
Punch Brothers, The Blind Leading The Blind, Punch, Nonesuch, 2008
Lil Wayne, Prom Queen, Rebirth, Young Money, 2010
Lil Wayne, Ground Zero, Rebirth, Young Money, 2010
Vic Chesnutt, Replenished, The Salesman and Bernadette, Fiction, 1998
Johnny Thunders, Get Off The Phone, L.A.M.F Revisited, Jungle, 1984
Kid Sister, Right Hand Hi, Ultraviolet, Universal Republic, 2009
Kid Sister, Switch Board, Ultraviolet, Universal Republic, 2009
Go to episode 216