Results for Nels Cline
interviews
Wilco
Getting all six members of the band Wilco on the show is no easy feat. But, this week Jim and Greg were able to snag an hour with the band just before their first U.S. performance in support of Sky Blue Sky, their sixth studio album released last week. The men all met at Northwestern University's Patten Gymnasium, but aside from the shoddy acoustics, it was a treat for all. Those not familiar with Wilco's story, should check out Greg's book Learning How to Die. But, by now, most have heard about the trials and tribulations of Jeff Tweedy and his often-changing cast of characters. The current cast includes Tweedy, John Stirratt, Glenn Kotche, Nels Cline, Mike Jorgensen and Pat Sansone. The members of Wilco are all great musicians in their own right with a number of side projects, but, as they explain to Jim and Greg, there is nothing like collaborating with band mates (or living like The Monkees).
A lot has been said about the fact that between the recording of A Ghost Is Born and Sky Blue Sky, chief songwriter and lead singer Jeff Tweedy went to rehab to deal with prescription drug dependency and depression. In fact, with its intense fan base and media scrutiny, there's not a lot about the band that hasn't been said. The question is posed as to whether or not Jeff's recovery affected the music. But, he explains that the biggest effect is just feeling physically healthy. Still, as Jim notes, you can't help but sense a more positive outlook on Sky Blue Sky — a tone that Jeff attributes to maturity more than anything. Listen to the tracks "Side With the Seeds," "Sky Blue Sky," and "What Light," and you be the judge. Then check out the exclusive bonus track, "You Are My Face."
Go to episode 77
reviews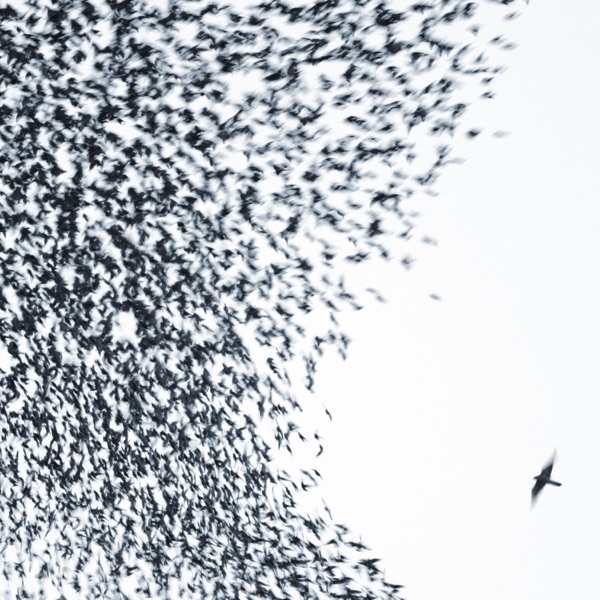 Sky Blue Sky available on iTunes
Wilco Sky Blue Sky
After much anticipation, Sky Blue Sky, the new album by Wilco, has finally been released. As always band members Jeff Tweedy and John Stirratt are on board, and this time they're also joined by Glenn Kotche, Nels Cline, Mike Jorgensen and Pat Sansone. While their last album, A Ghost Is Born, was fairly experimental, this release is more of a return to form. In fact, Greg describes the record as kind of a"one-trick pony,"but it's a trick he really enjoys. Because the record has been streaming at Wilco's website, many fans have already formed their opinions and are not over the moon about Sky Blue Sky. But the music is so quiet, so intimate that Greg urges listeners to let it sink in more. One might expect musical acrobatics from a guitar wizard like Cline and a master percussionist like Kotche, but their performance is intentionally subtle in order to serve the song. Greg gives Sky Blue Sky and its message of consolation a Buy It. Jim also came to this conclusion, but much later in his listening experience. It took 12 times through for this critic to overcome his expectations of a ferocious, rocking record. But, as he explains, if any artist has earned the right to ask us to listen to something 12 times, it's Jeff Tweedy. Jim notes that this album is representative of a specific time and space for Tweedy and company, one that was very introspective. He wishes that Tweedy had responded more to what's happening in the world around us, and admits that at times, some of the songs can border on tedious. But, because Tweedy is as important an artist as someone like Bob Dylan or Neil Young, Jim thinks it's worth going on any journey the musician invites you on. He also gives the new Wilco a Buy It.
Go to episode 76
Wilco
For their 11th studio album, Wilco somewhat ironically invoke the fourth movement of Beethoven's Ninth Symphony, Ode To Joy. Greg doesn't find many expressions of joy on this record, pointing out songwriter Jeff Tweedy's tendency to worry and externalize his feelings. With most of the songs built around acoustic guitar and plodding drums, there are few moments that break through the murky anxiety, mostly Nels Cline guitar solos. Jim and Greg agree this record is unlikely to garner many new fans for Wilco, but may satisfy longtime fans who are invested in settling into this specific mood.
Go to episode 723