Results for My Chemical Romance
reviews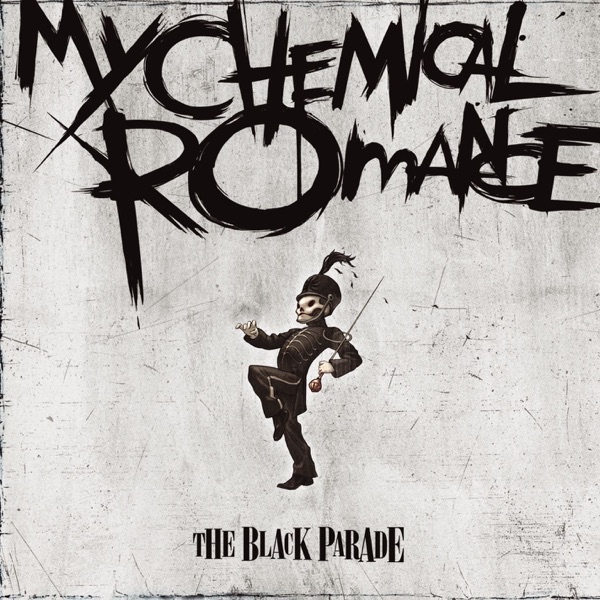 The Black Parade available on iTunes
My Chemical Romance The Black Parade
My Chemical Romance debuted at number two on the Billboard charts this week. In fact, the only obstacle between the band and the top spot was a High School Musical star. #2 ain't bad — but the question is whether not or not the album is. The Black Parade is the pop-punk band's third release, made with the help of Rob Cavallo, who also produced Green Day's last album, American Idiot. Both releases are concept albums, but if Green Day was trying to make their version of a Who record, My Chemical Romance seems to be channeling more over-the-top artists like Queen. Jim even calls it the modern day equivalent to Bat Out of Hell (for those of you who don't know Jim, that is a compliment). He is completely impressed by this tale of teen angst and death, and gives The Black Parade a Buy It. Greg appreciates the band's sense of humor (black with a heavy dose of sarcasm), and thinks that the album's finest moments are the over-the-top dramatic ones filled with glockenspiel, drum machines, layered guitars, and even fake cannon shots. But the rest of the songs struck him as generic radio tracks, and he can only give a Burn It rating.
Go to episode 49
Get Lifted available on iTunes
John Legend Get Lifted
The second album up for review this week also charted high on Billboard. John Legend's new album, Once Again, debuted at number three, following My Chemical Romance. Legend received a lot of acclaim, as well as a number of Grammy Awards, for his first release, Get Lifted. So, the pressure was on for this sophomore effort. Both Jim and Greg think Legend is a really wonderful songwriter who brings R&B back to its heyday. And both critics find tracks like "Show Me" (which had surprising inspirations in Jeff Buckley and Sufjan Stevens) to be standouts. But neither felt that Legend was really doing anything new. Therefore Jim only recommends listeners Burn It. Greg agrees that Once Again gives listeners much of the same, but he thinks the same is pretty good. He gives it a Buy It rating.
Go to episode 49
The Smashing Pumpkins Zeitgeist
After formerly announcing their reunion in May, The Smashing Pumpkins have finally started touring and have produced an album to be released next week. Zeitgeist is the band's first record since they ended their alternative reign in 2000, but this time only half of the original members are back. Pumpkins' impresario Billy Corgan is joined by long-time collaborator Jimmy Chamberlin, as well as two other musicians standing in for James Iha and D'Arcy Wretzky. In true Corgan fashion, the band is already making news. In a marketing scheme that perhaps doesn't fit their alternative sensibilities, they've struck a deal with three major music retailers. Target, Best Buy and iTunes are all getting a different bonus track along with the regular version of the album. That means that fans purchasing Zeitgeist at an independent music store will only get the LP sans bonus tracks. This has angered some, but Jim and Greg actually don't think this plan is so egregious. In the past Corgan has offered his album for free on the internet and has given many free concerts. And in an age where it's difficult to get people to actually purchase CDs in stores at all, who can blame a band for adding incentives. The real question is whether or not Zeitgeist is worth purchasing at all. Jim explains how we're in an era of alternative nostalgia, and Corgan certainly seems interested in reclaiming the good ol' days of the 1990s when the Pumpkins were on top and were making music that sounded like nothing else. The problem is that now this music sounds like almost everything else. With angsty rock bands like My Chemical Romance and AFI on the scene, the Pumpkins aren't really offering anything unique. Both Jim and Greg find this reunion recording to be merely an imitation of a great Smashing Pumpkins album, and wish that the music lived up to its title. They give Zeitgeist two Burn Its.
Go to episode 83
lists
Jim's Mixtape: Just Crazy About 2006
Gnarls Barkley, "Crazy"
Tapes 'N Tapes, "Crazy Eights"
Arctic Monkeys, "I Bet You Look Good on the Dancefloor"
Veruca Salt, "So Weird"
Fergie, "London Bridge"
Justin Timberlake, "Love Stoned/I Think She Knows Interlude"
Kelis, "'Til the Wheels Fall Off"
My Chemical Romance, "Teenagers"
Grandaddy, "Disconnecty"
Mission of Burma, "Nancy Reagan's Head"
Jenny Lewis, "Rabbit Fur Coat"
Go to episode 56