Results for Melvins
interviews
Melvins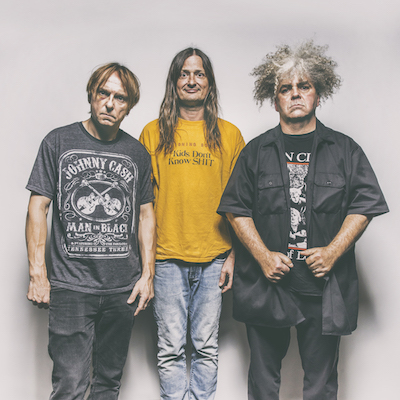 The Melvins are hailed as progenitors of sludge metal, key influences on the Seattle grunge scene, and avant-garde pranksters – but their music has always been virtually unclassifiable. That's certainly the case on their new double-album A Walk With Love & Death, which veers from heavy rockers to pop songs to ambient film scores. The Melvins join Jim and Greg in the studio to talk about the new record and their long career, dating back to their 1984 formation in Washington.
Guitarist/vocalist Buzz Osborne (aka King Buzzo) and drummer Dale Crover form the core of the Melvins, alongside a rotating bassist slot that's currently filled by Steve McDonald of Redd Kross and OFF!. They discuss their ill-fated major label stint in the 1990s, the importance of playing the music that you want to play, and how they manage to survive as a band for over thirty years. They also dispel myths about Nirvana (of which Crover was an early member) and the rest of the storied Seattle scene.
Go to episode 613
reviews
The Hunter available on iTunes
Mastodon The Hunter
Some call Mastodon the saviors of metal. Others…hipster sellouts. But Jim and Greg just think they make terrific music. Combining a little Black Sabbath with a little Melvins, they are experimental and hard rocking without losing their sense of melody and harmony. Their new album The Hunter marks five successful releases in a row. Jim and Greg say Buy It.
Go to episode 307
featured songs
Featured Songs
Billy Bragg & Joe Henry, Rock Island Line, Shine a Light: Field Recordings from the Great American Railroad, Cooking Vinyl, 2016
The Lonnie Donegan Skiffle Group, John Henry, Rock Island Line (single), Decca, 1955
The Quarrymen, Puttin' on the Style, Unreleased, n/a, 1957
The 2.19 Skiffle Group, Railroad Bill, The 2.19 Skiffle Group, Esquire, 1957
Ken Colyer's Jazzmen, Isle of Capri, New Orleans to London, Decca, 1953
King Oliver's Creole Jazz Band, Dipper Mouth Blues, Dipper Mouth Blues (single), Gennett, 1923
Ken Colyer's Skiffle Group, Midnight Special, Back to the Delta, Decca, 1954
Dan Burley and his Skiffle Boys, South Side Shake, South Side Shake, Circle, 1946
Ken Colyer's Skiffle Group, Down By the Riverside, Down By the Riverside (single), Decca, 1955
Kelly Pace, The Rock Island Line, Negro Work Songs and Calls, The Library of Congress, 1934
Leadbelly, Rock Island Line, Rock Island Line, Folkways, 1953
The Lonnie Donegan Skiffle Group, Rock Island Line, Rock Island Line (single), Decca, 1955
Bill Haley & His Comets, Rock Around the Clock, Rock Around the Clock (single), Decca, 1954
Dickie Valentine, The Finger of Suspicion, The Finger of Suspicion (single), Decca, 1954
Lonnie Donegan and his Skiffle Group, Stewball, Lost John (single), Nixa, 1956
Johnny Cash, Rock Island Line, With His Hot and Blue Guitar, Sun, 1957
The Chas McDevitt Skiffle Group (feat. Nancy Whiskey), Freight Train, Freight Train (single), Oriole, 1957
Johnny Duncan and the Blue Grass Boys, Last Train to San Fernando, Last Train to San Fernando (single), Columbia, 1957
The Vipers Skiffle Group, Don't You Rock Me Daddy-O, Don't You Rock Me Daddy-O (single), Parlophone, 1957
The Quarrymen, That'll Be the Day, Anthology 1, Apple, 1958
Lea Valley Skiffle Group, Streamline Train, Lea Valley Skiffle Group, Esquire, 1958
The JG Skiffle Group, Mama Don't Allow, Huw Wheldon Show, BBC, 1957
The Beatles, Within You Without You, Sgt. Pepper's Lonely Hearts Club Band, Parlophone, 1967
The Vipers Skiffle Group, The Cumberland Gap, Skiffle Music, Parlophone, 1957
Melvins, Christ Hammer, A Walk with Love & Death, Ipecac, 2017
Melvins, Aim High, A Walk with Love & Death, Ipecac, 2017
Melvins, Chicken Butt, A Walk with Love & Death, Ipecac, 2017
Melvins, What's Wrong with You?, A Walk with Love & Death, Ipecac, 2017
Melvins, Honey Bucket, Houdini, Atlantic, 1993
Melvins, It's Shoved, Bullhead, Boner, 1991
Nirvana, About a Girl, Bleach, Sub Pop, 1989
Fecal Matter, Spank Thru, Sliver: The Best of the Box, DGC, 1985
Nirvana, Beeswax, Incesticide, DGC, 1988
Little Richard, Heeby-Jeebies, Heeby-Jeebies (single), Specialty, 1956
Melvins, Anaconda, Bullhead, Boner, 1991
Melvins, Revolve, Stoner Witch, Atlantic, 1994
Melvins, The Bit, Stag, Atlantic, 1996
Melvins, Rat Faced Granny (Live), Sugar Daddy Live, Ipecac, 2011
Melvins, Boris, Bullhead, Boner, 1991
Melvins, Black Bock, Stag, Atlantic, 1996
Melvins, Take Me Out to the Ball Game, Basses Loaded, Ipecac, 2016
Melvins, Steve Instant Neuman, Gluey Porch Treatments, Alchemy, 1987
Kurt Cobain, The Yodel Song, Montage of Heck: The Home Recordings, Universal Music, 2015
Melvins, Black Heath, A Walk with Love & Death, Ipecac, 2017
Grateful Dead, Operator, American Beauty, Warner Bros., 1970
That 1 Guy, Mustaches, The Moon Is Disgusting, Redbird, 2007
Steve Winwood, Arc of a Diver, Arc of a Diver, Island, 1980
Hunter Hayes, Storm Warning, Hunter Hayes, Atlantic, 2011
Randy Newman, It's A Jungle Out There, Dark Matter, Nonesuch, 2017
Jefferson Airplane, Wild Tyme, After Bathing at Baxter's, RCA Victor, 1967
Go to episode 613
Featured Songs
Courtney Barnett & Kurt Vile, Let It Go, Lotta Sea Lice, Matador, 2017
Beck, Up All Night, Colors, Capitol, 2017
Beck, Dreams (Colors mix), Colors, Capitol, 2017
Beck, I'm So Free, Colors, Capitol, 2017
Beck, No Distraction, Colors, Capitol, 2017
Beck, Dear Life, Colors, Capitol, 2017
Beck, Wow, Colors, Capitol, 2017
Courtney Barnett & Kurt Vile, Over Everything, Lotta Sea Lice, Matador, 2017
Courtney Barnett & Kurt Vile, Continental Breakfast, Lotta Sea Lice, Matador, 2017
Courtney Barnett & Kurt Vile, Blue Cheese, Lotta Sea Lice, Matador, 2017
Courtney Barnett & Kurt Vile, Fear Is Like A Forest, Lotta Sea Lice, Matador, 2017
White Reaper, Half Bad, White Reaper, Polyvinyl, 2014
The Mooney Suzuki, Alive & Amplified, Alive & Amplified, Columbia, 2004
Queen, Death on Two Legs (Dedicated To…), A Night at the Opera, EMI, 1975
Jethro Tull, Really Don't Mind/See There a Sun Is Born, Thick as a Brick, Reprise, 1972
Ann Morrison, Jim Walton and Lonny Price, Old Friends, Merrily We Roll Along (Original Broadway Cast Recording), Masterworks Broadway, 1981
Julie Klausner feat. Aimee Mann, Julie Julie, Julie Julie (Single), SuperEgo, 2017
Melvins, Going Blind, Houdini, Atlantic, 1993
Belle and Sebastian, Another Sunny Day, The Life Pursuit, Matador, 2006
Jack Albertson & Peter Ostrum, I've Got a Golden Ticket, Willy Wonka and the Chocolate Factory, Geffen, 1971
Shelley Duvall, He Needs Me, Popeye, Varèse Sarabande, 1980
Shadowy Men on a Shadowy Planet, Having an Average Weekend, Kids in the Hall: Brain Candy, Matador, 1996
Foxy Shazam, Intro/Bombs Away, Foxy Shazam, Sire, 2010
Stew, Prologue (We Might Play All Night) (Live), Passing Strange, GHOSTLIGHT, 2008
O.V. Wright, He's My Son (Just the Same), Memphis Unlimited, Back Beat, 1973
Heatwave, All You Do Is Dial, Too Hot to Handle, GTO, 1976
Jamila Woods, Holy, HEAVN, Jagjaguwar, 2016
Tom Petty and the Heartbreakers, Southern Accents, Southern Accents, MCA, 1985
Go to episode 621