Results for Meg White
interviews
Jack White
Jack White is one of the most prolific, inventive, and mercurial characters in rock today. This week, Jim and Greg head down to Third Man studios in Nashville for a wide-ranging conversation with the former White Stripe and recent solo artist. White is known for being loose with the truth in interviews (no, Meg White is not his sister), but his talk with Jim and Greg is surprisingly candid and thoughtful. He recalls playing drums with his brothers at age five, being tutored by a neighbor in rock history, and discovering the blues recordings of Son House. There was no expectation, he says, that The White Stripes - a band that took design inspiration from peppermint candies and thwarted notions of"authenticity"by playing the blues like kids - could ever make it in the mainstream. The element of accident and luck in the Stripes' success, he says,"will never be lost on me."White describes how his first record as a solo artist, Blunderbuss, also came about by accident. When hip-hop artist RZA failed to show for his Third Man recording session, White decided to record with the band that had come in himself. Blunderbuss earned Buy it ratings from both Jim and Greg.
Go to episode 349
Glenn Kotche
This week Jim and Greg are joined by percussionist extraordinaire Glenn Kotche. He is best known as one of the members of Wilco, but he also has a number of side projects, and a new solo album entitled Mobile. Glenn joins our hosts to discuss all things drumming and to play some of his inventive music. What makes Glenn's drumming style so special is that it ranges from the avant-garde to the straight-ahead rock he does with Wilco, yet it's always in service of the song. You can hear his solo tracks "Monkey Chant" and "Projections of (What) Might" during the show.
After playing for a bit, Glenn gives our hosts a little tour around his kit. Some of Glenn's toys include crotales, a glockenspiel, contact mics (which amplify and alter the drum sounds), and a superball mallet (or half of it). The drummer also has a prepared snare drum which is affixed with different springs and wires, similar to a John Cage prepared piano. He also stole his wife's fruit basket, which the two received as a wedding present. But, perhaps the most unusual percussion instruments that Glenn uses are light-sensitive toy crickets that anyone can pick up in Chinatown.
The discussion ends with a conversation about some of the best (and worst) rock drummers. Some of Jim, Greg, and Glenn's favorites include: Mo Tucker of the Velvet Underground, Meg White of The White Stripes, Elliott Smith, Levon Helm of The Band, and Keith Moon of The Who (despite the accusations of overplaying).
Go to episode 42
reviews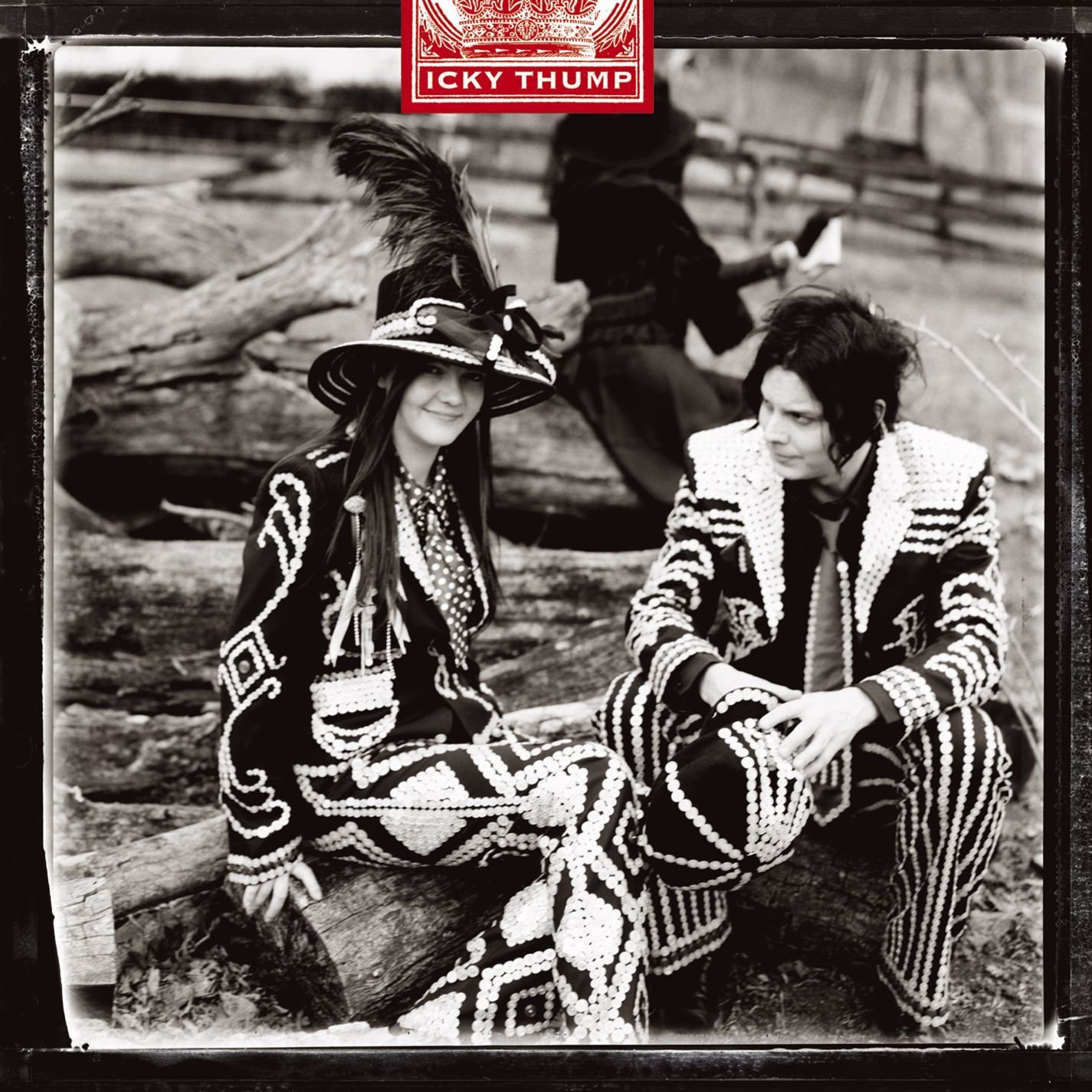 The White Stripes Icky Thump
Jim and Greg spend the last leg of the show discussing the new album from Detroit natives Meg and Jack White. Icky Thump is The White Stripes' sixth studio effort in nearly ten years. Jim and Greg trace the duo's trajectory from their 1999 self-titled debut, to most recently, their 2005 commercial success and sonic departure, Get Behind Me Satan. Icky Thump continues this development, demonstrating how one of the biggest rock acts in the world are truly junk collectors. You hear them flirting with mariachi and flamenco music, referencing Scottish folk songs, and even covering traditional pop singer Patti Page. The album shows exactly how well-listened Jack White truly is. Greg calls Meg White,"terrific,"standing behind the oft-discredited drummer. He doesn't think Icky Thump is a beginning-to-end perfect album, but believes it's the band's best work to date. He gives it a Buy It. Jim goes even further calling this release"a masterpiece."That gives the White Stripes latest a double Buy It.
Go to episode 82