Results for Majesty Shredding
interviews
Superchunk
It's a cliché to say it, but when you look up "indie rock," you do in fact see a photo of Superchunk. Since forming in 1989, the North Carolina quartet have helped establish indie rock's DIY model, as well as its sound. Superchunk bassist Laura Ballance and guitarist Mac McCaughan also founded Merge Records, one of the music industry's most successful indie labels. The label is still home to the band, as well as The Arcade Fire, Spoon and Teenage Fanclub. Mac, Laura and bandmates Jim Wilbur and Jon Wurster talk with Jim and Greg about how they've done it their way for so long. They also perform songs from their most recent release Majesty Shredding.
Go to episode 269
reviews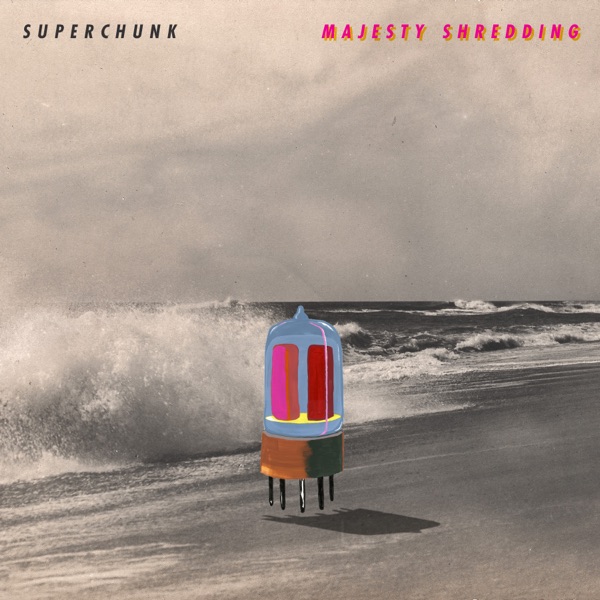 Majesty Shredding available on iTunes
Superchunk Majesty Shredding
Perhaps no band better symbolizes the indie rock underground than Superchunk. They have been committed to being "indie" both in terms of sound and practice since forming in Chapel Hill in 1989. Two of its members have gone on to run Merge Records, home to Arcade Fire and Spoon. While they never officially broke up, the band hasn't released an album in almost a decade. Majesty Shredding is worth the wait according to Greg. They do pop rock as good as anyone, and Mac McCaughan still sings with the enthusiasm of a kid. Jim agrees, adding that they did lose the plot for a little while. He's happy to hear they have returned to form - simple exuberance - and Superchunk gets a double Buy It.
Go to episode 253
Majesty Shredding available on iTunes
Superchunk Majesty Shredding
Over three decades in rock, Chapel Hill's Superchunk has kept true to the idealistic indie spirit of its era, regularly turning out records even as members Mac McCaughan and Laura Balance started Merge Records (still one of the most successful indie labels in the game). The band's latest album is I Hate Music. On it, Greg says he hears the band questioning the"music is life, life is music"philosophy it's always held onto. Can music still rejuvenate in the face of death, aging, and burnout? For Superchunk, Jim says, the answer is always yes, and you can hear it in those guitars. I Hate Music might not be the exuberant celebration that was 2010's Majesty Shredding, but Jim and Greg agree it's nevertheless a Buy It record.
Go to episode 403
featured songs
Featured Songs
Nat King Cole, The Party's Over, Just One of Those Things, Capitol, 1957
Feist & The Constantines, Islands in the Stream, Islands in the Stream EP, Arts & Crafts, 2008
Neu!, Isi, Neu! '75, Brain, 1975
Nusrat Fateh Ali Khan, Mangte Hain Karam, Supreme Collection, Caroline, 1997
Kraftwerk, Ruckzuck, Kraftwerk, Philips, 1970
Can, Mushroom, Tago Mago, United Artists, 1971
Can, Yoo Do Right, Monster Movie, United Artists, 1969
Neu!, Hero, Neu! '75, Brain, 1975
Neu!, Weissensee, Neu!, Polygram, 1972
Neu!, Hallogallo, Neu!, Polygram, 1972
Neu!, Negativland, Neu!, Brain, 1972
Neu!, Super 78, Neu! 2, Brain, 1973
Neu!, Neuschnee 78, Neu! 2, Brain, 1973
Harmonia, Deluxe, Deluxe, Brain, Harmonia, 1975
Harmonia, Dino, Musik Von Harmonia, Brain, 1974
Neu!, Lila Engel (Lilac Angel), Neu! 2, Brain, 1973
Robyn, Hang With Me, Body Talk Pt. 2, Konichiwa, 2010
Robyn, In My Eyes, Body Talk Pt. 2, Konichiwa, 2010
Robyn, Indestructible (acoustic version), Body Talk Pt. 2, Konichiwa, 2010
Superchunk, My Gap Feels Weird, Majesty Shredding, Merge, 2010
Superchunk, Crossed Wires, 2010, Majesty Shredding, Merge, 2010
Trent Reznor and Atticus Ross, In Motion, The Social Network, Null, 2010
The Decemberists, Angel Won't You Call Me, 5 Songs EP, Hush, 2003
Marc Broussard, Harry Hippie, S.O.S.: Save Our Souls, Vanguard, 2007
The Beastie Boys, She's Crafty, Licensed to Ill, Def Jam/Columbia, 1986
Frank Black, (I Want To Live On An) Abstract Plain, Teenager of the Year, 4AD/Elektra, 1994
Go to episode 253
Featured Songs
Chet Baker, My Funny Valentine, My Funny Valentine, Prism Entertainment, 1954
Blue Oyster Cult, The Marshall Plan, Cultosaurus Erectus, Columbia, 1980
Superchunk, Slack Motherfucker, Superchunk, Matador, 1990
Bricks, A History of Lies, Microphone and a Box of Dirt, Merge, 1994
Superchunk, Crossed Wires, Majesty Shredding, Merge, 2010 Live on Sound Opinions
Superchunk, Cool, Tossing Seeds, Merge, 1991
Superchunk, Seed Toss, No Pocky for Kitty, Matador, 1991
Superchunk, Hello Hawk, Come Pick Me Up, Merge, 1999 Live on Sound Opinions
Superchunk, Out on the Wing, Here's to Shutting Up, Merge, 2001
Superchunk, Digging for Something, Majesty Shredding, Merge, 2010 Live on Sound Opinions
Superchunk, Like a Fool, Foolish, Merge, 1994
The Decemberists, Calamity Song, The King is Dead, Capitol, 2011
The Decemberists, This is Why We Fight, The King is Dead, Capitol, 2011
Rolling Stones, Sway, Sticky Fingers, Atlantic, 1971
The Nerves, Hanging on the Telephone, Nerves EP, Nerves, 1976
Corinne Bailey Rae, Que Sera, Sera, The Love EP, Capitol, 2011
Go to episode 269
Featured Songs
Poly Styrene, I Love Ur Sneakers, Generation Indigo, Future Noise, 2011
X-Ray Spex, I Live Off You, Germ Free Adolescents, Virgin, 1978
Bob Dylan, Subterranean Homesick Blues, Bringing It All Back Home, Columbia, 1965
Bob Dylan, Maggie's Farm, The Other Side of the Mirror: Live at Newport Folk Festival 1963-1965, Sony Music Distribution, 2007
Bob Dylan, It's All Over Now, Baby Blue, The Other Side of the Mirror: Live at Newport Folk Festival 1963-1965, Sony Music Distribution, 2007
Bob Dylan, It Takes A Lot To Laugh, It takes A Train To Cry, The Bootleg Series, Vol. 7: No Direction Home - The Soundtrack, Columbia Legacy, 2005
Bob Dylan, Like A Rolling Stone, Highway 61 Revisited, Columbia, 1965
Bob Dylan, She's Your Lover Now, The Bootleg Series, Vols. 1-3 (Rare & Unreleased) 1961-1991, Sony Music Distribution, 1991
Bob Dylan, One Of Us Must Know, The Original Mono Recordings, Columbia Legacy, 2010
Bob Dylan, Pledging My Time, Blonde On Blonde, Columbia, 1966
Bob Dylan, Most Likely You Go Your Way (And I'll Go Mine), Blonde On Blonde, Columbia, 1966
Bob Dylan, Rainy Day Woman #12 & 35, The Original Mono Recordings, Columbia/Legacy, 2010
Bob Dylan, I Want You, Blonde On Blonde, Columbia, 1966
Bob Dylan, Sad Eyed Lady Of The Lowlands, Blonde On Blonde, Columbia, 1966
Bob Dylan, Stuck Inside Of Mobile With The Memphis Blues Again, Blonde On Blonde, Columbia, 1966
Bob Dylan, Just Like A Woman, The Bootleg Series, Vol. 4: The"Royal Albert Hall"Concert, Columbia Legacy, 1998
Bob Dylan, Leopard-Skin Pill-Box Hat, Blonde On Blonde, Columbia, 1966
Bob Dylan, Visions Of Johanna, Blonde On Blonde, Columbia, 1966
The Black Angels, Telephone, Phosphene Dream, Rykodisc, 2010
Superchunk, Crossed Wires, Majesty Shredding, Merge, 2010
Bob Dylan, Moonshiner, ," The Bootleg Series, Vols. 1-3 (Rare & Unreleased) 1961-1991, Sony Music Distribution, 1991
Foo Fighters, Everlong (Acoustic), Greatest Hits, Roswell, 2009
Go to episode 283