Results for Linda Thompson
interviews
Richard Thompson
Richard Thompson is a rock survivor, and with each decade comes a new successful era—whether it's Fairport Convention in the 1960's, with Linda Thompson in the '70s or as a solo artist. (You can check out producer, Joe Boyd, talking about Thompson & Fairport Convention here.) In fact, he's one of only a handful of artists, along the likes of Bob Dylan and Neil Young, who have sustained a high level of artistic intensity and integrity since the '60s. And to further set him apart, he's one of few guitar heroes from that generation without an obvious debt to the blues. Instead, you'll hear blends of Eastern tones, jazz, Scottish balladry and Celtic folk. Jim and Greg agree he's one of the most underrated guitarists and songwriters in folk history and would urge acts like Mumford & Sons to"Listen and Learn."The first step would be to study his live performance, which includes a gem from the "Capitolyears," the yet to be released "Fergus Lang," and the Richard and Linda classic "I Want to See the Bright Lights Tonight." Plus, check out the bonus track, Greg's request, "Dimming of the Day," which may be his most beautiful love song to date.
Go to episode 446
reviews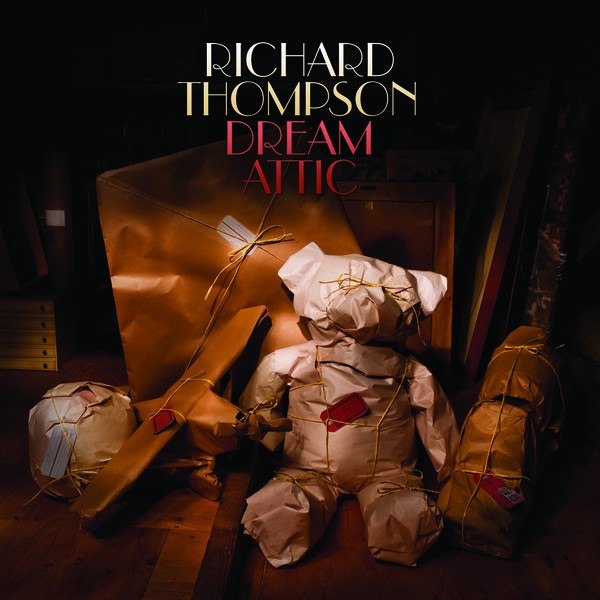 Dream Attic available on iTunes
Richard Thompson Dream Attic
On the other end of the music spectrum is veteran folk rock musician Richard Thompson. After releasing 5 albums with Fairport Convention, he went on to form a duo with former wife Linda Thompson, and then launched a solo career. His latest solo release is Dream Attic, which is a collection of live performances of new songs. As Greg explains, live is where Thompson is at his best. It's where audiences really get to experience his tremendous guitar skills. Previous releases focused more on Thompson's songwriting, so for Greg, this is one of his best. He gives Dream Attic a Buy It rating. Jim agrees, and would tell listeners who haven't experienced Thompson's music to start here and work their way back. The songs are full of wit and wisdom and deserve a Buy It.
Go to episode 250
dijs
Jim
"The Calvary Cross"
Richard Thompson
After Mumford & Sons, Jim was sorely in need of a folk-rock palette cleanser. So for his DIJ he chose one of the great folk rock musicians of all time, Richard Thompson. A founder of Fairport Convention, Thompson went on to make music with his wife, Linda Thompson, and as a solo artist. Like Marcus Mumford, Thompson has a yen for the biblical. But unlike Mumford, he used Bible stories to spine-tingling affect. Case in point, "The Calvary Cross," a track he recorded with Linda on their 1974 album I Want to See the Bright Lights Tonight. Listen for the drums echoing Jesus's footsteps as he climbs the hill where he will be crucified.
Go to episode 358