Results for Let It Go
reviews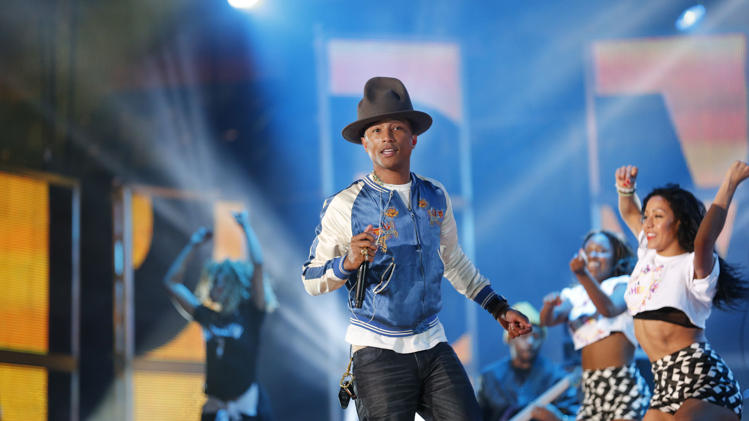 Oscar Songs 2014
When it comes to movies, Jim and Greg defer to the Academy. But, when it comes to music, they aren't as casual. 2014 has been a banner year for pop music in the movies, with three of this year's Best Original Song nominees topping the charts. In fact, this kind of crossover hasn't happened since 1984, when all five nominees hit #1. First, there's Idina Menzel's ubiquitous "Let It Go," from the animated Disney hit Frozen. Written by Robert Lopez and Kristen Anderson-Lopez of Book of Mormon fame, it's a flashy show tune—the "Diane Warren power ballad" of Greg's nightmares—that fails to impress our hosts. Not so with "The Moon Song," from the film Her. Karen O of Yeah Yeah Yeahs, who co-wrote the song with director Spike Jonze, has since released a duet with Ezra Koenig of Vampire Weekend. This quiet, intimate tune wins Jim's statuette, even if it's too low-key for the Academy. Greg's giving his award to "Happy" from Despicable Me 2. While Mr. Kot admits to living under a rock when it comes to kids' movies, he considers Pharrell's single, with its layered vocals and handclaps, a pop masterpiece (despite the mediocre lyrics). Jim isn't as happy and thinks that Pharrell phoned this one in. Meanwhile, U2 took a break from ending world hunger to record a new song for Mandela: Long Walk to Freedom. While the film got little attention in the U.S., "Ordinary Love" has something else working in its favor: the media empire of Harvey Weinstein. His aggressive promotion already won the song a Golden Globe for Best Song, and could similarly sway the Academy…but not our hosts. Despite the noble subject, Jim and Greg just hear standard U2 flag-waving.
Go to episode 431
news
Music News
Digitally-savvy Deadheads rejoice! Jerry Garcia's official website is getting an impressive makeover which includes a massive archive of 15,000 hours worth of Grateful Dead material to listen to for free, some of them fan recordings. Jim notes that these bootlegs have been circulating around for a long time, usually traded in person. But now with this update, fans can swap in a virtual"Parking Lot."The website is so comprehensive that Jim and Greg think the only offerings missing are grilled cheese sandwiches and mind-altering substances.
Tweens across the country are raising their tiny fists to self-empowerment anthem "Let It Go" from Disney's latest animated feature, Frozen. The single, sung by Demi Lovato, is flying up the Billboard charts with over a half million downloads sold. But, only six radio stations nationwide have reported playing the song on-air. Jim and Greg say this isn't the first time an album or single has made it big without the help of radio. Just look at Beyonce's latest release or the Les Misérables soundtrack. Both hosts take this as just another sign of the FM dial is loosing its hit making-or-breaking influence.
Ella Fitzgerald is known for her perfect pitch, something long thought to be a skill developed early in life by only a lucky few. But Professor Takao Hensch of Harvard University says that he's got a pill that makes it possible for anyone to gain that skill, regardless of age. The pill is normally used to treat epilepsy by temporarily retiring the brain to a juvenile-like state, which just happens to be the perfect time to learn all kinds of things. Jim and Greg smile at the idea of auto-tune going by the wayside. But, is taking a pill for perfect pitch like taking steroids in sports? Also, if every artist had perfect pitch, the world may never know another Bob Dylan or Lauren Hill whose voices brim with personality. Perfection is overrated, says Jim.
Go to episode 426
Music News
Last month, Jim and Greg shared the news that house music godfather Frankie Knuckles died. Now, sadly, another giant of the genre has left us. Rashad Harden, aka DJ Rashad, was a pioneering dancer and producer of a particularly sizzling style of dance music known as Footwork: a metamorphosis of the house sound that Frankie Knuckles helped establish in the 1970's and '80s and juke style, Footwork pushes the beats per minute from around 125 to upwards of 165, encouraging a uniquely athletic style of dancing. The uptick in tempo makes sense as Harden got his start dancing to house and juke music on Chicago street corners in the 1990's. Over time, other producers have joined the footwork fray, but DJ Rashad's always managed to keep things original, and often abstract, so that his songs were great to listen both at the club, and at home with headphones on. In remembrance of DJ Rashad, Jim and Greg play his landmark single "Let It Go."
Fans of streaming music and movies should pay heed to recent developments concerning Net Neutrality. For those not familiar, Jim explains that Net Neutrality is the idea that all data on the Internet, regardless of origin or destination, should be seen as equal and treated the same by Internet Service Providers (ISPs). The Federal Communications Commission, however, is causing a stir by proposing new rules that go against that concept. One rule in particular would let those who can afford to, pay ISPs for the privilege of having their content distributed to consumers faster than other those who don't or can't pay. The Future of Music Coalition warns that these new rules would carve the Internet"into a fast lane for well-heeled corporations and a dirt road for everyone else."Jim and Greg are nervous what this will mean for the music industry and will be keeping a close eye on what happens to Net Neutrality.
Go to episode 441
featured songs