Results for Kenny Loggins
reviews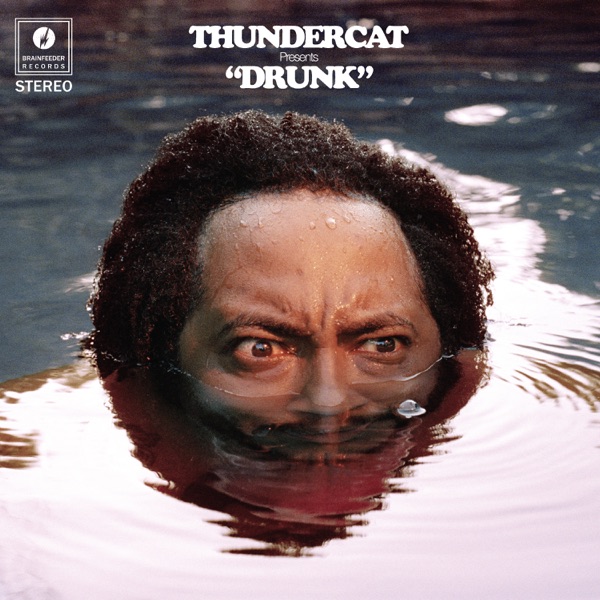 Drunk available on iTunes
Thundercat Drunk
Stephen Bruner, better know as Thundercat, is an in-demand session bassist. A resume containing artists from Kendrick Lamar to Suicidal Tendencies is testament to that. Thundercat is also a songwriter in his own right and has just released his third album, Drunk. Weighing in at 23 tracks, Greg says it is a challenging listen. With references to jazz fusion, Earth, Wind and Fire, and cameos from Kenny Loggins and Michael McDonald he admits the album is"bewildering,"especially as Thundercat vacillates from introspective songs about mortality and police brutality, to shopping for anime in Tokyo. But, Greg says it is an"audio-veritae"of Thundercat's life, that shows virtuosity and personality. That said, Greg stops short of saying Buy It and instead gives it a Try It and he eagerly awaits what is next from Thundercat.Jim, had a much more visceral reaction to this record saying he"despises it"and claiming it left him with a skin rash (Editor's Note: we didn't verify this). He says the album is full of"pointless busyness"as Thundercat tries to cram too many ideas into his music. It goes without saying, Jim gives it a Trash It.
Go to episode 589
news
Music News
This week Apple CEO Steve Jobs called on the music industry to start selling songs without copy protection software, or DRM. Right now, music purchased digitally may not be compatible with all music players. And, in an open letter, Jobs explained that this kind of protection is not only a challenge for the consumer, but doesn't actually thwart piracy. Jim and Greg never expected to hear this kind of statement being made by a major corporate head, but they wonder what his motivation is. It's unlikely that the labels will actually follow Jobs' advice; more likely they'll all agree to use the iTunes format.
Target entered the music business this week. In an attempt to cash in on a vital demographic, the retail corporation has started a music label geared at"adult"consumers. While much of the music industry is going digital, there are still older music fans who want to buy CDs. With a roster that includes artists like David Cassidy, Kenny Loggins, and Kris Kristofferson, Jim recommends Target set up kiosks in local nursing homes.
Another slick business move is being made by the "Prince of Darkness." Ozzy Osbourne and wife/impresario Sharon Osbourne announced that tickets for this summer's Ozzfest will be given away for free. Instead of relying on ticket sales, they plan on making up costs through the sale of concessions and on-site advertising. Ozzy will headline the tour, which is in its 12th year of bringing hard rock and heavy metal across the nation, but it doesn't appear that any other big names are on the lineup. Jim and Greg suspect that the Osbournes plan to book smaller acts that warrant a ticket price of $0. But they are all in favor of such a creative business move, especially in an industry that desperately needs a new paradigm.
Go to episode 63