Results for Jack Kerouac
reviews
One Fast Move or I'm Gone: Music from Kerouac's Big Sur available on iTunes
Ben Gibbard & Jay Farrar One Fast Move or I'm Gone: Music from Kerouac's Big Sur
One of the 2009 artists that slipped through the radar was a collaboration between Jay Farrar of Son Volt and Ben Gibbard of Death Cab for Cutie. The two musicians bonded over their admiration for Jack Kerouac and created the soundtrack to a documentary about the writer. The result is One Fast Move or I'm Gone: Music from Kerouac's Big Sur. As Greg explains, Farrar's voice is perfectly suited to Kerouac's darker material. Greg also thinks he was smart to bring Gibbard in to lend a little optimism. He was spoiled by seeing them live, but would still recommend listeners buy the album to hear these two terrific voices. Jim, also a Kerouac fan, agrees that the album, complete with artwork, is a thing of beauty. One Fast Move gets a double Buy It.
Go to episode 216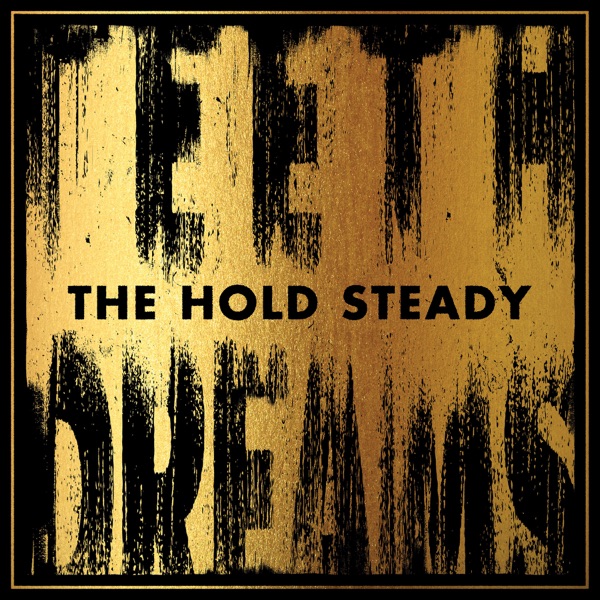 Teeth Dreams available on iTunes
The Hold Steady Teeth Dreams
Minneapolis-born, Brooklyn-bred Beat-rockers The Hold Steady have undergone a few changes since their 2009 visit to Sound Opinions. The band took a break after the departure of keyboardist (and moustache idol) Franz Nicolay, while frontman Craig Finn put out a solo album. Now the boys are back, with an extra guitarist, Steve Selvidge, and a sixth album called Teeth Dreams. It's their first venture with producer Nick Raskulinecz (best known for his work with Foo Fighters, Rush, and Evanesence), and as Greg points out, their sound is"slicker"than ever. Perhaps too slick — while the band can still rock, the album is bogged down with slow, melodramatic experimentation. Greg has to say Try It. Jim scoffs at the lyricist's literary bent — with Finn so obviously ripping off Raymond Chandler and Jack Kerouac, this host has to wonder if it's parody. Regardless, Jim prefers The Hold Steady live, in their bombastic, Springsteen-ian element — as for Teeth Dreams, it's a Trash It.
Go to episode 436
features
Music of the Beat Generation
If you read On the Road in high school, you know a thing or two about the Beat movement's influence on literature. This week, Text and Drugs and Rock 'n' Roll author Simon Warner wants to get you thinking about the Beat influence on rock. Forget the stereotypical bongos; Warner says Beat fathers like Allen Ginsberg and Jack Kerouac were most inspired by Harlem's avant-garde jazz invention, Bebop. Warner makes the case that the Beats influenced a whole generation of rock lyricists - Bob Dylan and John Lennon among them - to embrace a more surrealist, personal, and politically engaged approach to lyric-writing. Think of "Subterranean Homesick Blues," he says, as Beat poetry with a, well, beat. But while Ginsberg and Kerouac struck a chord with the hippie generation, it was Beat colleague William S. Burroughs who served as guru to the later musical avant-garde. 1970's punks Jim Carroll and Patti Smith, and alternative era stars like Kurt Cobain and Sonic Youth, all made pilgrimages to Burroughs' NYC bunker-apartment to pay their respects to"Old Bull Lee."Burroughs'"cut up"writing technique may still inspire wordsmiths from Bowie to Thom Yorke, but Jim thinks it's Kerouac whose legacy may ultimately be the most lasting. It's that writer's spirit of adventure, Jim says, that continues to motivate every indie band still "on the road."
Go to episode 398
featured songs
Featured Songs
Goose Island Credit Music: Pure Sunray,"Caramel,"Pure Sunray, 2013
The Fugees, Ready or Not, The Score, Ruffhouse, 1996
King Crimson, Neal and Jack and Me, Beat, Warner Bros/E.G/Virgin, 1982
Dizzy Gillespie, Salt Peanuts, Single, Guild Records, 1945
Jack Kerouac, The San Francisco Scene, Readings by Jack Kerouac on the Beat Generation, Verve Records, 1960
Bob Dylan, Highway 61 Revisited, Highway 61 Revisited, Columbia, 1965
The Beatles, I'm Happy Just to Dance with You, A Hard Day's Night, Capitol, 1964
Bob Dylan, Subterranean Homesick Blues, Bring It All Back Home, Columbia, 1965
The Beatles, Think for Yourself, Rubber Soul, Parlophone, 1965
The Beatles, In My Life, Rubber Soul, Parlophone, 1965
The Fugs, I Saw the Best Minds of My Generation Rot, The Fugs First Album, Folkways Records, 1965
The Fugs, Group Grope, The Fugs Second Album, Atlantic, 1967
Patti Smith, Ballad of a Bad Boy, Live Performance, N/A, 1971
Jim Carroll, Wicked Gravity, Catholic Boy, Atco, 1980
William S. Burroughs and Kurt Cobain, Quiet Waters, The "Priest They Called Him, " Tim/Kerr, 1993
Radiohead, Idiotique, Kid A, Parlophone/Capitol, 2000
Laurie Anderson, Sharkey's Night, Mister Heartbreak, Warner Bros, 1984
Amiri Baraka, Dope, Live Performance, N/A, N/A, 1978
Gil Scott Heron, Comment #1, Small Talk at 125th and Lenox, Flying Dutchman/RCA, 1970
Kanye West, Who Will Survive in America, My Beautiful Dark Twisted Fantasy, Roc-A-Fella and Def Jam, 2010
Ben Gibbard and Jay Farrar, California Zephyr, One Fast Move and I'm Gone, Atlantic, 2009
Patti Smith, Gloria, Horses, Arista Records, 1975
Jay-Z, Tom Ford, Magna Carta… Holy Grail, Roc-A-Fella/Roc Nation/Universal, 2013
Jay-Z ft. Frank Ocean, Oceans, Magna Carta… Holy Grail, Roc-A-Fella/Roc Nation/Universal, 2013
Paul and Linda McCartney, Uncle Albert/Admiral Halsey, Ram, Apple, 1971
The Black Angels, Telephone, Single, Blue Horizon, 2010
Moderatto, Gracias, Carisma, EMI, 2012
Macklemore and Ryan Lewis ft. Mary Lambert, Same Love, The Heist, Macklemore LLC, 2012
Joe Strummer And The Mescaleros, Johnny Appleseed, Global Agogo, Hellcat/Epitaph, 2001
Art of Noise, Legs, In Invisible Silence, China/Chrysalis, 1986
Go to episode 398