Results for Human Performance
reviews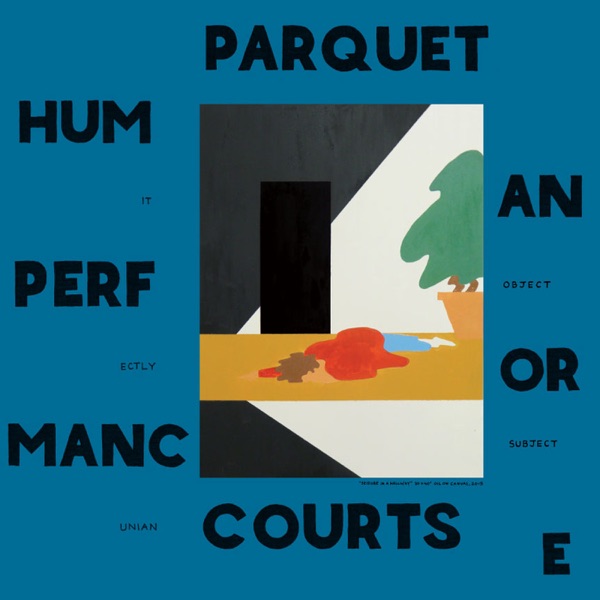 Human Performance available on iTunes
Parquet Courts Human Performance
Indie rock four-piece Parquet Courts formed in Brooklyn in 2010 with three of its members originally from Texas. They debuted with a limited cassette release in 2011, but it wasn't until they released Light Up Gold in 2012 that they really turned some heads. The record was reissued on a bigger label in 2013, and after releasing two semi-official albums, Parquet Courts is back with Human Performance.
Greg thinks Parquet Courts have captured what it's like living in New York City—isolating and overwhelming at once. This mood hangs over the whole record, even during what he calls the back-and-forth conversations between Andrew Savage and Austin Brown. Savage writes melancholy break-up tunes, and Brown responds with optimism. Greg thinks that while the record does not reach the masterpiece-status of Light Up Gold, it's a Buy It nonetheless.
Jim agrees that it's a Buy It, loving the jaunty piano, droning organ and sound effects. He recalls Parquet Courts being referred to by critics as slackers on their last album, sparked in no small part by the song "Stoned and Starving," but Jim clarifies that there's nothing lazy about their songwriting and thinks "Dust" is a brilliant track. Jim nods to the dialogue between Brown and Savage, but finds even more compelling the rapport between their guitars.
Go to episode 543
lists
Best Albums of 2016…So Far
Greg and Jim just couldn't wait until December to talk about some of their new favorite albums. They discuss some of the best records of 2016 so far. Here are their complete lists:
Go to episode 553
featured songs
Featured Songs
Prince, When Doves Cry, Purple Rain, Warner Bros., 1984
Sturgill Simpson, Sugar Daddy (Theme from Vinyl), VINYL: Music From the HBO Original Series – Vol. 1, Atlantic, 2016
Nasty Bits, What Love Is, VINYL: Music From the HBO Original Series – Vol. 1.3 – EP, Atlantic, 2016
Julian Casablancas, Run Run Run, VINYL: Music From the HBO Original Series – Vol. 1.2 – EP, Atlantic, 2016
Trey Songz, Life on Mars?, Vinyl: The Essentials (Best of Season 1), Atlantic, 2016
Yo La Tengo, Something To Do, Genius + Love = Yo La Tengo, Matador, 1996
The Rolling Stones, I Am Waiting, Aftermath, Decca, 1966
Osipo State Russian Folk Orchestra and Vitaly Gnutov, Kamarinskaya, The Grand Budapest Hotel: Original Soundtrack, ABKCO, 2014
The Beatles, Sgt. Pepper's Lonely Hearts Club Band, Sgt. Pepper's Lonely Hearts Club Band, Parlophone, 1967
Buffalo Springfield, Mr. Soul, Buffalo Springfield Again, Atco, 1967
The Bobby Fuller Four, Let Her Dance, Fantastic Mr. Fox, ABKCO, 2009
Kaleo, No Good, VINYL: Music From the HBO Original Series – Vol. 1, Atlantic, 2016
Anohni, 4 Degrees, HOPELESSNESS, Rough Trade, 2016
Ronny & The Daytonas, Little G.T.O., G.T.O., Mala, 1964
Patti Smith, People Have the Power (Live), Dream of Life, Arista, 1988
John Denver, Sunshine On My Shoulders, Poems, Prayers & Promises, RCA, 1971
Joni Mitchell, Big Yellow Taxi, Ladies of the Canyon, Reprise, 1970
Marvin Gaye, Mercy Mercy Me (The Ecology), What's Going On, Motown, 1971
Antonique Smith, Mercy Mercy Me (The Ecology), HOME, The Private Plane, 2014
Miley Cyrus, Wake Up America, Breakout, Hollywood, 2008
Neil Young, After the Gold Rush, After the Gold Rush, Reprise, 1970
The Byrds, Hungry Planet, Untitled, Columbia, 1970
Julian Cope, Western Front 1992 CE, Peggy Suicide, Island, 1991
Neil Young & The Crazy Horse, Be the Rain, Greendale, Reprise, 2003
Gorillaz feat. De La Soul & Gruff Rhys, Superfast Jellyfish, Plastic Beach, EMI, 2010
Talking Heads, Nothing But Flowers, Naked, Sire, 1988
The Pretenders, My City Was Gone, Learning to Crawl, Rhino/Warner Bros., 1984
Kool Keith, Trees, The Return of Dr. Octagon, OCD, 2006
Yes, Don't Kill the Whale, Tormato, Atlantic, 1978
Parquet Courts, One Man No City, Human Performance, Rough Trade, 2016
Parquet Courts, Dust, Human Performance, Rough Trade, 2016
Prince and The Revolution, Baby I'm a Star, Purple Rain, Warner Bros., 1984
Fleetwood Mac, Tusk, Tusk, Warner Bros., 1979
Johnny Cash, After Taxes, I Would Like to See You Again, Columbia, 1978
The Kingston Trio, Greenback Dollar, New Frontier, Capitol, 1962
Royal Philharmonic Orchestra, Streets of Philadelphia, The Best of Movie Music Vol. 2, Memo Media, 2010
Go to episode 543