Results for Happy
reviews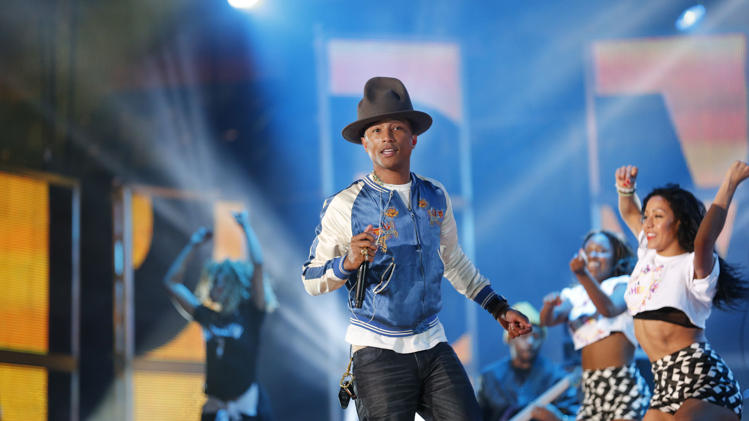 Oscar Songs 2014
When it comes to movies, Jim and Greg defer to the Academy. But, when it comes to music, they aren't as casual. 2014 has been a banner year for pop music in the movies, with three of this year's Best Original Song nominees topping the charts. In fact, this kind of crossover hasn't happened since 1984, when all five nominees hit #1. First, there's Idina Menzel's ubiquitous "Let It Go," from the animated Disney hit Frozen. Written by Robert Lopez and Kristen Anderson-Lopez of Book of Mormon fame, it's a flashy show tune—the "Diane Warren power ballad" of Greg's nightmares—that fails to impress our hosts. Not so with "The Moon Song," from the film Her. Karen O of Yeah Yeah Yeahs, who co-wrote the song with director Spike Jonze, has since released a duet with Ezra Koenig of Vampire Weekend. This quiet, intimate tune wins Jim's statuette, even if it's too low-key for the Academy. Greg's giving his award to "Happy" from Despicable Me 2. While Mr. Kot admits to living under a rock when it comes to kids' movies, he considers Pharrell's single, with its layered vocals and handclaps, a pop masterpiece (despite the mediocre lyrics). Jim isn't as happy and thinks that Pharrell phoned this one in. Meanwhile, U2 took a break from ending world hunger to record a new song for Mandela: Long Walk to Freedom. While the film got little attention in the U.S., "Ordinary Love" has something else working in its favor: the media empire of Harvey Weinstein. His aggressive promotion already won the song a Golden Globe for Best Song, and could similarly sway the Academy…but not our hosts. Despite the noble subject, Jim and Greg just hear standard U2 flag-waving.
Go to episode 431
Seeds available on iTunes
TV on the Radio Seeds
For TV on the Radio, its 6th album Seeds marks a musical departure from past work and has Jim and Greg at odds. TVOTR has been a consistently interesting band, emerging from the same scene as groups like the Yeah Yeah Yeahs and The Strokes. However many people wondered whether they would make a new album after their bassist, Gerard Smith, died in 2011 of lung cancer. Greg notes that he has greatly enjoyed TVOTR's past albums but found himself missing the"weirdness"on this one. He found the record to be very linear and melodic, and noted the group lost the elements of texture and surprise in these new tracks. Jim couldn't disagree more! He argues there are plenty of surprises with a mix of mourning and hard grooving tunes. Jim even thinks the track "Happy Idiot" is a thinking-hipster's response to Pharrell's "Happy." Greg gives it a Try It while Jim thinks he's just being grumpy and strongly gives Seeds a Buy It.
Go to episode 469
No_One Ever Really Dies available on iTunes
N.E.R.D. No_One Ever Really Dies
After a seven year hiatus, N.E.R.D. (the Pharrell Williams/Neptunes side project) has returned with their fourth album No_One Ever Really Dies. As The Neptunes, Chad Hugo & Pharrell crafted synthy, quirky, poppy hip hop and R&B for the likes of Jay-Z and Kelis in the 1990s and early '00s. Then in 1999, they formed N.E.R.D. with Shay Haley. In the time since N.E.R.D.'s last album, 2010's Nothing, Pharrell Williams has made a name for himself as a solo artist. Most notably, he achieved mainstream success with the smash hit "Happy," all while maintaining his signature sense of quirk. Greg says it's that quirkiness, along with a knack for hooks that attracted him to their sound in the first place. He likes this effort for its"weird, buzzy tone"and its psychedelic energy. Greg gives it a Buy It. Jim calls N.E.R.D. an"experimental garage band."He adds this project has an uneven success rate with its long list of collaborations, including tracks with Rihanna, Kendrick Lamar, and Ed Sheeran. Jim gives it a Try It.
Go to episode 632
lists
The Best Songs of 2014 - Mixtapes
Before 2014 gets too far back in our rearview mirror, Jim and Greg tackle the timeless art of making a mixtape featuring their favorite songs from 2014. Each host plays a selection of tracks off their mix, but you can stream both in their entirety below.
Go to episode 475
featured songs
Featured Songs
James Murphy, Untitled subway music, Unreleased, Freely available online, 2014
Kiss, Rock and Roll All Nite, Dressed to Kill, Casablanca, 1975
Sly & the Family Stone, I Ain't Got Nobody (For Real), Higher!, Epic/Legacy, 2013
Sly & the Family Stone, Advice, Higher!, Epic/Legacy, 2013
Sly & the Family Stone, I Hate to Love Her, Higher!, Epic/Legacy, 2013
Ike & Tina Turner, Bold Soul Sister, The Hunter, Blue Thumb, 1969
Sly & the Family Stone, Dance To The Music (Mono), Higher!, Epic/Legacy, 2013
The Roots, Star/Pointro, The Tipping Point, Geffen, 2004
Sly & the Family Stone, Thank You (Falettinme Be Mice Elf Agin) (Mono), Higher!, Epic/Legacy, 2013
Bobby Freeman, C'mon and Swim, Do You Wanna Dance?, Collectables, 1958
Sly & the Family Stone, Family Affair, There's a Riot Goin' On, Epic/Legacy, 1971
Sly & the Family Stone, Hot Fun in the Summertime (Mono), Higher!, Epic/Legacy, 2013
Sly & the Family Stone, Thank You for Talkin' to Me Africa, There's a Riot Goin' On, Epic/Legacy, 1971
Sly & the Family Stone, Brave & Strong, Higher!, Epic/Legacy, 2013
Sly & the Family Stone, You Can Make It If You Try (Live at the Isle of Wight Festival, August 30, 1970), Higher!, Epic/Legacy, 2013
Sly & the Family Stone, We Love All, Dance to the Music, Epic/Legacy, 2007
Sly & the Family Stone, Color Me True, Dance to the Music, Epic/Legacy, 1968
Sly & the Family Stone, Wonderful World Of Color (Instrumental), Higher!, Epic/Legacy, 2013
Idina Menzel, Let It Go, Frozen (Original Motion Picture Soundtrack), Walt Disney, 2013
Karen O, The Moon Song (End Title Credit), The Moon Song (Music From and Inspired By the Motion Picture Her), WaterTower, 2014
Pharrell Williams, Happy, G I R L, Columbia, 2014
U2, Ordinary Love, Mandela: Long Walk to Freedom (Soundtrack), Decca, 2013
Lydia Loveless, Wine Lips, Somewhere Else, Bloodshot, 2014
Lydia Loveless, Verlaine Shot Rimbaud, Somewhere Else, Bloodshot, 2014
Lydia Loveless, They Don't Know, Somewhere Else, Bloodshot, 2014
Lydia Loveless, Hurts So Bad, Somewhere Else, Bloodshot, 2014
John Belushi, Louie, Louie, Animal House – Original Soundtrack, MCA, 1978
St. Paul & the Broken Bones, Call Me, Half the City, Single Lock, 2014
Dr. Octagon, Earth People, Dr. Octagonecologyst, Dreamworks/SKG, 1996
David Bowie, Starman, The Rise and Fall of Ziggy Stardust and the Spiders from Mars, Virgin, 1972
Sun Ra & His Omniverse Arkestra, Calling Planet Earth, Destination Unknown, Enja, 1992
Emerson, Lake & Palmer, Karn Evil 9: 3rd Impression, Brain Salad Surgery, Manticore, 1973
MC Frontalot, Disaster, Zero Day, Level Up & Tapes/Nerdcore Fervor, 2010
MC Frontalot, Final Boss, Final Boss, Level Up & Tapes/Nerdcore Fervor, 2008
Neptune Massive, Plastoon, Plastoon (Single), freely available on MySpace, 2008
Go to episode 431
Featured Songs
The Rolling Stones, Soul Survivor, Exile on Main St., Rolling Stones, 1972
The Rolling Stones, All Down the Line, Exile on Main St., Rolling Stones, 1972
The Rolling Stones, Wild Horses, Sticky Fingers, Rolling Stones, 1971
The Rolling Stones, Ventilator Blues, Exile on Main St., Rolling Stones, 1972
The Rolling Stones, Rocks Off, Exile on Main St., Rolling Stones, 1972
The Rolling Stones, Rip This Joint, Exile on Main St., Rolling Stones, 1972
The Rolling Stones, Tumbling Dice, Exile on Main St., Rolling Stones, 1972
The Flying Burrito Brothers, Colorado, The Flying Burrito Brothers, A&M, 1971
The Byrds, You Ain't Goin Nowhere, Sweetheart of the Rodeo, Columbia, 1968
The Everly Brothers, All I Have to Do is Dream, All I Have to Do is Dream (single), Cadence, 1958
The Rolling Stones, Torn and Frayed, Exile on Main St., Rolling Stones, 1972
The Rolling Stones, Happy, Exile on Main St., Rolling Stones, 1972
The Rolling Stones, Title 5, Exile on Main St. (Deluxe Edition), Universal, 2010
The Rolling Stones, Sympathy For The Devil (Live), Beggars Banquet, Rolling Stones, 1968
The Rolling Stones, I Just Want To See His Face, Exile on Main St., Rolling Stones, 1972
James Cleveland & the Angelic Choir, Peace Be Still, Peace Be Still, Savoy, 1963
The Rolling Stones, Let It Loose, Exile on Main St., Rolling Stones, 1972
The Rolling Stones, Sweet Black Angel, Exile on Main St., Rolling Stones, 1972
The Rolling Stones, Shine A Light, Exile on Main St., Rolling Stones, 1972
The Rolling Stones, Loving Cup, Exile on Main St., Rolling Stones, 1972
The Band, In a Station, Music From Big Pink, Capitol, 1968
The Rolling Stones, Stop Breaking Down, Exile on Main St., Rolling Stones, 1972
Pussy Galore, Loving Cup, Exile on Main St., Shove, 1986
White Stripes, Rag & Bone, Icky Thump, Warner Bros., 2007
Liz Phair, Johnny Sunshine, Exile in Guyville, Matador, 1993
Red Red Meat, Rusted Water, Jimmywine Majestic, Sub Pop, 1993
New York Dolls, Trash, New York Dolls, Mercury, 1973
The Clash, Death or Glory, London Calling, CBS, 1979
Wilco, Monday, Being There, Reprise, 1996
Kings of Leon, Taper Jean Girl, Aha Shake Heartbreak, Columbia, 2004
The Black Keys, Do the Rump, The Big Come Up, Alive, 2002
The Rolling Stones, Shake Your Hips, Exile on Main St., Rolling Stones, 1972
Electric Light Orchestra, Telephone Line, A New World Records, United Artists, 1976
The Kinks, Top of the Pops, Lola Versus Powerman and the Moneygoround, Part One, Pye, 1970
The Pharcyde, Devil Music, Labcabincalifornia, Delicious Vinyl, 1995
Ziplock, Woods Island Club, Ziplock, Processional Cross, 2017
Vangelis, Main Titles, Blade Runner, EMI, 1994
Go to episode 644