Results for Greg Kurstin
interviews
James Mercer
You're in a beloved band at the height of success. Natalie Portman tells the world that your band will change lives. So what do you do? Blow everything up, of course. At least you do if you're James Mercer. The Shins frontman and founder followed up his Grammy nominated, Billboard charting album Wincing the Night Away with a decision to completely change the group's lineup and sound. He sought out producer Greg Kurstin, best known for working with Lily Allen and Kesha, and the result is Port of Morrow. As he discusses with Jim and Greg, this transition wasn't easy, but was necessary. And it's not the first time Mercer made an unexpected collaboration. He and Danger Mouse (of Grey Album fame) joined together for Broken Bells. Check out video of Mercer performing songs from the album, as well as an oldie, but goodie.
Go to episode 338
reviews
Colors available on iTunes
Beck Colors
Beck won a surprise late career Album of the Year Grammy for his 2014 record Morning Phase. Now, he's back with his 13th album, Colors, co-produced by Adele and Kelly Clarkson collaborator Greg Kurstin. Although Beck constantly reinvented himself in the 1990s, Greg says that here, he's simply recycling his greatest pop moves of the past. Greg acknowledges that he still knows a great hook and continues to mix and match genres. Because it's so cheerful in comparison to the melancholy Morning Phase, Greg finds it difficult to dislike, but it still only merits a Try It. Jim, however, finds it a big improvement over the last record. While Beck isn't reinventing the wheel, he's having fun with pastiches to The Police, Elliott Smith, and more. According to Jim, these songs are as good as any he's ever given us. He says Colors is a great party record and a Buy It.
Go to episode 621
Port of Morrow available on iTunes
Shins Port of Morrow
After working on side projects like Broken Bells, Shins front man James Mercer has retooled the band and released a new album called Port of Morrow. Fans will continue to appreciate Mercer's sense of melody, but, like Greg, they may be turned off by the broader, more polished production courtesy of producer Greg Kurstin. Jim thinks the production adjustments are successful, and prefers The Shins' brand of twee more than that of Andrew Bird. So that's a Burn it from Greg and a Buy It from Jim.
Go to episode 330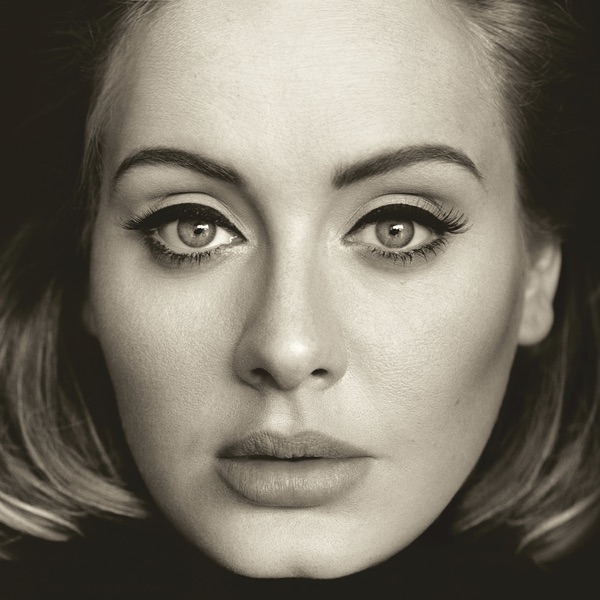 25 available on iTunes
Adele 25
Pop powerhouse Adele recently made her highly anticipated return to music with her third album 25. In typical Adele fashion, she ended up selling almost 3.4 million copies of 25 in one week, breaking a previous record held by NSYNC's 2000 album No Strings Attached. Something else noteworthy about this new record is that is was produced by the biggest names in music, with songs by Ryan Tedder, Max Martin, Greg Kurstin and Bruno Mars. Greg has to admit that he is disappointed with the album. While he enjoyed songs like "Million Years" and "Miss You," he thought Adele could have challenged herself more. Greg isn't hearing any new terrain being mined, and even though Adele has moved on in real life from that infamous relationship, musically she's still "living in 21 land." He gives 25 a Try It. Jim is far more incensed because he was a big fan of Adele's first album, 19. The lyrics are beneath her. And without more interesting, unique songs, he has to say Trash It.
Go to episode 523
news
Music News
Unless you've been hiding in a cave, it's been impossible to escape "Hello," the new single from British singer Adele. It sold 1.11 million copies in its first week – only Elton John's "Candle in the Wind 1997" has ever sold more in a single week span. Adele is basically a music industry unto herself. In recent years, only Taylor Swift has come close in terms of sales."Hello,"a 5-minute piano ballad, features production by Greg Kurstin, who has also worked with big names like Katy Perry and Kelly Clarkson. It remains to be seen if Adele's new album takes her into uncharted territory, or is just a continuation of her previous work.
Tragedy struck a nightclub in Bucharest, Romania on October 30 when the metal band Goodbye to Gravity's stage pyrotechnics started a fire. 32 people died and hundreds were injured. This launched an unprecedented wave of protests against the perceived lax enforcement of laws, culminating in the resignation of Romanian Prime Minster Vincent Porta. This kind of tragedy has happened too frequently, including the deadly 2003 fire at a Great White concert in Rhode Island. Jim is dumbfounded that any band would still use fireworks at an indoor concert.
Go to episode 519