Results for Ga Ga Ga Ga Ga
reviews
Ga Ga Ga Ga Ga available on iTunes
Spoon Ga Ga Ga Ga Ga
The final album up for review is Ga Ga Ga Ga Ga from Spoon. That's right: five Ga's. The title gives us a tip to the band's attitude. As Greg notes, it seems like they're"intentionally screwing with us."Taking a cue from Wire and The Talking Heads, Spoon has always specialized in a minimalist sound that is heavy on the rhythms and keyboards, and easy on the frills. That sound continues on Ga Ga Ga Ga Ga, but Jim was pleasantly surprised to hear the band striking out by including a Stax/Motown sound. He's really excited about this album and gives it an enthusiastic Buy It. Greg agrees, adding that it's how the band uses different elements that makes the sound so special. Nothing lingers for too long, and nothing lacks that all important groove. He also gives Ga Ga Ga Ga Ga a Buy It.
Go to episode 84
They Want My Soul available on iTunes
Spoon They Want My Soul
Next to Yo La Tengo there isn't a longer-running, more reliable indie rock band in business today than Spoon. This year marks twenty years and eight albums for the band, which has had success on both independent and major labels, thanks to a signature sound that only seems to get tighter with each outing. Spoon's latest, They Want My Soul comes four years after the group's previous release and features the same economical and emotional music fans and critics have come to love, but with a subtle twist that Greg feels makes this album more fragile and beautiful than past records. Jim agrees… They Want My Soul is now his second most favorite Spoon album after 2007's Ga Ga Ga Ga Ga, and he's quick to point out this new album also makes a great dance record thanks to the rhythmic contributions of drummer Jim Eno. Eno's grooves opposite frontman Britt Daniel's vocals have always been the band's secret sauce, and it's still as good as ever. Both critics say They Want My Soul is a Buy It.
Go to episode 454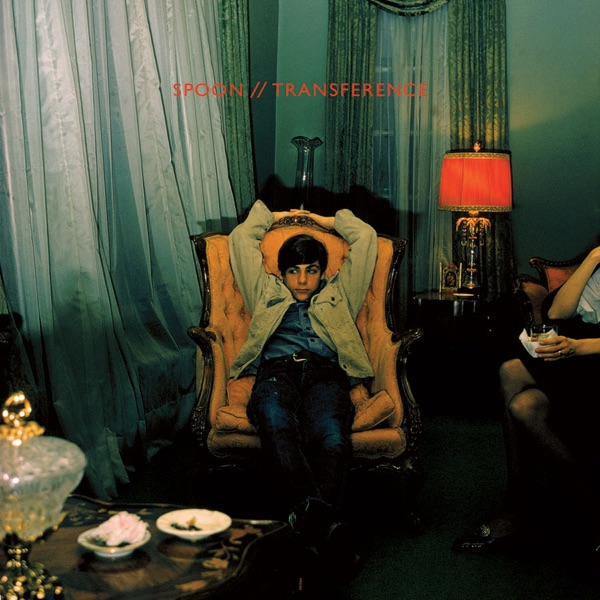 Transference available on iTunes
Spoon Transference
Spoon also has a new album out called Transference. It's the Austin band's 7th release, and on it they've returned to formula-a very simple one that melds cryptic lyrics with hypnotic rhythms. On their last record, Ga Ga Ga Ga Ga, the band opened up more and included horns and more melodies. Greg wishes they had kept pushing in that direction. Instead they sound like they closed up again. He calls this an album for fans only, and while there are great moments, it's hard to listen to at times. Greg gives Transference a Burn It. Jim is shocked. He admits that Spoon has returned to its artier ways, but he believes it works. For Jim Transference is a great road trip record and a definite Buy It.
Go to episode 216
lists
Best of 2007
It's a critic and a music fan's favorite time of year. Jim and Greg run down their top albums for 2007. You can view their complete lists below.
For more end-of-year discussion, check out the Sound Opinions Message Board.
Go to episode 107
featured songs
Featured Songs
Morris Day, The Bird, It's About Time, Hollywood, 2004
Art Brut, Pump Up the Volume, It's a Bit Complicated, Downtown, 2007
Art Brut, Post Soothing Out, It's a Bit Complicated, Downtown, 2007
Queens of the Stone Age, 3's & 7's, Era Vulgaris, Interscope, 2007
Queens of the Stone Age, I'm Designer, Era Vulgaris, Interscope, 2007
Crowded House, Don't Dream It's Over, Crowded House, Capitol, 1986
Crowded House, Even a Child, Time on Earth, Parlophone, 2007
Crowded House, She Called Up, Time on Earth, Parlophone, 2007
T.I., Big Things Poppin' (Do It), T.I. vs. T.I.P., Atlantic, 2007
T.I., Help Is Coming, T.I. vs. T.I.P., Grand Hustle/Atlantic, 2007
T.I., Act III: T.I. vs. T.I.P. The Confrontation, T.I. vs. T.I.P., Grand Hustle/Atlantic, 2007
Shellac, The End of Radio, Excellent Italian Greyhound, Touch and Go, 2007
Shellac, Steady as She Goes, Excellent Italian Greyhound, Touch and Go, 2007
Shellac, Be Prepared, Excellent Italian Greyhound, Touch and Go, 2007
Shellac, Kittypants, Excellent Italian Greyhound, Touch and Go, 2007
Spoon, The Underdog, Ga Ga Ga Ga Ga, Merge, 2007
Spoon, You Got Yr. Cherry Bomb, Ga Ga Ga Ga Ga, Merge, 2007
Apparat, Fractales Pt. 1, Walls, Shitkatapult, 2007
Captain Beefheart, Telephone, Doc at the Radar Station, Virgin, 1980
Otis Redding, Doc of the Bay, Doc of the Bay, Volt, 1968
Paul Simon,"Me and Julio Down by the Schoolyard, "Paul Simon, Columbia, 1972
The Scorpions, Wind of Change, Crazy World, BMG, 1990
Phish, Reba, Lawn Boy, JEMP, 1991
Palliard, "Mockingbird", Won't Heal Alone, s/r, 2007
Go to episode 84
Featured Songs
Matchbox Twenty, How Far We've Come, Exile on Mainstream, Atlantic, 2007
Sex Pistols, Anarchy in the U.K. (Guitar Hero Version), Single for Guitar Hero III, iTunes, 2007
The Eagles, How Long, Long Road Out of Eden, Mercury, 2007
The Eagles, Frail Grasp on the Big Picture, Long Road Out of Eden, Mercury, 2007
The Eagles, No More Walks in the Woods, Long Road Out of Eden, Mercury, 2007
The Eagles, Long Road Out of Eden, Long Road Out of Eden, Mercury, 2007
Kid Sister, Pro Nails (instrumental), Pro Nails, Fool's Gold, 2007
Spoon, The Underdog, Ga Ga Ga Ga Ga, Merge, 2007
Spoon, The Ghost of You Lingers, Ga Ga Ga Ga Ga, Merge, 2007
Spoon, You Got Yr. Cherry Bomb, Ga Ga Ga Ga Ga, Merge, 2007
Spoon, Don't Make Me a Target (Live on Sound Opinions), Ga Ga Ga Ga Ga, Merge, 2007
Queen, We Will Rock You, News of the World, EMI/Parlophone, 1997
Spoon, Rhythm and Soul (Live on Sound Opinions), Ga Ga Ga Ga Ga, Merge, 2007
Spoon, I Turn My Camera On, Gimme Fiction, Matador, 2007
Spoon, The Way We Get By, Kill the Moonlight, Merge, 2007
Spoon, Don't You Evah (Live on Sound Opinions), Ga Ga Ga Ga Ga, Merge, 2007
Spoon, Black Like Me, Ga Ga Ga Ga Ga, Merge, 2007
Jay Z, Roc Boys (And the Winner Is), American Gangster, Roc-A-Fella, 2007
Jay Z, Pray, American Gangster, Roc-A-Fella, 2007
Wu-Tang Clan, The Heart Gently Weeps, 8 Diagrams, The Island Def Jam Music Group, 2007
De La Soul, Ring Ring Ring (Ha Ha Hey), De La Soul is Dead, Tommy Boy, 1991
Pink Floyd, Money, Dark Side of the Moon, Harvest, 1973
Café Tacuba, El Outside, Sino, Universal Music Mexico, 2007
The Soft Machine, Hope for Happiness, Volume One, Probe, 1968
Go to episode 102