Results for Fishscale
reviews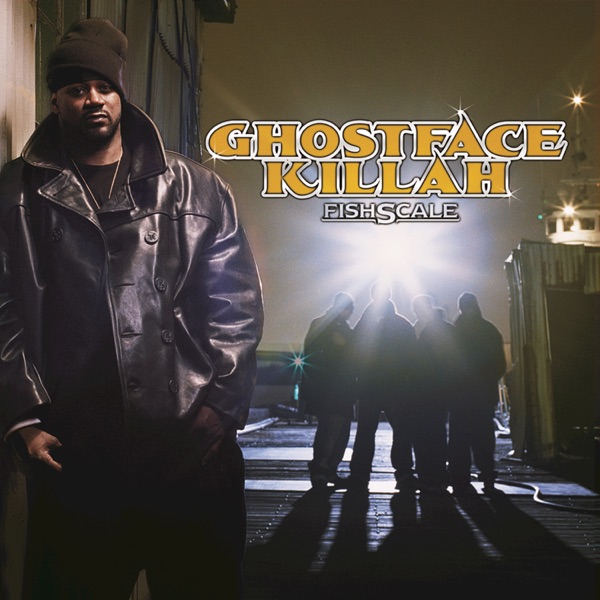 Fishscale available on iTunes
Ghostface Killah Fishscale
Wu-Tang Clan member Ghostface Killah also has a new album out. Fishscale is the fifth solo record for this hip hop veteran, who joined the Wu-Tang Clan over a decade ago. Ghostface has always been known as a complicated, skilled lyricist, and he lives up to his reputation on this release. Fishscale, itself a slang term for uncut cocaine, gives a narrative of life on the streets in New York. These stories are paired with samples and beats from producers like Jay Dilla, Pete Rock and Just Blaze. Listen to the sample of a blaxsploitation-style education film in the track we play, "Kilo." Incidentally, this is the first Ghostface solo album without any production from fellow Clansman RZA. Whether or not that bodes in Ghostface's favor is up to our hosts. Jim believes gangsta rap and songs about drug dealing are pretty played out, but admits that Ghostface brings something completely new. He compares the rapper to writer Jim Thompson and gives Fishscale a Burn It. Greg has to go with a Buy It rating. He is compelled by the stories of Ghostface's childhood, the surreal rap tangents and the immense hooks. According to Greg, this record parallels early NWA records and is not only one of the best albums of Ghostface's career, but of 2006.
Go to episode 20
Hell Hath No Fury available on iTunes
The Clipse Hell Hath No Fury
After a four-year drought stemming from a record label deal mishap, sibling rapper duo The Clipse have finally released their second album, Hell Hath No Fury. The Clipse come from Virginia Beach, the same town as Timbaland, Missy Elliot and The Neptunes. (In fact, super-producing pair The Neptunes are friends with rappers Malice and Pusha T and produced the Clipse album.) Both Jim and Greg feel the album covers much of the same old clichéd gangsta rap territory, but does so with a tremendous amount of artful, novelistic detail. Jim compares it to the literary precision of Ghostface Killah's Fishscale. The sound of the album is dark, brooding, futuristic and inventive. Both Jim and Greg feel the album's production redeems the Neptunes for previous lackluster efforts (namely Pharrell Williams' In My Mind, which made this year's Turkey Shoot). Greg boldly proclaims that Hell Hath No Fury is one of the best albums of the year. That's a double Buy It.
Go to episode 53
lists
The Best Albums of 2006 (So Far)
While most pop culture mavens wait until the end of the year to tally their favorites, Sound Opinions is so list-crazy, that we've decided to take 2006's half-way mark as an opportunity to take stock. Here are the albums Jim and Greg are loving so far:
Jim DeRogatis:
Gnarls Barkley, St. Elsewhere (hear Jim and Greg's original review)
Van Hunt, On the Jungle Floor (hear Jim and Greg's original review)
Misson of Burma, The Obliterati (hear Jim and Greg's original review)
Wolfmother, Wolfmother (Interscope)
The Bellrays, Have a Little Faith (Cheap Lullaby)
Art Brut, Bang Bang Rock & Roll (Downtown) (hear Jim and Greg's interview with Art Brut)
Belle and Sebastian, The Life Pursuit (Matador) (hear Jim and Greg's original review)
Neko Case, Fox Confessor Brings the Flood (Anti) (hear Jim and Greg's original review)
Dilated Peoples, 20/20 (Capitol)
Alejandro Escovedo, The Boxing Mirror (Back Porch Records) (hear Jim and Greg's original review)
The Flaming Lips, At War with the Mystics (Warner Bros.) (hear Jim and Greg's original review)
Grandaddy, Just Like the Fambly Cat (V2) (hear Jim and Greg's original review)
Jenny Lewis and the Watson Twins, Rabbit Fur Coat (Team Love) (hear Jim and Greg's original review)
Prince, 3121 (Universal/Motown) (hear Jim and Greg's original review)
The Raconteurs, Broken Boy Soldiers (V2) (hear Jim and Greg's original review)
Secret Machines, Ten Silver Drops (Reprise) (hear Jim and Greg's original review)
The Strokes, First Impressions of Earth (RCA) (hear Greg's original review and interview with Julian Casablancas)
The Subways, Young for Eternity (Sire)
Matthew Sweet and Susanna Hoffs, Under the Covers Vol. 1 (Shout Factory)
Neil Young, Living with War (Reprise) (hear Jim and Greg's original review)
Greg Kot (in no particular order):
Art Brut, Bang Bang Rock & Roll (hear Jim and Greg's interview with Art Brut)
Love is All, Nine Times That Same Song
Ghostface Killah, Fishscale (hear Jim and Greg's original review)
Neil Young, Living With War (hear Jim and Greg's original review)
Dirty on Purpose, Hallelujah Sirens
Parts and Labor, Stay Afraid
Alejandro Escovedo, The Boxing Mirror (hear Jim and Greg's original review)
Mission of Burma, The Obliterati (hear Jim and Greg's original review)
Gnarls Barkley, St. Elsewhere (hear Jim and Greg's original review)
Jenny Lewis and the Watson Twins, Rabbit Furcoat (hear Jim and Greg's original review)
Neko Case, Fox Confessor Brings the Flood (hear Jim and Greg's original review)
Anthony Hamilton, Ain't Nobody Worryin' (hear Jim and Greg's original review)
Mary J. Blige, The Breakthrough (hear Jim and Greg's original review)
Midlake, The Trials of Van Occupanther
Van Hunt, On the Jungle Floor (hear Jim and Greg's original review)
Go to episode 31
Best of 2006
Jim
Art Brut, Bang Bang Rock & Roll (Listen to the band's appearance on the show)
Lily Allen, Alright, Still (Listen to the original review)
Gnarls Barkley, St. Elsewhere (Listen to the original review)
The Decemberists, The Crane Wife (Listen to the original review, or listen to lead singer Colin Meloy's appearance on the show)
Lupe Fiasco, Food & Liquor (Listen to the original review)
Grandaddy, Just Like the Fambly Cat (Listen to the original review, or listen to front man Jason Lytle's appearance on the show)
Neil Young, Living with War
Peaches, Impeach My Bush (Listen to the original review)
The Dresden Dolls, Yes, Virginia…
Rhymefest, Blue Collar (Listen to Rhymefest's appearance on the show)
Cursive, Happy Hollow (Listen to the original review)
Beck, The Information (Listen to the original review)
Jenny Lewis and the Watson Twins, Rabbit Fur Coat (Listen to the original review, or listen to the band's appearance on the show)
Van Hunt, On the Jungle Floor (Listen to the original review)
The Raconteurs, Broken Boy Soldiers (Listen to the original review)
Mission of Burma, The Obliterati (Listen to the original review, listen to the band's appearance on the show)
Tom Petty, Highway Companion (Listen to the original review)
Neko Case, Fox Confessor Brings the Flood (Listen to the original review)
Secret Machines, Ten Silver Drops (Listen to the original review)
Album Leaf, Into the Blue Again
Greg
TV on the Radio, Return to Cookie Mountain (Listen to the original review)
Clipse, Hell Hath No Fury (Listen to the original review)
Mission of Burma, The Obliterati (Listen to the original review, listen to the band's appearance on the show)
Jenny Lewis with the Watson Twins, Rabbit Fur Coat (Listen to the original review, or listen to the band's appearance on the show)
Midlake, The Trials of Van Occupanther
Ghostface Killah, Fishscale (Listen to the original review)
Art Brut, Bang Bang Rock & Roll (Listen to the band's appearance on the show)
Girl Talk, Night Ripper
Parts and Labor, Stay Afraid
Lupe Fiasco, Food and Liquor (Listen to the original review)
M. Ward, Post-War (Listen to the original review)
Neko Case, Fox Confessor Brings the Flood (Listen to the original review)
Love is All, Nine Times that Same Song
Rhymefest, Blue Collar (Listen to Rhymefest's appearance on the show)
The Decemberists, The Crane Wife (Listen to the original review, or listen to lead singer Colin Meloy's appearance on the show)
Mastodon, Blood Mountain (Listen to the original review)
Gnarls Barkley, St. Elsewhere (Listen to the original review)
Tom Waits, Orphans (Listen to the original review)
Lily Allen, Alright, Still (Listen to the original review)
Cursive, Happy Hollow (Listen to the original review)
Go to episode 54
featured songs
Featured Songs
Percy Sledge, When a Man Loves a Woman (Live in 2010), When a Man Loves a Woman (Single), Atlantic, 1966
Percy Sledge, It Tears Me Up, Warm and Tender Soul, Atlantic, 1966
Ringo Starr, It Don't Come Easy, Ringo, Apple, 1973
Paul McCartney, Maybe I'm Amazed, McCartney, Apple, 1970
Lauryn Hill, Everything is Everything, The Miseducation of Lauryn Hill, Columbia, 1998
Peter Gabriel, Here Comes the Flood, Peter Gabriel, Atco, 1977
Celine Dion, All By Myself, Falling into You, Columbia, Epic, 1996
Jenny Lewis and The Watson Twins, Rise Up With Fists!!, Rabbit Fur Coat, Team Love, 2006
Phil Manzanera, Big Day, Diamond Head, Island, 1975
Ghostface Killah, Underwater, Fishscale, Def Jam, 2006
Chaka Khan, I Feel For You, I Feel For You, Warner Bros., 1984
Hall & Oates, Go Solo, H2O, RCA, 1982
Justin Timberlake, Rock Your Body, Justified, Jive, 2002
Morrissey, Suedehead, Viva Hate, HMV, 1988
Modest Mouse, Lampshades on Fire, Strangers to Ourselves, Epic, 2015
Modest Mouse, Coyotes, Strangers to Ourselves, Epic, 2015
Modest Mouse, Pistol, Strangers to Ourselves, Epic, 2015
Modest Mouse, Float On, Float On (Single), Epic, 2004
Aretha Franklin, Call Me, This Girl's in Love With You, Atlantic, 1970
Don McLean, American Pie, American Pie, United Artists, 1971
Sleater-Kinney, Surface Envy, No Cities to Love, Sub Pop, 2015
Rush, 2112, 2112, Anthem, 1976
Go to episode 490
Featured Songs
Junior Murvin, Police & Thieves, Police & Thieves, Island, 1977
Jenny Lewis, Heads Gonna Roll, On The Line, Warner Bros, 2019
Jenny Lewis, Wasted Youth, On The Line, Warner Bros, 2019
Jenny Lewis, Red Bull & Hennessy, On The Line, Warner Bros, 2019
Jenny Lewis, Rabbit Hole, On The Line, Warner Bros, 2019
Dex Romweber Duo, Jungle Drums, Is That You In the Blue?, Bloodshot, 2011
Let's Active, Every Word Means No, Afoot, I.R.S., 1983
Bob Dylan, Hurricane, Desire, Columbia, 1976
Stagger Lee, Lloyd Price, Stagger Lee (single), ABC-Paramount, 1958
Bob Dylan, Stack a Lee, World Gone Wrong, Columbia, 1993
Bruce Springsteen, Nebraska, Nebraska, Columbia, 1982
Sonic Youth, Death Valley '69, Bad Moon Rising, Blast First, 1985
Grandmaster & Melle Mel, White Lines (Don't Don't Do It), White Lines (Don't Don't Do It) (single), Sugar Hill, 1983
Alabama 3, Woke Up This Morning (The Sopranos Mix), Exile On Coldharbour Lane, Elemental, 1997
Neko Case, Deep Red Bells, Blacklisted, Bloodshot, 2002
Ghostface Killah, Shakey Dog, Fishscale, Def Jam, 2006
Jane's Addiction, Been Caught Stealing, Ritual de lo habitual, Warner Bros., 1990
My Bloody Valentine, Only Shallow, Loveless, Creation, 1991
Madonna, Hung Up, Confessions on a Dance Floor, Warner Bros., 2005
Mathien, God Is Crying, Opus, 601433 Records DK, 2019
Starfighter, The Driver, Night Runner, Night Runner, 2014
Chaka Khan, Like a Lady, Hello Happiness, Island, 2019
Andre Williams & 2 Star Tabernacle, Lily White Mama and Jet Black Daddy, Making Singles, Drinking Doubles, Bloodshot, 2002
Go to episode 696