Results for Era Vulgaris
reviews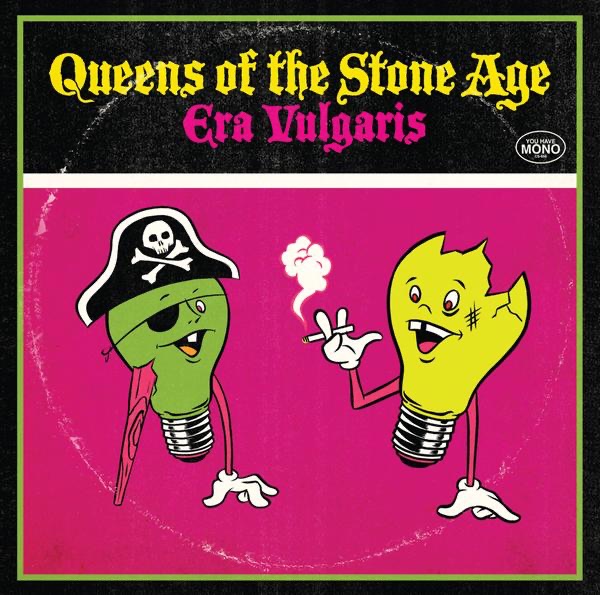 Era Vulgaris available on iTunes
Queens of the Stone Age Era Vulgaris
Era Vulgaris is the fifth album from rockers Queens of the Stone Age. Ever since Josh Homme left the stoner rock group Kyuss in 1995, he's been celebrating and satirizing heavy metal as the lead singer of this band. He's often joined by a revolving door of musical guests, which this time around includes Trent Reznor and Julian Casablancas. Jim thinks that Homme and the band have done a great job of bringing brains, melody and psychedelia back to heavy metal. But, he hasn't loved the last two records. He worries that Homme is beginning to phone it in and only gives Era Vulgaris a Burn It. Greg has always been struck by how sensual Queens' music sounds. They embrace using sexy rhythms when most heavy metal acts abandon them, creating a completely unique sound. He calls Era Vulgaris a terrific record and recommends listeners Buy It.
Go to episode 84
Era Vulgaris available on iTunes
Queens of the Stone Age Era Vulgaris
After six years of silence, Queens of the Stone Age are back with yet another addition to their stoner rock catalogue. As Greg. explains, …Like Clockwork follows a tough period in lead-singer Josh Homme's life: he recently suffered dangerous complications from surgery as well as depression. But Greg takes …Like Clockwork as a hopeful sign for the band, calling it Queens' best work in a decade. After veering off into weirdness on 2007's Era Vulgaris, Greg welcomes the return of strong songwriting and melodies on this record. He says Buy it. Jim can't agree. …Like Clockwork is the kind of record the Try it rating was designed for, he says. Cut the dreadful slow tracks and you've got a decent Queen EP.
Go to episode 393
featured songs
Featured Songs
Morris Day, The Bird, It's About Time, Hollywood, 2004
Art Brut, Pump Up the Volume, It's a Bit Complicated, Downtown, 2007
Art Brut, Post Soothing Out, It's a Bit Complicated, Downtown, 2007
Queens of the Stone Age, 3's & 7's, Era Vulgaris, Interscope, 2007
Queens of the Stone Age, I'm Designer, Era Vulgaris, Interscope, 2007
Crowded House, Don't Dream It's Over, Crowded House, Capitol, 1986
Crowded House, Even a Child, Time on Earth, Parlophone, 2007
Crowded House, She Called Up, Time on Earth, Parlophone, 2007
T.I., Big Things Poppin' (Do It), T.I. vs. T.I.P., Atlantic, 2007
T.I., Help Is Coming, T.I. vs. T.I.P., Grand Hustle/Atlantic, 2007
T.I., Act III: T.I. vs. T.I.P. The Confrontation, T.I. vs. T.I.P., Grand Hustle/Atlantic, 2007
Shellac, The End of Radio, Excellent Italian Greyhound, Touch and Go, 2007
Shellac, Steady as She Goes, Excellent Italian Greyhound, Touch and Go, 2007
Shellac, Be Prepared, Excellent Italian Greyhound, Touch and Go, 2007
Shellac, Kittypants, Excellent Italian Greyhound, Touch and Go, 2007
Spoon, The Underdog, Ga Ga Ga Ga Ga, Merge, 2007
Spoon, You Got Yr. Cherry Bomb, Ga Ga Ga Ga Ga, Merge, 2007
Apparat, Fractales Pt. 1, Walls, Shitkatapult, 2007
Captain Beefheart, Telephone, Doc at the Radar Station, Virgin, 1980
Otis Redding, Doc of the Bay, Doc of the Bay, Volt, 1968
Paul Simon,"Me and Julio Down by the Schoolyard, "Paul Simon, Columbia, 1972
The Scorpions, Wind of Change, Crazy World, BMG, 1990
Phish, Reba, Lawn Boy, JEMP, 1991
Palliard, "Mockingbird", Won't Heal Alone, s/r, 2007
Go to episode 84
Featured Songs
Goose Island Credit Music: Pure Sunray,"Caramel,"Pure Sunray, 2013
Backstreet Boys, In a World Like This, In a World Like This, K-BAHN/BMG Rights Management, 2013
Backstreet Boys, Everybody (Backstreet's Back), Backstreet's Back, Jive, 1997
Queens of the Stone Age, I Sat by the Ocean, …Like Clockwork, Matador/Rekords Rekords, 2013
Kyuss, Thumb, Blues for the Red Sun, Dali, 1992
The Desert Sessions, Hanging Tree, Desert Sessions, Volumes 7&8, Southern Lord/Rekords Rekords, 2001
Kyuss, One Inch Man, … And the Circus Leaves Town, Elektra, 1995
Kyuss, Green Machine, Blues for the Red Sun, Dali, 1992
Queens of the Stone Age, Regular John, Queens of the Stone Age, Domino/Ipecac Recordings/Liberator/Loosegroove/Man's Ruin/Roadrunner, 1998
Queens of the Stone Age, Avon, Queens of the Stone Age, Domino/Ipecac Recordings/Liberator/Loosegroove/Man's Ruin/Roadrunner, 1998
Queens of the Stone Age, Go with the Flow, Songs for the Deaf, Polydor, 2003
Queens of the Stone Age, Feel Good Hit of the Summer, Rated R, Interscope, 2000
Queens of the Stone Age, First It Giveth, Songs for the Deaf, Interscope, 2003
Them Crooked Vultures, No One Loves Me & Neither Do I, Them Crooked Vultures, RCA/DGC/Interscope, 2009 Them Crooked Vultures,"Scumbag Blues,"Them Crooked Vultures, RCA/DGC/Interscope, 2009
Queens of the Stone Age, I'm Designer, Era Vulgaris, Interscope/Rekords Rekords, 2007
Queens of the Stone Age, I Appear Missing, … Like Clockwork, Matador/Rekords Rekords, 2013
Queens of the Stone Age, No One Knows, Songs for the Deaf, Interscope, 2002
Superchunk, Overflows, I Hate Music, Merge, 2013
Superchunk, Me & You & Jackie Mittoo, I Hate Music, Merge, 2013
Johnny Cash, Ring of Fire, Ring of Fire: The Best of Johnny Cash, Columbia, 1963
Jodeci, My Phone, Forever My Lady, Uptown/MCA, 1991
Pell Mell, Cinecitta, The Bumper Crop, SST, 1987
Joe Satriani, Surfing with the Alien, Surfing with the Alien, Relativity/Epic, 1987
The Edgar Winter Group, Frankenstein, They Only Come Out at Night, Epic Records, 1973
Go to episode 403