Results for David Johansen
reviews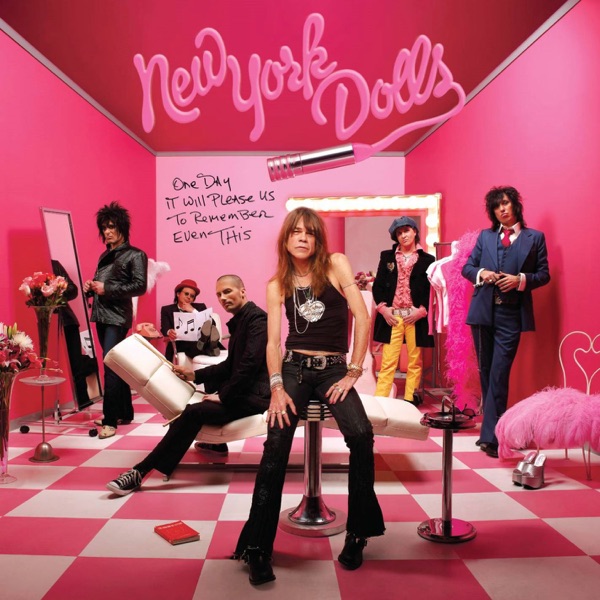 One Day It Will Please Us to Remember Even This available on iTunes
New York Dolls One Day It Will Please Us to Remember Even This
After disbanding over 30 years ago, glam punk legends the New York Dolls are back with a new album, One Day It Will Please Us to Remember Even This. Though the band's first incarnation existed for only a few years, its influence is undeniable. As Jim and Greg explain, without the Dolls, we wouldn't have the Sex Pistols. Heck, we may not even have had Morrissey, who got the Dolls together in 2004 for London's Meltown Festival. The sole surviving Dolls, David Johansen (aka "Buster Poindexter") and Sylvain Sylvain, came together for this album. Upon hearing of this latest effort, Jim and Greg were both excited and fearful. Now, after hearing it, they can say that their worries were not in vain. Jim loves the old Dolls, and can't understand how the band that made One Day It Will Please Us can even call themselves the New York Dolls. For Jim, it's a Trash It. Greg is a little more forgiving. He thinks that the 2006 Dolls come off like a pretty good cover band, and can't completely bash them. He gives the album a Burn It rating.
Go to episode 35
dijs
Jim
"Frenchette"
The New York Dolls
In order to remove the bad taste left by the New York Dolls' recent showing, Jim decides to return to a happier time with this week's Desert Island Jukebox pick. Even after the Dolls broke up, lead singer David Johansen never failed to deliver — especially live, as Jim found out after attending a 1982 show (illegally). The then-underage critic was mesmerized by Johansen's energetic performance of songs like this week's DIJ track, "Frenchette." While most of the Dolls' songs were short, classic punk tunes,"Frenchette"clocks in at over five minutes and is more in tune with the stadium anthems of the era. The song is a witty play on the notion of something being not quite what it should: not love, but lovette; not leather, but leatherette; not French, but Frenchette. The song was written by Johansen and fellow Doll Sylvain Sylvain. This proves that the two men were capable of doing great work post-Dolls, prompting Jim to wonder why they can't create the same magic today. Both Jim and Greg put out an open invitation for the Dolls to come get some medicine from the rock doctors.
Go to episode 35
Greg
"Personality Crisis"
New York Dolls
Jim and Greg sail away to the Desert Island Jukebox, and it's Greg's turn to choose a song. He wants to return to the high point of the New York Dolls. They're still making music today, but it's nothing Jim and Greg want to remember. Greg goes back to 1973's "Personality Crisis," which showcases what was so amazing about the Dolls: Johnny Thunder's guitar, Syl Sylvain's pop smarts, and David Johansen's charisma. People called the group "glam," but Greg credits them as the 1st punk band, giving way to the Sex Pistols.
Go to episode 293
lists
Musical Costumes for Halloween
Sometimes, even musicians feel like"dressing up"and becoming an entirely different artist – if only for one album. To get into the spirit of Halloween, Jim and Greg share some of their favorite examples of musical costumes – artists who musically transform under fake personas.
Go to episode 622