Results for Dave Matthews
reviews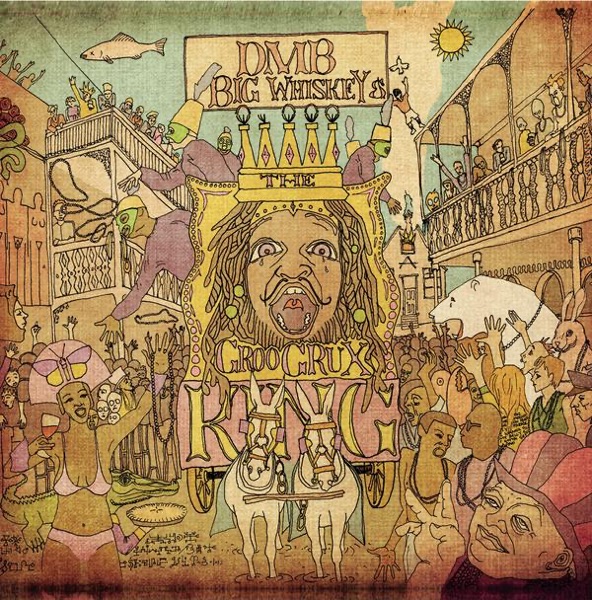 Big Whiskey and the Groogrux King available on iTunes
Dave Matthews Band Big Whiskey and the Groogrux King
Summer concert kings the Dave Matthews Band have a new album out called Big Whiskey and the Groogrux King. The title comes from a nickname given to the band's late saxophonist LeRoi Moore. The shadow of Moore hangs over this album, and his death almost prevented its release. Not that the DMB needs to release albums — they make over $40 million a year from touring alone. But, Jim has always preferred the band on album to in concert. He doesn't love their rhythms or Matthews' lazy vocal style, but recommends people Try It… if that's their thing. Greg thinks the Dave Matthews Band have finally given us a record worth hearing. It's much more rocking and robust than previous releases. It actually"rocks pretty hard,"so Greg gives Big Whiskey and the Groogrux King a Buy It.
Go to episode 184
news
Music News
Jim and Greg start off the news segment by discussing Police drummer Stewart Copeland's blog posting about the band's first reunion gig. Despite critical praise, Copeland was dissatisfied by their performance to say the least. Jim and Greg wonder how dissatisfied fans were, especially those who dropped hundreds of dollars to see Copeland, Sting and Andy Summers.
Of course, the men of the Police aren't the only musicians requesting big bucks this summer. An East Hampton concert series called Social is asking fans to pay $15,000 to see five shows by Prince, Tom Petty, Dave Matthews, Billy Joel and James Taylor. Audience members will be treated to celebrity chefs, art displays and Moroccan pillows rather than the usual uncomfortable stadium seating. This elitist trend in music is disheartening to Jim and Greg, and they wish more consumers would react as people in Italy recently did. After charging between $200 and $1200 for tickets to a show in Rome, singer Barbra Streisand received protests from Italian consumer groups. She recently had to cancel this show, though her camp has not admitted the protests were a cause.
The band Wilco is making news for more than just appearing on Sound Opinions. The Chicago rock group struck a deal with Volkswagen to allow the car company to use its music in a new series of ads. This practice is becoming more and more frequent as bands have fewer and fewer options to get their music heard, but Wilco is one of the last bands Jim, Greg and their fans expected to"sell out."But, what makes this marketing strategy unique is that VW will feature not just one, but six different Wilco songs in six different ads. The commercials will be released almost like singles, making them as much ads for Wilco as they are for the cars. The band has already received its fair share of criticism, but thankfully they've got family on their side.
Go to episode 80