Results for Das Racist
reviews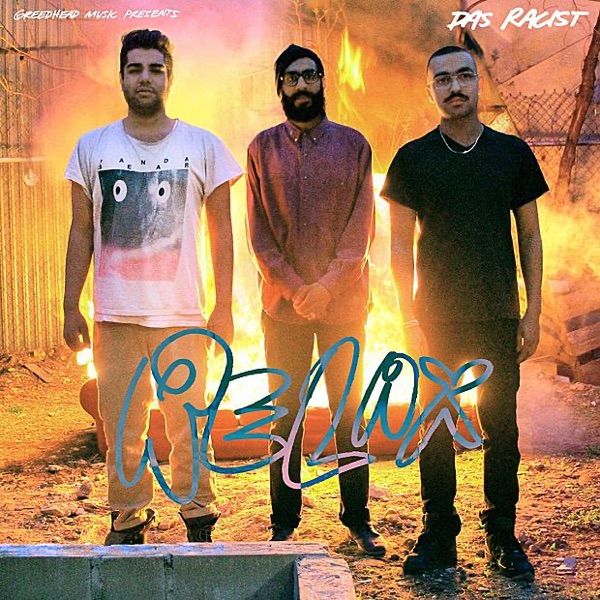 Relax available on iTunes
Das Racist Relax
Wesleyan University seems an unlikely springboard for a hip hop act, but Das Racist are anything but usual. The group gained a following after releasing some free mixtapes and appearing at this year's Pitchfork Music Festival. Now their full length debut is here. It's called Relax, and Greg explains that it's a fitting title. The two rappers, Heems and Kool A.D, appear to be very easy-going to those that aren't paying attention. But their songs are much more complicated. They combine humor with fantastic, dadaist references. Jim compares them to the Beastie Boys, or the Bomb Squad on drugs. Both hosts give Relax a Buy It rating.
Go to episode 305
lists
The Best Songs of 2011 - Mixtapes
As 2011 comes to a close, it's a great time to think about the songs that defined the year. Jim and Greg have compiled their favorite songs into mixtapes. During the show you'll hear a small selection, but luckily you can stream both mixes in their entirety. And you can make your own.
Happy New Year from Sound Opinions!
Go to episode 318
Buried Treasures
If new music was on your list of New Year's resolutions, look no further. Here is Jim and Greg's first batch of Buried Treasures for 2011.
Go to episode 267
featured songs
Featured Songs
R.E.M., Endgame, Out of Time, Warner Bros/Wea, 1991
Alice Cooper, Welcome to My Nightmare, Welcome to My Nightmare, Atlantic, 1975
Alice Cooper, I'm Eighteen, Love It to Death, Warner Bros/Wea, 1975
Pyotr Il'vich Tchaikovsky,"Fantasy Overture From 'Romeo And Juliet,'"The Nutcracker, Op.71 / Romeo and Juliet / Fantasy: Overture, HDC, 2010
Alice Cooper, Under My Wheels, Killer, Warner Bros., 1971
Alice Cooper, I Am Made of You, Welcome 2 My Nightmare, HIP-O, 2011
Alice Cooper, School's Out, School's Out, Warner Bros., 1972
Peter Gabriel, Solsbury Hill, Peter Gabriel 1: Car, Charisma, 1977
Peter Gabriel, "Modern Love, "Peter Gabriel 1: Car, Charisma, 1977
Peter Gabriel, "Excuse Me, "Peter Gabriel 1: Car, Charisma, 1977
Lou Reed, Caroline Says II, Berlin, RCA, 1973
Lou Reed,"Oh, Jim"Berlin, RCA, 1973
Lou Reed, The Kids, Berlin, RCA, 1973
KISS, King of the Night Time World, Destroyer, Casablanca Records, 1976
KISS, Beth, Destroyer, Casablanca Records, 1976
Pink Floyd, Hey You, The Wall, EMI, 1979
Pink Floyd, Comfortably Numb, The Wall, EMI, 1979
U2 and Green Day,"Beautiful Day (Live at the Superdome),"Unreleased, 2006
Peter Gabriel, The Book of Love, Scratch My Back, Real World Records, 2010
Das Racist, Happy Rappy, Relax, Red General Catalog, 2011
Das Racist, Michael Jackson, Relax, Red General Catalog, 2011
Plies, Just (The Tip), Just (The Tip), Atlantic/Slip N' Slide, 2011
Blondie, Call Me, Autoamerican, Chrysalis Records, 1980
Handsome Furs, Repatriated, Sound Kapital, Sub Pop, 2011
St. Vincent, Neutered Fruit, Strange Mercy, 4AD, 2011
Yoko Ono, Kiss Kiss Kiss, Double Fantasy, Capitol, 1980
Graham Central Station, The Jam, Ain't No 'Bout-A-Doubt It, Warner Bros., 1975
R.E.M. ""Uberlin," Collapse Into Now, Warner Bros., 2011
Go to episode 305
Featured Songs
The Bewitched Hands, Hard to Cry, Birds & Drums, Jive, 2011
Fucked Up, Queen of Hearts, David Comes to Life, Matador, 2011
Danger Mouse and Daniele Luppi, The Gambling Priest, Rome, Capitol, 2011
Van Hunt, A Time Machine is My New Girlfriend, What Were You Hoping For, Godless Hotspot, 2011
Raphael Saadiq, Stone Rollin', (0:40) Stone Rollin', Columbia, 2011
Fleet Foxes, Lorelai, Helplessness Blues, Sub Pop, 2011
Mutemath, Prytania, Odd Soul, Teleprompt, 2011
SBTRKT, Something Goes Right, SBTRKT, Young Turks, 2011
The Feelies, When You Know, Here Before, Bar/None, 2011
tUnE-yArDs, Gangsta, w h o k i l l, 4AD, 2011
Das Racist, Relax, Relax, Greedhead, 2011
The Decemberists, Don't Carry It All, The King is Dead, Capitol, 2011
The Roots, The Other Side, Undun, Def Jam, 2011
Le Butcherettes, Tonight, Sin, Sin, Sin, Rodriguez Lopez Productions, 2011
Wild Flag, Romance, Wild Flag, Merge, 2011
Astrud Gilberto and Stan Getz, The Telephone Song, Stan Getz meets Jo~ao & Astrud Gilberto: New York 1964, Giants of Jazz, 1990
Trombone Shorty, Dumaine St., For True, Verve, 2011
Lou Reed and Metallica, Pumping Blood, Lulu, Warner Bros., 2011
The Velvet Underground, The Black Angel's Death Song, The Velvet Underground & Nico, Verve, 1967
Super Furry Animals, Night Vision, Guerrilla, Creation, 1999
Go to episode 315
Featured Songs
Kid Rock, Born Free, Born Free, Atlantic, 2010
Captain Beefheart and the Magic Band, Hot Head, Doc at the Radar Station, Virgin, 1980
Captain Beefheart and His Magic Band, Ella Guru, Trout Mask Replica, Reprise, 1969
Bilal, Restart, Airtight's Revenge, Plug Research, 2010
Clive Tanaka y su orquesta, Neu Chicago, Jet Set Siempre Vol 1, Self-released, 2011
Off!, Upside Down, First Four EPs, Vice, 2010
Off!, I Don't Belong, First Four EPs, Vice, 2010
Tame Impala, Alter Ego, Innerspeaker, 101 Distribution, 2010
Trombone Shorty, Hurricane Season, Backatown, Verve Forecast, 2010
Faun Fables, Light of a Vaster Dark, Light of a Vaster Dark, Drag City, 2010
Diamond Rings, Play By Heart, Special Affections, Secret City, 2010
Diamond Rings, Something Else, Special Affections, Secret City, 2010
Das Racist, hahahaha jk, Sit Down Man, Mixtape, 2010
Nicki Minaj, Moment 4 Life, Pink Friday, Cash Money, 2010
Nicki Minaj, Fly, Pink Friday, Cash Money, 2010
Teen Daze, Bobby's Almost Here, My Bedroom Floor, Arcade Soul, 2010
The Nerves, Hanging on the Telephone, Nerves EP, Nerves, 1976
The Ventures, Walk Don't Run, Walk Don't Run, Dolton, 1960
Air, Mer Du Japon, Pocket Symphony, EMI, 2007
Go to episode 267