Results for Chris Brown
reviews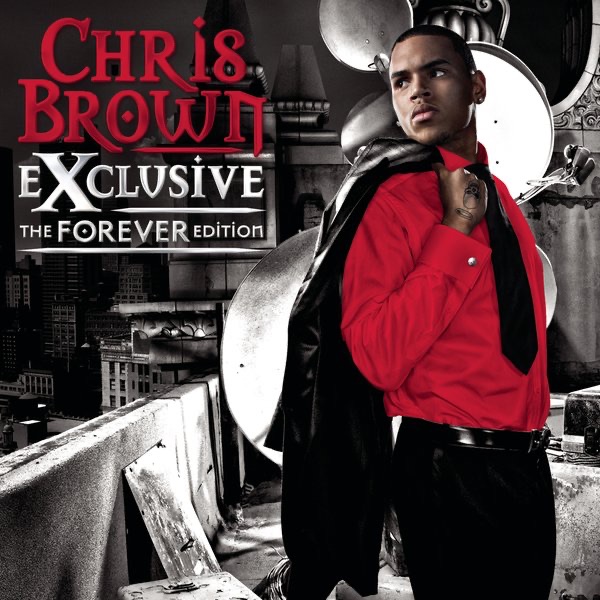 Exclusive available on iTunes
Chris Brown Exclusive
Pop sensation Chris Brown has a new album out this week that both Jim and Greg predict will spawn a number of hit singles. But our two hosts disagree on whether or not Exclusive is worth your money. Jim really enjoyed listening to Brown's take on modern R&B — hints of masculine braggadocio tempered by an old-fashioned sweetness. He gives the record a Buy It. Greg admits that Brown's more mild-mannered approach to the opposite sex is something the genre needs right now, but he insists that talented vocalists like Brown are a dime a dozen. It's the production that makes them stand out, as Usher did with his 2004 Lil John-produced single "Yeah." Greg's certain Brown will mature to a more interesting sound, but for now he gets a Burn It.
Go to episode 105
Rated R available on iTunes
Chris Brown & Rihanna Rated R
Last week Jim and Greg reviewed Rihanna's new album Rated R. This week they look at her former boyfriend Chris Brown's new album Graffiti. The R&B star's third album is being released only months after he pleaded guilty to assaulting Rihanna, and Jim and Greg hear more of a botched public relations attempt than a good record. The songs might have been innocuous had Brown not addressed the violent incident, but he does and seemingly without much remorse. To Greg it's a taudry he said/she said game. To Jim it's bad experimentation, not to mention creepy. Either way, it's a Trash It.
Go to episode 210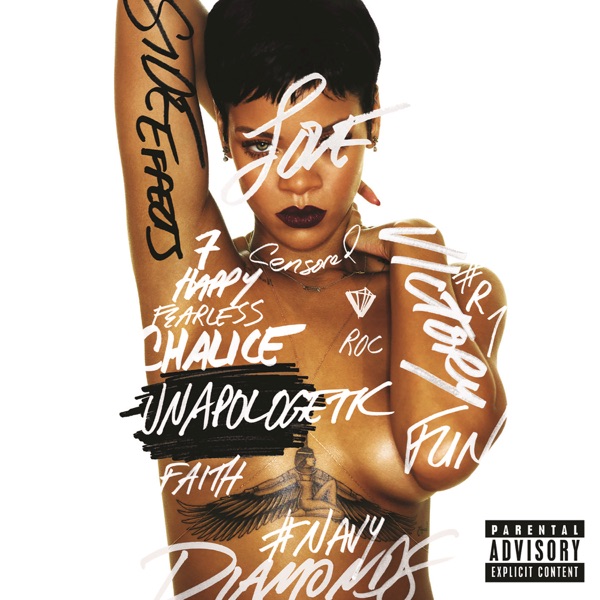 Unapologetic available on iTunes
Rihanna Unapologetic
Reigning pop/R&B queen and hook-singer du jour Rihanna is back with a new release called Unapologetic - her first to top the Billboard albums chart. The 24-year-old Barbadian singer has been all over the news in recent weeks, though not necessarily for her music. By dueting with the man who assaulted her in 2009 (fellow R&B singer Chris Brown) on"Nobody's Business,"Rihanna ensured her seventh studio album would be everybody's business. So how's the music? Jim calls the upbeat dance-pop fare on the first half of the record"pure pop pleasure."But when things get sappier and slowed-down on side two, her limits as a vocalist become clear. Greg agrees with Jim that Rihanna's Chris Brown collab is pure"button-pushing."He points to her 2009 album Rated R as a more ambitious and successful exploration of that troubled relationship. While he appreciates that the singer is moving in a more serious direction, he laments that the pop hooks just aren't there. Unapologetic gets a double Try It.
Go to episode 366
news
Music News
First up in the news is the report that both the House and Senate have reauthorized the Higher Education Act with new provisions that essentially make colleges akin to cops. The bill requires universities to implement tougher traffic filtering technologies in order to deter p2p filesharing. Jim and Greg think any attempts to deter filesharing will be as effective as attempts to curb cheating, binge-drinking and plagiarizing.
Jim and Greg recently spoke with Big Champagne's Eric Garland about artists benefiting from filesharing and album-leaking. Labels have now caught on, but they don't want you to know it. When a track from the forthcoming Buckcherry album was leaked on the internet, the band and its label were quick to complain. But, according to a Wall Street Journal article, they were the source of the leak. It's an old PR stunt for the hip hop world, but now mainstream, albeit"boneheaded"acts like Buckcherry have caught on. Get ready for more faux file-leaking sob stories.
In other music news, music retailing giant iTunes may be getting some competition soon. Amazon launched a digital music service less than a year ago and has yet to make a dent in that market. Now the website has teamed up with MySpace to offer music fans a way to sample and then purchase individual songs and albums. The tracks will be DRM-free, and users won't have to launch a separate application to purchase music. Jim is quickly running to add the Amazon CEO as his MySpace friend.
There's never enough Abba on Sound Opinions, so we were excited when the Swedish pop quartet appeared in the headlines. The band's greatest hits album Gold recently went to #1 in the U.K., breaking the record for the oldest band to ever hit the top of the charts. The reason for the resurgence is the release of the movie Mamma Mia, but hopefully the legacy of the band will not be tarnished by the film.
Frequent chart-topper Chris Brown is also making news this week. His hit single "Forever" has made it to the Top 10 , but little did fans know it was written as a Wrigley gum jingle. For a long time artists have lent their music to advertising companies, but as far as Jim and Greg can tell, this is the first time a song was developed initially as an ad campaign. Is it just a chicken/egg argument? Or does the commercial intention matter to a song's integrity? Let us know what you think.
The final discussion in the news is about the proliferation of '90s nostalgia in the music industry these days. Alternative-era artists like Smashing Pumpkins, Liz Phair and Sonic Youth are all drawing from their former glory days and cashing in. Jim believes such nostalgia is anathema to the alternative philosophy, and doesn't think touring behind one singular album is much better than a greatest hits concert. Greg is surprised that Jim is surprised, citing the Sex Pistols' 1996 tour as the day he gave up on any notion of rock-era integrity.
Go to episode 141
featured songs
Featured Songs
Kanye West, School Spirit, College Dropout, Roc-A-Fella, 2004
Buckcherry, Too Drunk, Black Butterfly, Eleven Seven, 2008
AC/DC, It's a Long Way to the Top" (If You Wanna Rock and Roll), T.N.T., Albert Productions, 1975
Abba, Mamma Mia, Gold, Polydor, 1993
Chris Brown, Forever, Exclusive, CBE, 2008
Smashing Pumpkins, I Am One, Gish, Caroline, 1991
Nirvana, Heart Shaped Box, In Utero, DGC, 1993
Sex Pistols, Anarchy in the U.K, Filthy Lucre Live, Virgin, 1996
Liz Phair, Help Me Mary (Live), Exile in Guyville, Matador, 1993
Sonic Youth, 'Cross the Breeze (Live), Daydream Nation, Enigma, 1988
The Lemonheads, Mrs. Robinson, It's a Shame About Ray, Atlantic, 1992
Johnny Cash, Folsom Prison Blues, At Folsom Prison, Columbia, 1968
Johnny Cash, Busted, At Folsom Prison, Columbia, 1968
Johnny Cash, Joe Bean, At Folsom Prison, Columbia, 1968
Johnny Cash, Dark as the Dungeon, At Folsom Prison, Columbia, 1968
Johnny Cash, 25 Minutes to Go, At Folsom Prison, Columbia, 1968
Johnny Cash, Greystone Chapel, At Folsom Prison, Columbia, 1968
Uncle Tupelo,"Cocaine Blues,"Live Recording, 1989
One Day as a Lion, Wild International, One Day as a Lion, Anti-, 2008
One Day as a Lion, If You Fear Dying, One Day as a Lion, Anti-, 2008
Black Kids, Listen to your Body Tonight, Partie Traumatic, Almost Gold, 2008
Black Kids, I'm Not Gonna Teach Your Boyfriend How to Dance with You, Partie Traumatic, Almost Gold, 2008
Air France, No Way Down, No Way Down EP, Sincerely Yours, 2008
The Nerves, Hanging On The Telephone, Nerves EP, Nerves, 1976
The Nerves, When You Find Out, Nerves EP, Nerves, 1976
The Feelies, Crazy Rhythms, Crazy Rhythms, Stiff, 1980
Radiohead, The National Anthem (Live at Lollapalooza), Kid A, Parlophone, 2000
Go to episode 141
Featured Songs
The JB's, I'm Payin' Taxes, What Am I Buyin', Damn Right I Am Somebody, Universal, 1974
Isaac Hayes, I Stand Accused, The Isaac Hayes Movement, Enterprise, 1970
Isaac Hayes, Theme From Shaft, Shaft, Enterprise, 1971
She & Him, Why Do You Let Me Stay Here, Volume One, Merge, 2008
She & Him, Change is Hard, Volume One, Merge, 2008
She & Him, Take it Back, Volume One, Merge, 2008
She & Him, Swing Low Sweet Chariot, Volume One, Merge, 2008
She & Him, You Really Got A Hold On Me (Live on Sound Opinions), Volume One, Merge, 2008
She & Him, This is Not a Test, Volume One, Merge, 2008
Eddie Murphy, Party All the Time, How Could It Be, Columbia, 1985
Rick Nelson, Garden Party, Garden Party, Geffen, 1972
Brandon Cruz, Superman, Eddie Is a Punk, Taang!, 1998
Bonnie Prince Billy, I See a Darkness, I See a Darkness, Palace, 1999
Scarlett Johansen, Anywhere I Lay My Head, Anywhere I Lay My Head, Atco, 2008
William Shatner, Lucy in the Sky With Diamonds, The Transformed Man, Decca, 1968
Brazilian Girls, Internacional, New York City, Verve Forecast, 2008
Brazilian Girls, Good Time, New York City, Verve Forecast, 2008
Brazilian Girls, Strangeboy, New York City, Verve Forecast, 2008
The Good, the Bad & the Queen"80's Life,"The Good, the Bad & the Queen, Parlophone, 2007
Ciara, Pick Up the Phone, Goodies, LaFace, 2004
The Hold Steady, Lord, I'm Discouraged, Stay Positive, Vagrant, 2008
Chris Brown, Forever, Exclusive, Zomba Group of Companies, 2008
Black Kids, Partie Traumatic, Partie Traumatic, Almost Gold, 2008
Go to episode 142