Results for Buzz Osborne
interviews
Melvins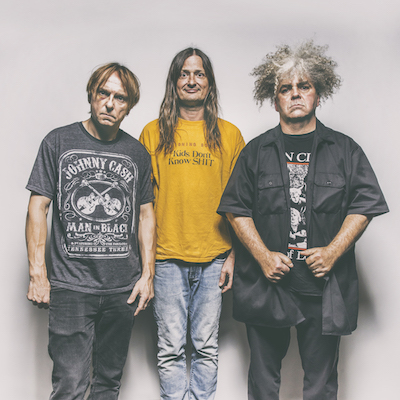 The Melvins are hailed as progenitors of sludge metal, key influences on the Seattle grunge scene, and avant-garde pranksters – but their music has always been virtually unclassifiable. That's certainly the case on their new double-album A Walk With Love & Death, which veers from heavy rockers to pop songs to ambient film scores. The Melvins join Jim and Greg in the studio to talk about the new record and their long career, dating back to their 1984 formation in Washington.
Guitarist/vocalist Buzz Osborne (aka King Buzzo) and drummer Dale Crover form the core of the Melvins, alongside a rotating bassist slot that's currently filled by Steve McDonald of Redd Kross and OFF!. They discuss their ill-fated major label stint in the 1990s, the importance of playing the music that you want to play, and how they manage to survive as a band for over thirty years. They also dispel myths about Nirvana (of which Crover was an early member) and the rest of the storied Seattle scene.
Go to episode 613
lists
Desert Island Jukebox
Often at the end of Sound Opinions, Jim and Greg add songs to the Desert Island Jukebox. This jukebox is filled with tracks that Jim and Greg would take with them if stranded on a desert island. They've posed this same age-old rock question to many of their guests. Here's the music that these artists say they can't live without:
Buzz Osborne of The Melvins: Judy Garland, Judy at Carnegie Hall
Dale Crover of The Melvins: The Rolling Stones, Through the Past, Darkly
Steve McDonald of The Melvins: The Jimi Hendrix Experience "If 6 Was Nine"
Penelope Spheeris: Japanese Zen Music and Norman Greenbaum "Spirit in the Sky"
Iron & Wine: Van Morrison Veedon Fleece
Vic Mensa: Stevie Wonder "For Once in My Life"
Go to episode 650