Results for Buster Poindexter
reviews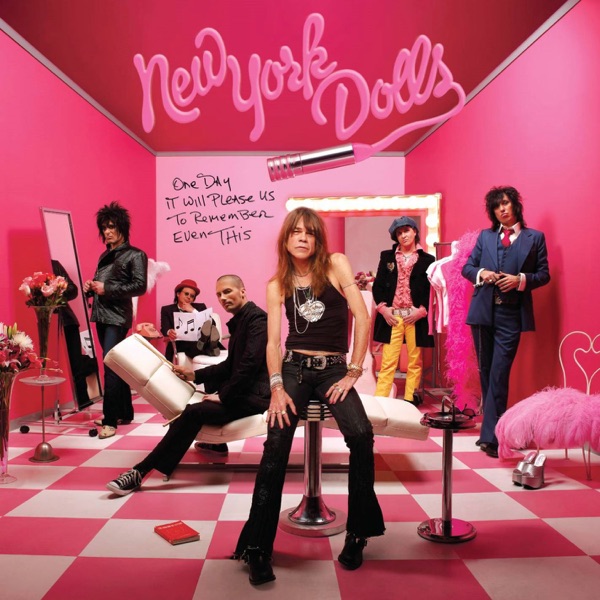 One Day It Will Please Us to Remember Even This available on iTunes
New York Dolls One Day It Will Please Us to Remember Even This
After disbanding over 30 years ago, glam punk legends the New York Dolls are back with a new album, One Day It Will Please Us to Remember Even This. Though the band's first incarnation existed for only a few years, its influence is undeniable. As Jim and Greg explain, without the Dolls, we wouldn't have the Sex Pistols. Heck, we may not even have had Morrissey, who got the Dolls together in 2004 for London's Meltown Festival. The sole surviving Dolls, David Johansen (aka "Buster Poindexter") and Sylvain Sylvain, came together for this album. Upon hearing of this latest effort, Jim and Greg were both excited and fearful. Now, after hearing it, they can say that their worries were not in vain. Jim loves the old Dolls, and can't understand how the band that made One Day It Will Please Us can even call themselves the New York Dolls. For Jim, it's a Trash It. Greg is a little more forgiving. He thinks that the 2006 Dolls come off like a pretty good cover band, and can't completely bash them. He gives the album a Burn It rating.
Go to episode 35
lists
Musical Costumes for Halloween
Sometimes, even musicians feel like"dressing up"and becoming an entirely different artist – if only for one album. To get into the spirit of Halloween, Jim and Greg share some of their favorite examples of musical costumes – artists who musically transform under fake personas.
Go to episode 622
featured songs
Featured Songs
Fats Domino, Ain't It a Shame, Ain't It a Shame (single), Imperial, 1955
The Tragically Hip, New Orleans is Sinking, Up to Here, MCA, 1989
Fats Domino, Blueberry Hill, Blueberry Hill (single), Imperial, 1956
Louis Armstrong & Gordon Jenkins and His Orchestra, Blueberry Hill, Blueberry Hill (single), Decca, 1949
Fats Domino, Blue Monday, Blue Monday (single), Imperial, 1956
Fats Domino, Little Bee, Little Bee (single), Imperial, 1951
Lloyd Price, Lawdy Miss Clawdy, Lawdy Miss Clawdy (single), Specialty, 1952
Fats Domino, The Fat Man, The Fat Man (single), Imperial, 1949
Pat Boone, Ain't That a Shame, Ain't That a Shame (single), Dot, 1955
Fats Domino, Walking to New Orleans, Walking to New Orleans (single), Imperial, 1960
Fats Domino, I'm Walkin', I'm Walkin' (single), Imperial, 1957
Garth Brooks, Friends in Low Places, No Fences, Capitol Nashville, 1990
Chris Gaines, Way of the Girl, Greatest Hits, Capitol, 1999
XTC, The Meeting Place, Skylarking, Virgin, 1986
The Dukes of Stratosphear, The Mole from the Ministry, 25 O'Clock, Virgin, 1985
Percy"Thrills"Thrillington, Uncle Albert/Admiral Halsey, Thrillington, Regal Zonophone, 1977
The Fireman, Nothing Too Much Just Out of Sight, Electric Arguments, One Little Indian, 2008
New York Dolls, Trash, New York Dolls, Mercury, 1973
Buster Poindexter, Hot Hot Hot, Buster Poindexter, RCA, 1987
Sonic Youth, Teen Age Riot, Daydream Nation, Enigma, 1988
Ciccone Youth, Into the Groovey, The Whitey Album, Enigma, 1989
The KLF, Justified & Ancient, The White Room, KLF Communications, 1991
The Timelords, Doctorin' the Tardis, Doctorin' the Tardis (Single), KLF Communications, 1988
Prince, If I Was Your Girlfriend, Sign o' the Times, Warner Bros., 1987
The Tragically Hip, Courage (for Hugh MacLennan), Fully Completely, MCA, 1992
The Tragically Hip, Wheat Kings, Fully Completely, MCA, 1992
The Tragically Hip, Poets, Phantom Power, Universal Music Canada, 1998
The Tragically Hip, Escape Is at Hand for the Travellin' Man, Phantom Power, Universal Music Canada, 1998
Todd Rundgren, Hello It's Me, Something/Anything?, Bearsville, 1972
Hedwig and the Angry Inch, The Origin of Love, Hedwig and the Angry Inch (Original Cast Recording), Hybrid, 1999
Heather Nova, London Rain (Nothing Heals Me Like You Do), Siren, Mercury, 1998
Joan Jett, Bad Reputation, Bad Reputation, Blackheart, 1980
Courtney Barnett & Kurt Vile, Outta the Woodwork, Lotta Sea Lice, Matador, 2017
Go to episode 622