Results for Bob Weston
interviews
Mission of Burma
This week's guests are the men of Mission of Burma: Roger Miller, Clint Conley, Peter Prescott, and Bob Weston. The post-punk pioneers were in Chicago to perform at the Pitchfork Music Festival, so they stopped by Sound Opinions for a discussion and performance. Jim and Greg explain that Mission of Burma is a rare example of a band able to break up, reunite and continue making music as good as (if not better than) they did before. Burma's first incarnation was in the early 1980s — they recorded one album in 1982 before they had to disband due to Roger's debilitating tinnitus, but their influence is undeniable. The band returned twenty years later to tour and record OnOffOn, and have recently released The Obliterati, which both Jim and Greg say may make their Best of 2006 lists.
Mission of Burma is known for combining pop melodies with quite a lot of noise. These characteristics often get the band thrown in the same pot as bands like Gang of Four and Wire, but listeners shouldn't confuse these post-punkers. One of Burma's distinctive features is their use of tape loops. During their first go-around, Martin Swope would record the band's sound and manipulate it live with a reel-to-reel tape machine. Now Shellac's Bob Weston has the job, and you can hear the effects on "Max Ernst," which they perform live on the show. Another famous looper is Radiohead's Jonny Greenwood, though he works digitally.
Another Burma trademark is the songwriting. All three regular members, Roger, Clint and Peter, pen very smart, rather literate lyrics. An example of this is another song they perform live, "Donna Sumeria." While it was Roger's attempt at a love song, it's also a witty pun on Donna Summer and the ancient Middle Eastern civilization. Greg cites it as an example of Burma's punk sensibility. Their music doesn't have rules and can even have disco elements.
Go to episode 38
reviews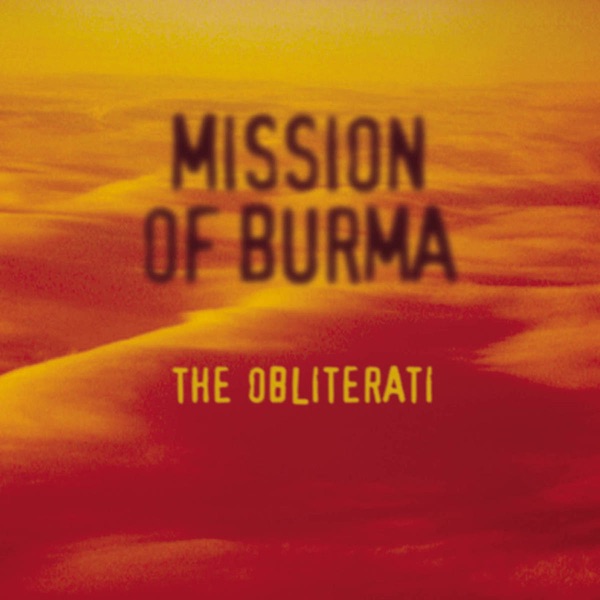 The Obliterati available on iTunes
Mission of Burma The Obliterati
Post-punk pioneers Mission of Burma have a new album out, their third in twenty years. Shortly after releasing their landmark Vs. in 1982, the group was forced to disband. The signature massive volume of their music took a toll on all of the members, particularly guitarist Roger Miller who developed a debilitating case of tinnitus. In their short run, Mission of Burma became hugely influential; R.E.M. and Moby have both covered their songs. Then, in 2003 the band reunited and later released their second album, OnOffOn. This record was very well-received, something that's almost unprecedented for a reunion album. Now, the band is back with The Obliterati, and Jim and Greg are as impressed as they were twenty years ago. Jim points to the incredible melodies of the songs, as well as their intellectual wit. He also thinks that Chicago-based engineer Bob Weston did an amazing job with The Obliterati. Greg agrees that the band's melodies are as strong as ever, and explains that Mission of Burma's greatness lies in the tension between the melodies and the noise. He still can't believe that a band would make two such great albums in the second leg of their career. The Obliterati gets two Buy Its.
Go to episode 26
Excellent Italian Greyhound available on iTunes
Shellac Excellent Italian Greyhound
Up next is another band that knows how to make its fans wait. Chicago-based indie punk group Shellac has a new album called Excellent Italian Greyhound, and it's only been a mere seven years since the last one. Guitarist and singer Steve Albini is best known as the utilitarian recordist who has captured the sounds of everyone from Nirvana to the garage band next door. He's joined by drummer Todd Trainer and bassist Bob Weston for a sound that is as real as you're ever going to hear in a recorded work. There are no fancy tricks here, just a minimalist approach. And with what Greg describes as a"tongue placed very firmly in cheek,"the band makes powerful punk music with a sense of humor. However both Greg and Jim admit that not all of the tracks are winners, and therefore Excellent Italian Greyhound gets two Try Its.
Go to episode 84