Results for Bill Berry
specials
R.E.M.
After over three decades, R.E.M. announced it was breaking up a couple of weeks ago. So during this episode Jim and Greg look back at its career highlights and lowlights, and discuss its legacy in the years to come. R.E.M., along with U2, is unique among bands from the indie rock '80s. It not only achieved career longevity, but, for better or worse, skyrocketed to arena status. Jim and Greg also have a unique relationship with the Athens, GA musicians. Both remember covering the band as mere fanzine writers, maturing as critics the same time R.E.M. was as a band.
Greg talks in-depth about R.E.M.'s I.R.S. years with landmark albums like Murmur and Fables of the Reconstruction. His favorite track from this 1st era is "Pretty Persuasion" from Reckoning in 1983. Jim goes on to discuss its transition to a major label. Their Warner releases Green, Out of Time and Automatic for the People didn't let their loyal fans down. But, things fell off after that. Greg makes an argument for New Adventures in Hi-Fi from 1996, and both critics agree that drummer Bill Berry's departure marked a great loss in terms of sound and connection. But when it comes to R.E.M.'s legacy, they're sure new generations of listeners will focus on the good years, rather than the bad. And its model of building grassroots fans that transitioned with them from label to label, club to arena is one new indie bands would be wise to follow.
Go to episode 306
reviews
Accelerate available on iTunes
R.E.M. Accelerate
One of the most buzzed about events at the festival was the debut of songs from R.E.M.'s new album Accelerate. The band played its first show at SXSW, as well as Austin City Limits. (You can hear their live performance of "Fall On Me" during the show.) Jim and Greg both saw the rock veterans perform and have listened to the new album. So what's the verdict? Jim's feelings are mixed. R.E.M. is a band that has meant a lot to him in the early part of their career, but has disappointed him in the past decade. They've never reached the peaks they did with albums like Life's Rich Pageant, Murmur and Automatic for the People. He thought the ACL live show was better than recent tours, but not amazing. And the same can be said of Accelerate. They've returned to their roots, but not to form, and Jim can only give it a Try It. Greg was actually pleasantly surprised to hear the band re-invested again-for the first time since losing drummer Bill Berry. That was an incredible loss for the other three members, and Accelerate is the first album in years that can stand up to their earlier work, according to Greg. He hears a renewed urgency in Michael Stipe's voice and the emphasis placed once again on Peter Buck's guitar. Greg gives Accelerate a Buy It.
Go to episode 121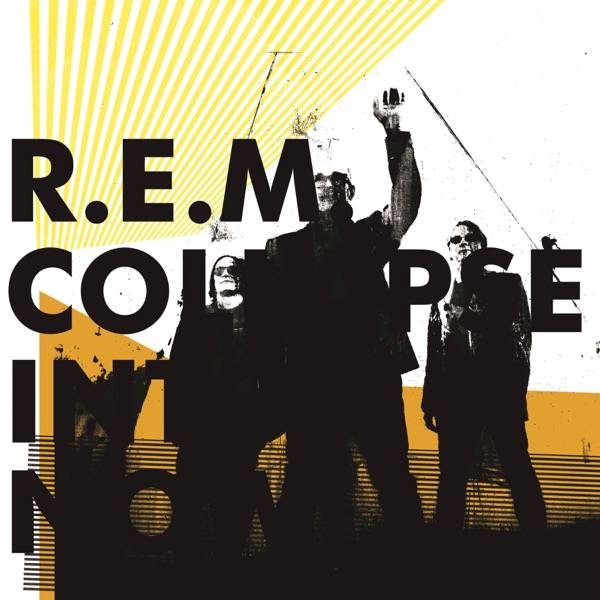 Collapse Into Now available on iTunes
R.E.M. Collapse Into Now
It's hard to believe, but R.E.M. has put out its fifteenth album. The formerly indie quartet from Athens is now a major label trio, and many fans have been waiting for a"return to form."Well, they get it with Collapse Into Now…sort of. As Jim and Greg explain, the record is full of nods to older R.E.M. material, but nothing as strong. Why not just sit back and listen to the albums from the '80s and '90s? They add that the loss of drummer Bill Berry keeps getting magnified as the years go by. Collapse Into Now gets a double Burn It.
Go to episode 277
news
Music News
After 31 years and 15 albums, R.E.M. announced it's calling it a day. Jim and Greg will dive into the band's career in more detail next week, but they point out what a groundbreaking band the Athens, GA natives were. No group other than U2 transitioned so easily from an arty indie band of the 1980's to arena superstars in the new millennium. Perhaps they would've been smart to pack it in after drummer Bill Berry quit in 1997, but their record deal running out gave them the reason now.
Go to episode 305