Results for Bat Out of Hell
reviews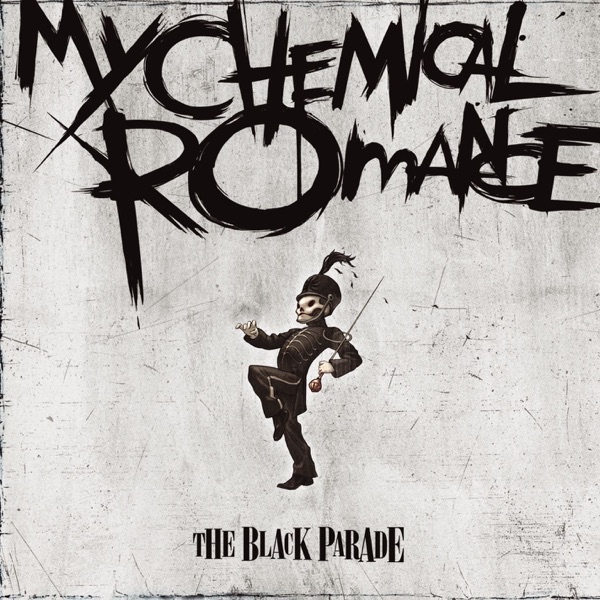 The Black Parade available on iTunes
My Chemical Romance The Black Parade
My Chemical Romance debuted at number two on the Billboard charts this week. In fact, the only obstacle between the band and the top spot was a High School Musical star. #2 ain't bad — but the question is whether not or not the album is. The Black Parade is the pop-punk band's third release, made with the help of Rob Cavallo, who also produced Green Day's last album, American Idiot. Both releases are concept albums, but if Green Day was trying to make their version of a Who record, My Chemical Romance seems to be channeling more over-the-top artists like Queen. Jim even calls it the modern day equivalent to Bat Out of Hell (for those of you who don't know Jim, that is a compliment). He is completely impressed by this tale of teen angst and death, and gives The Black Parade a Buy It. Greg appreciates the band's sense of humor (black with a heavy dose of sarcasm), and thinks that the album's finest moments are the over-the-top dramatic ones filled with glockenspiel, drum machines, layered guitars, and even fake cannon shots. But the rest of the songs struck him as generic radio tracks, and he can only give a Burn It rating.
Go to episode 49
dijs
Jim
"All Revved Up with No Place to Go"
Meat Loaf
Jim often mentions Meat Loaf on the show but when he went back into the archives, he realized he very seldom plays the music of Meat Loaf on this show. However, there is good reason to take Meat Loaf to the Desert Island this week. Recently, everyone on the Sound Ops staff attended a 'family band' night, where Sound Ops producer Evan Chung wowed Jim with his Meat Loaf tribute band – MeatBute. Inspired by that performance, Jim highlights "All Revved Up with No Place to Go" from Meat Loaf's 1977 album Bat Out Of Hell. Jim notes that producer Todd Rundgren, saw it as an answer to Springsteen's Born To Run. For his pick, Jim says"I don't know if there is better writing in the opening of any rock song ever." He states that, whether you're 13 or 53, these opening lines are profound.
Go to episode 609
featured songs
Featured Songs
Arcade Fire, Everything Now, Everything Now, Columbia, 2017
Arcade Fire, Signs of Life, Everything Now, Columbia, 2017
Arcade Fire, Creature Comfort, Everything Now, Columbia, 2017
Arcade Fire, Infinite Content, Everything Now, Columbia, 2017
Tia Carrere, Ballroom Blitz, Wayne's World (Music from the Motion Picture), Reprise, 1992
Wayne and Garth, Wayne's World Theme, Wayne's World (Music from the Motion Picture), Reprise, 1992
Red Hot Chili Peppers, Sikamikanico, Wayne's World (Music from the Motion Picture), Reprise, 1992
Fear, I Love Livin' in the City, The Record, Slash, 1981
Circle Jerks, Red Tape (Live), Group Sex, Frontier, 1980
Motörhead, Ace of Spades, Ace of Spades, Sanctuary, 1980
The Germs, Manimal, Gi, Slash, 1979
Black Flag, Depression, Damaged, SST, 1981
Meat Loaf, Bat Out of Hell, Bat Out of Hell, Epic, 1977
Alice Cooper, Feed My Frankenstein, Hey Stoopid, Epic, 1991
Megadeth, In My Darkest Hour, So Far, So Good… So What!, Capitol, 1988
Meat Loaf, All Revved Up with No Place to Go, Bat Out of Hell, Cleveland International / Epic, 1977
Ciara, Pick Up The Phone, Goodies, So So Def, 2004
Public Enemy, Beat Them All, Nothing Is Quick In The Desert, 916% ENTERTAINMENT, 2017
Jay-Z, Smile, 4:44, Roc Nation, 2017
Rush, Rivendell, Fly By Night, Mercury, 1975
Christopher Lee ft. Vincent Ricciardi, Act III: The Bloody Verdict of Verden, Charlemagne: By the Sword and the Cross, Charlemagne Productions Ltd., 2010
Suzanne Vega, The Queen and the Soldier, Suzanne Vega, A&M, 1985
Uriah Heep, The Wizard, Demons and Wizards, Bronze, 1972
Go to episode 609
Featured Songs
The Baseball Project, Box Scores, 3rd, Yep Roc, 2014
The Treniers, Say Hey (The Willie Mays Song), Baseball's Greatest Hits, Rhino, 1989
The Baseball Project, They Played Baseball, 3rd, Yep Roc, 2014
The Baseball Project, 13, 3rd, Yep Roc, 2014
The Baseball Project, To the Veterans Committee, 3rd, Yep Roc, 2014
Warren Zevon, Bill Lee, Bad Luck Streak in Dancing School, Friday Music, 1980
Steve Goodman, The Dying Cubs Fan's Last Request, Affordable Art, Red Pajama, 1984
Meat Loaf, Paradise by the Dashboard Light, Bat Out of Hell, Sony Music, 1977
Billy Bragg & Wilco, Joe DiMaggio Done It Again, Mermaid Avenue, Vol. 2, Elektra, 2000
The Baseball Project, The Babe, 3rd, Yep Roc, 2014
The Who, There's a Doctor, Tommy, Polydor, 1969
High on Fire, Death Is This Communion, Death Is This Communion, Relapse, 2007
Einstürzende Neubauten, Yü-Gung, Halber Mensch, Some Bizarre, 1985
Queens of the Stone Age, Medication, Lullabies to Paralyze, Polydor, 2005
Broken Bells, Medicine, After the Disco, Columbia, 2014
PHOX, Noble Heart, PHOX, Partisan, 2014
PHOX, Laura, PHOX, Partisan, 2014
PHOX, Slow Motion, PHOX, Partisan, 2014
Real Estate, Had to Hear, Atlas, Domino, 2014
Real Estate, Talking Backwards, Atlas, Domino, 2014
Real Estate, Primitive, Atlas, Domino, 2014
Real Estate,"The Bend"Atlas, Domino, 2014
Aretha Franklin, Dr. Feelgood (Love Is a Serious Business), I Never Loved a Man the Way I Love You, Atlantic, 1967
Sharon van Etten, You Know Me Well, Are We There, Jagjaguwar, 2014
Sharon van Etten, Your Love Is Killing Me, Are We There, Jagjaguwar, 2014
BADBADNOTGOOD, Fall In Love, BBNG, self-released, 2011
Kelis, Bless the Telephone, Food, Ninja Tune, 2014
Warpaint, Disco//Very (Live on Sound Opinions), Warpaint, Rough Trade, 2014
Randy Brown, Brain Chemistry, Dream Big, Brownton Records, 2006
Public Enemy, Power to the People, Fear of a Black Planet, Def Jam, 1990
Michael Jackson, Bad, Bad, Epic, 1987
Go to episode 445
Featured Songs
Babes in Toyland, Sweet '69, Nemesisters, Reprise, 1995
Bikini Kill, Rebel Girl, Pussy Whipped, Kill Rock Stars, 1993
Lana Del Rey, Radio, Born to Die, Interscope, 2012
Miley Cyrus, Adore You, Bangerz, RCA, 2013
DJ Jazzy Jeff & The Fresh Prince, Summertime, Summertime (Single), Jive, 1991
Yo La Tengo, Little Honda, I Can Hear the Heart Beating as One, Matador Records, 1997
Seals and Crofts, Summer Breeze, Summer Breeze, Warner Bros., 1972
Annette Funicello, Beach Party, Annette's Beach Party, Disney, 1963
The Cool Kids, Swimsuits, When Fish Ride Bicycles, Green Label Sound Records, 2011
Best Coast, Summer Mood, Crazy For You, Mexican Summer, 2010
Chicago, Saturday in the Park, Chicago V, Columbia, 1972
The Hold Steady, Constructive Summer, Stay Positive, Vagrant / Rough Trade, 2008
Martha & the Vandellas, (Love is Like a) Heat Wave, Heat Wave, Gordy, 1963
Robin Ward, Wonderful Summer, Wonderful Summer (Single), Dot Records, 1963
Len, Steal My Sunshine, You Can't Stop the Bum Rush, Work, 1999
Doug E. Fresh & The Get Fresh Crew, The Show, The Show (Single), Reality, 1985
The Violent Femmes, Blister in the Sun, Violent Femmes, Slash, 1983
Jamie XX, Far Nearer, Far Nearer / Beat For EP, Numbers, 2011
ABBA, Ring Ring, Ring Ring, Polar, 1973
Hop Along, The Knock, Painted Shut, Saddle Creek, 2015
Black Mountain, Don't Run Our Hearts Around, Black Mountain, Jagjaguwar, 2005
Angel Olsen, Forgiven / Forgotten, Burn Your Fire for No Witness, Jagjaguwar, 2014
Meat Loaf, Bat Out of Hell, Bat Out of Hell, Cleveland International / Epic Records, 1977
Go to episode 502